Residence Life
Utica College Themed Housing

Utica College offers an exciting and unique experience for first-year students! From the moment that first-year students walk on campus they will have the opportunity to meet the faculty/staff mentor that shares the same interest as they do that will be working on their residential floor. Students that live on the Themed Housing floors all will share the same interest. With this, students tend to academically do better, social adjust to the college environment quicker, and simply
have a blast.


We have 6 themes for students to be involved in!
UExcel


UExcel is for students that are a part of the Honors Program at Utica College. This floor will allow you to live with other students in the Honors Program. There will be a faculty mentor from the Honors Program that will be working with the students on this floor.
UAchieve
UAchieve is for students who wish to do stronger academically than they did in high school. These students will attend 3 classes together that count towards their core requirement. The support for this floor is endless! The RA on the floor shares the same interest in being a strong student and helps the UAchieve students become achieve that goal through events and tutoring. UAchieve students also have access to a study lounge in their Residence Hall. Below is a picture of some of the students enjoying a social outing at the bowling alley.
UDiscover
UDiscover is for students that don't know what they want to be when they "grow up". They take their First-Year Seminar together, and the professor who teaches that class is the mentor for that floor. The RA is also a student who is exploring career and major options. Below is pictured some of the students from the UDiscover floor attending a Buffalo Bills game to learn about professional sports marketing and promotion.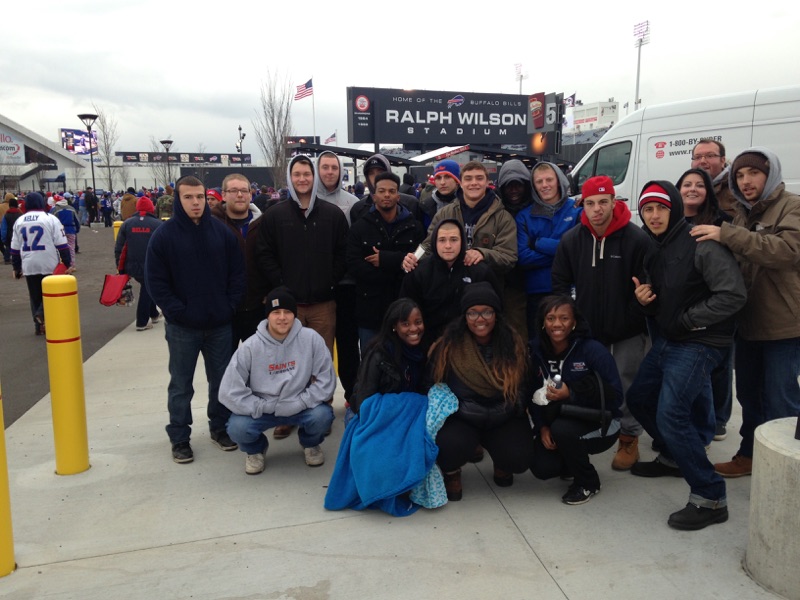 ULive
ULive is for student who are interested in any area in Health Studies or Biology. The mentor for the floor is a professor in Biology. Study sessions are held every other week for a required class, Anatomy and Physiology (A&P). In addition to that support, the students have taken trips to laboratories, bird catching trips, and shadowing job opportunities. The RA shares their interest in the Health Studies or Biology. Below is a picture of some students learning about what makes a person sick and how to avoid the getting the flu.
UBalance
UBalance is for student who enjoy being a balanced individual. This theme concentrates on both physical and mental health. The Mentors for the floor are two biology professors who love the outdoors, eating healthy, working out in a healthy manner, and keeping a sound mind. Students in the theme will be able to participate in trips such as hiking, whitewater rafting, healthy eating habits, healthy workouts and much more. Below is a picture from a whitewater rafting trip.
UCare

UCare is for students who enjoy doing volunteer work and community service. The RA and Mentor are both very involved in community service in and around the Utica area. These students have been involved in many different fundraising walks: Relay for Life, American Heart Run Walk, and the Alzheimer's Association walk. The floor has also organized a campus wide food drive to benefit a local food bank. Below is a picture of some of the students that were at the Alzheimer's Association Walk.


For more information about the First-Year Themed Housing, please contact: Jason Francey, Area Coordinator, jrfrance@utica.edu.
Sign up for Themed Housing

Themed Housing is exclusively for
first year students
. It is offered on a first come, first served basis and is optional.
To sign up, all you have to do is fill out your
housing agreement
.
Housing Agreement →