Information for High School Counselors
Want to know more about what Utica College can offer your students? Here is the information you're looking for, all in one place. If you or your students have questions, contact us at admiss@utica.edu or 315.792.3006. You can also check out our FAQ (below).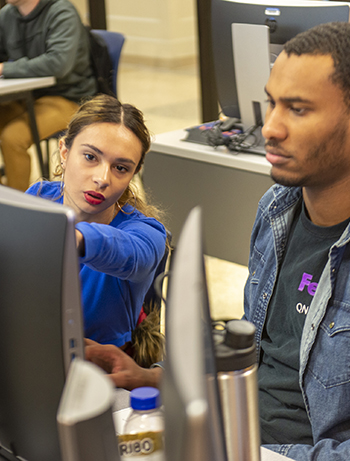 APPLY NOW FOR FALL 2021
Get Applications In Now
Your students should apply today to attend UC next Fall.
Apply Now
DEPOSIT DEADLINE
May 1, 2021
To reserve their place UC, your students should pay their enrollment deposit by May 1, 2021.
Pay Deposit
How To Apply
Find detailed academic requirements, checklists, and more on our First-Year Admissions site:
Financial Aid
We offer a broad range of options to make UC even more affordable for your students. Learn more:
Virtual Tour
Get a closer look at the Utica College campus with our YouVisit tour:
Orientation
Get details about Orientation programs for first-year students. Visit our orientation site:
Q: Will Utica College be open for on-campus classes for the fall semester?
Utica College implemented a comprehensive plan to keep our campus community safe while enabling our students to enjoy as many benefits of UC's on-campus experience as possible. We were able to maintain campus-based instruction throughout the fall 2020 semester, and we are confident that this experience will enable us to deliver on-campus classes next fall as well.
Q: Who is my student's Admissions Counselor?
 
Visit our
counselor page
to find your student's Utica College admissions counselor. Students can reach out to their counselor to arrange for in-person visits (when these are permitted) or virtual visits.
Q: How is Utica College handling AP Credit?
 
For students who:
are planning to enroll at UC in 2020, 2021, or 2022
have been enrolled in Advanced Placement (AP) courses this term, and
will be unable to take the exams or taking a different form of exam
... Utica will continue its current process of awarding credit and course placement, using the modified results and reporting that the testing agencies have announced. For more information, visit the College Board AP Coronavirus Update page:
Q: How do applicants send electronic documents to Utica College?
Students that apply via Common Application: Electronic documents can be sent through Common App or emailed to admiss@utica.edu
Students that apply with the Utica College Application:  Electronic documents can be emailed to the admissions office at admiss@utica.edu
Q: How can students visit campus during this time of social distancing?
 
Please note:
Out of an abundance of caution and based on the current evolving information about COVID-19, Utica College has temporarily converted most campus visits to a virtual format.  
In-person visits are available on an appointment-only basis for individuals and families who reside in states that are not currently on New York State's travel advisory list. (See the New York State web site for updates.)
Guided virtual tours are available upon request.
We are taking this temporary action to ensure the safety and well being of our visitors and the entire Utica College community. We will reassess this policy as circumstances change. We will keep you posted!
Virtual Events
Utica College is offering a variety  of virtual events to allow students to experience the UC campus.  To learn more about our virtual events, please stop by our visit page: 
Virtual Tour
You can also opt for our Virtual Campus Tour: 
We also offer the opportunity for students to take the virtual tour along with a current Utica College student, who will :
describe buildings and other features on the tour
talk about events and activities on campus
share their personal experiences at UC, and
answer your questions. 
To arrange a personalized virtual tour experience, please contact the admissions office at 315-792-3006 or admiss@utica.edu
Q: Can my students have an admissions interview?
We are happy to have virtual admissions interviews with your students.  Please reach out to the admissions office at 315-792-3006 or
admiss@utica.edu
or contact your admissions counselor directly to schedule an interview.
Q: What process will you have for high school visits or information sessions if high schools are not allowing visitors once they reopen?
We will be offering virtual information sessions for students and school counselors utilizing Google Hangouts, Zoom or Webex - whatever platform your school prefers to use.  We are able to meet individually with students or in large groups and can schedule as many sessions as you need.  We are also available to meet with parents in the evening, if needed.
Q: How are admissions processes changing for the students graduating in 2021?
Utica College will still offer Early Decision, Early Action and Rolling Admissions. We have had a test optional policy for many years, but based on the recent issues with SAT and ACT testing availability, we are extending the test optional policy to also apply to Physical Therapy, Occupational Therapy and Nursing admissions processes for the 2021 admissions cycle only.  Students are encouraged to submit a strong personal statement and a list of extracurricular activities along with their high school transcripts and application.
I would like to see logins and resources for:
For a general list of frequently used logins, you can also visit our logins page.