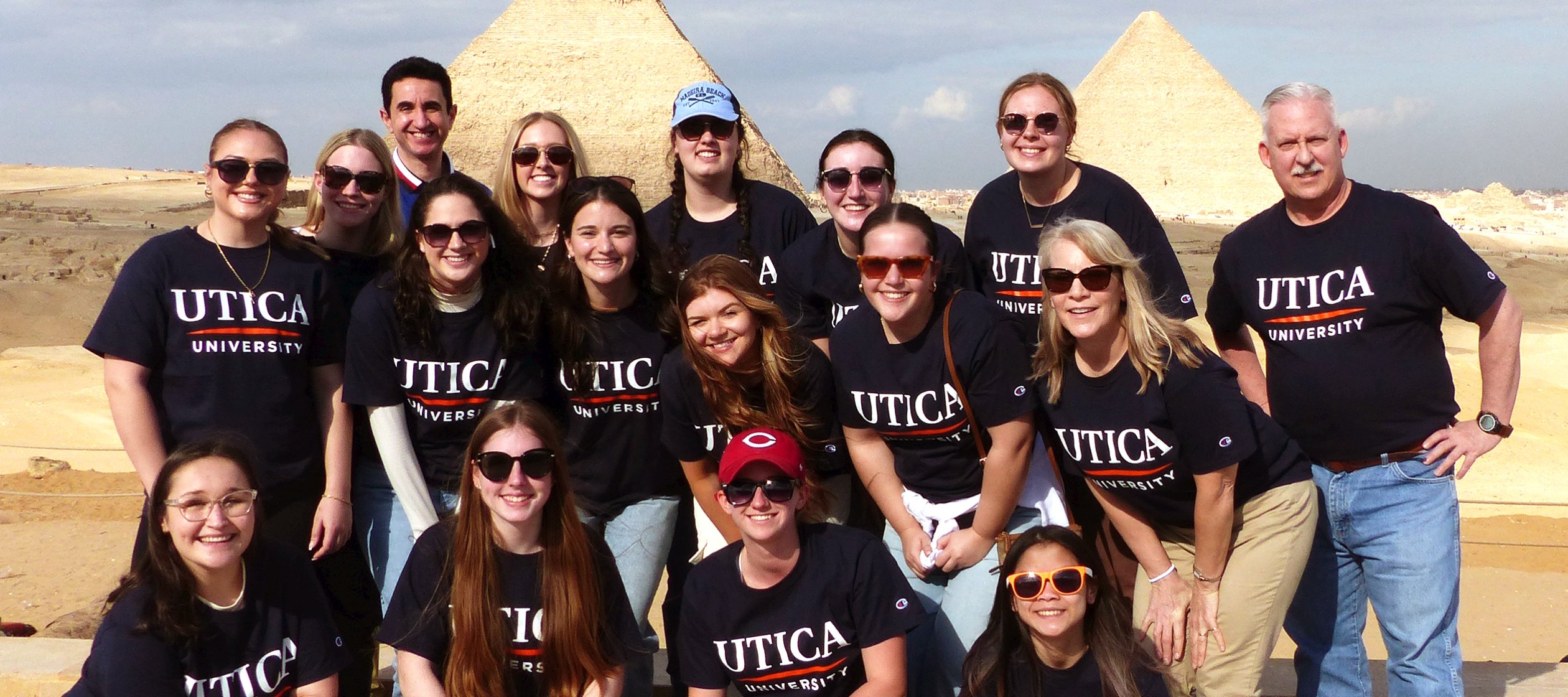 Experience in Egypt
Experience in Egypt
IPE 505:  Interprofessional Education Experience in Egypt
Course Description:
This course will include a deep dive into understanding the health status, public policies and healthcare systems in Egypt and the United States while providing student with the opportunity to observe healthcare practices in Egypt. We will discuss the impact of the determinants of health and public health practices to analyze current health challenges and opportunities for advancement toward better health. Students will participate in interprofessional practice experience dedicated to preparing students of the health professions at Utica University for interprofessional, collaborative practice of patient care through innovative (nationally and internationally recognized) practice experience. This course includes 15 hours of interaction in interprofessional practice setting with peers of different health professions to achieve appropriate patient/client care.
In Egypt, participants will visit public, private, and nonprofit healthcare facilities in the vicinity of the capital city of Cairo. Students will compare the healthcare system in Egypt to the healthcare system in the United States using information gained from faculty presentations, conversations with health professionals and medical students, and their own observations. Students will also have time to visit the Pyramids and Sphinx, take a boat trip on the Nile, and shop in the medieval bazaar of Khan El Khalili as well as visit other attractions around Cairo.
Course Objectives:
Examine the biological, social, political and economic determinants of health in both countries. 
Describe the risk factors and impact of disease and mortality in Egypt and in the USA.
Explore health care delivery systems in Egypt and compare them to those in the USA.
Describe and compare public health initiatives in Egypt and in the USA. 
Explore alternative healthcare practices and the impact of culture on health. 
Examine the contributions of a wide range of disciplines to the field of public health in both countries (education, epidemiology, marketing, engineering, policy, and law).
Fast Facts:
Next Cohort:
December 31 - January 14, 2023
Eligibility:
All health-related majors welcome
Host Institution:
American University in Cairo (AUC)
Pre-Requisites:
IPE 102 or IPE 504 (or permission of the instructor)
Faculty Leaders:
Ashraf Elmarakby, PhD, DPT
Assistant Professor of Physical Therapy

Thomas Crist, PhD
Distinguished Professor of Physical Therapy
Enrollment & Payment Schedule
Application & Deposit Deadline: October 17, 2022 with $500 deposit
Acceptance Notification: rolling, within two weeks of application.
Balance will be charged to student's account for Spring 2023.
Cancellation Policy
Utica University reserves the right to cancel this course for any reason, without penalty. If the course is cancelled, Utica University will make a full refund to applicants including the deposit.
Program Details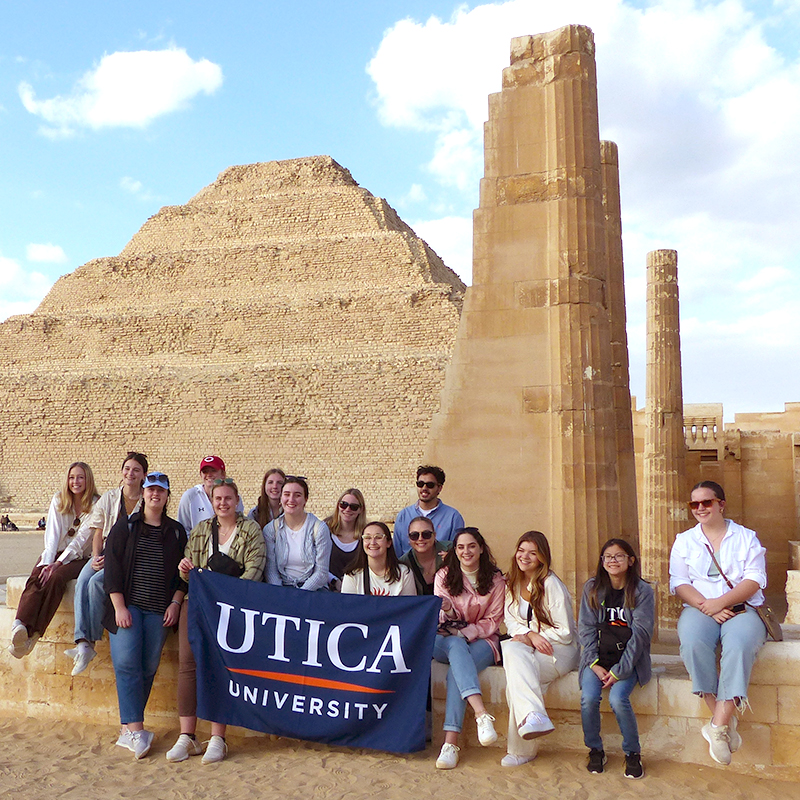 Egypt captures the imagination with both ancient wonders and a modern culture that pulls together traditions from the multiple peoples who settled or invaded Egypt throughout its history.  A North African country with a predominantly Muslim population, the culture of modern Egypt has been influenced by Arab invaders, Ottoman Turkish rulers, and European colonists. Today, Egypt is an independent country of 104 million people, of which approximately 20 million live in the Cairo metropolitan area. While mostly a desert country, the Nile River defines both ancient and modern Egyptian settlements, with its narrow band of lush greenery standing out in a vast spread of sand leading to the triangular Nile Delta in the North.  Cairo is located at the base of this triangle. 
While Egypt's 2014 Constitution established healthcare as a right of all people, the reality of universal public healthcare has not yet been realized, largely due to a lack of funding. Egypt has both public and private healthcare, but the majority of Egyptians who can afford it pay for private healthcare. Egypt's healthcare has improved tremendously over the last forty years, especially in the areas of maternal and child health, nutrition, and immunizations. However, great inequities remain, especially impacting the rural poor, and significant challenges, such as the prevalence of Hepatitis C, chronic malnutrition, and noncommunicable diseases remain targets for improvement by both government and non-governmental agencies. Health education and policy development to promote better primary healthcare, family planning, and the prevention and control of diseases is a key component of current healthcare improvement projects. Efforts to address noncommunicable health risks such as cancer, mental health, disability, obesity, and tobacco use are also receiving increased attention.
| | |
| --- | --- |
| Day 1: | Arrive in Cairo, campus tour and welcome dinner |
| Days 2-6: | Morning lectures followed by afternoon visits to private and public healthcare institutions for IPE experiences and observations; Evening activities include felucca ride on the Nile |
| Day 7: | Visit the Step Pyramid of Saqqara, several historic mosques, and the Hanging Church in Coptic (Christian) Cairo |
| Day 8: | Visit the Egyptian Museum, the Pyramids, and the Sphinx |
| Days 9-13: | Continue lectures and visits to nongovernmental healthcare agencies;  Evening activities socializing with local students; farewell dinner on last night with President and Provost of American University in Cairo |
| Day 14: | Shopping at Khan el Khalilili Bazaar; Depart Cairo in evening |
$3,600 per student, includes:
Roundtrip airfare from New York City to Cairo
Lodging in double rooms on campus at the American University in Cairo
All meals (including stipend for meals on your own)
Bus transportation to all site visits and excursions
International health and evacuation insurance 
Government Permits for site visits
Visa
Tips for tour guides, drivers, etc.
Program fee does NOT include round-trip airfare from Syracuse to; airfare is estimated to be $1000-$1200 per person. Tuition for one credit (if desired) is included in the Spring 2020 tuition bill. Spring 2021 Financial Aid can be used for Program Fee.
Enrollment & Payment Schedule:
Application & Deposit Deadline: October 17, 2022 with $500 deposit
Acceptance Notification: rolling, within two weeks of application.
Balance will be charged to student's account for Spring 2023.
Note: A minimum of 12 students must be enrolled for the trip to run.
Utica University reserves the right to cancel this course for any reason, without penalty. If the course is cancelled, Utica University will make a full refund to applicants including the deposit. 
After admission into the program, the student is responsible for the full program fee. The deposit is nonrefundable. Should the student wish to withdraw from the program for any reason after admission, only recoverable expenses may be refunded. Utica University withdrawal/drop/add deadlines do not apply. The student must submit his/her intention to withdraw in writing. 
Utica University will not be liable for any costs incurred by a participant in preparation for the trip, including nonrefundable or restricted airline tickets connecting to the course's flights. Participants who miss any flights during the trip are responsible for their own costs to continue in the course or to return home. 
Utica University does NOT provide travel insurance and recommends that each individual consider purchasing their own travel insurance policy in the event that the participant cannot attend the course.
Founded in 1919, AUC is a leading English-language, American-accredited institution of higher education and center of intellectual, social and cultural life of the Arab world. Its community of students, parents, faculty and staff, trustees, alumni and other generous sponsors represent more than 60 countries. The University stands as a crossroads for the world's cultures and a vibrant forum for reasoned argument, spirited debate and understanding across the diversity of languages, facilities and human experiences.
The University offers 36 undergraduate, 44 master's and two PhD programs rooted in a liberal arts education that encourages students to think critically and find creative solutions to conflicts and challenges facing both the region and the world. It also offers a globally recognized professional community-based education in English to meet the needs of the dynamic Egyptian and broader regional economies.
The University's educational assets include the largest English-language academic library collection in Egypt, three modern theaters and 15 cross-disciplinary research centers. The University's modern, 260-acre New Cairo campus constitutes a visionary investment in the future of Cairo, Egypt and the region — a state-of-the-art facility for advanced research, innovative teaching, lifelong learning and civic engagement.
Chartered and accredited in the United States and Egypt, The American University in Cairo is an independent, not-for-profit, equal-opportunity institution.
Routine vaccines are required. For more information, see the CDC page for Egypt.
All participants will have international health insurance coverage provided by United Healthcare, which provides medical care and repatriation, if needed, in case of illness or accident.
Participants are advised to drink only bottled water and not to eat food purchased from street vendors.
Utica University conducts a risk assessment with recommendations for risk mitigation for all international trips. The American University in Cairo has a comprehensive health and safety plan in place.  Information on the security and safety of AUC's campus can be found here.
Contact Us
Associate Professor of Physical Therapy
Distinguished Professor of Physical Therapy
I would like to see logins and resources for:
For a general list of frequently used logins, you can also visit our logins page.