COST OF ATTENDANCE
To view basic tuition and fees for students in campus-based programs, please see:

Undergraduate Campus Program Tuition and Fees.
For a detailed breakdown of net costs of attendance (tuition and fees minus average financial aid amounts), please see the table below.
Contact Information
(315) 792-3179
Undergraduate On-Campus Costs
Tuition for the 2021-2022 Year
+ $22,314
Average Room and Board
+ $13,428
Fee Breakdown
Technology: $350
Health and Safety: $450
Student Activity: $150
Estimated Amounts
Books and Supplies: $1,400
Transportation: $644
Personal Expenses: $1,100
Loan Fees: $133
Total Before Aid
= $39,969
Average scholarships can vary from student to student. For a more accurate estimate for your personal costs, please use the Net Price Calculator.
How did we get this number?
This number is tabulated based on a hypothetical Pell Grant of $3,395 and the average Federal Work Study of $2,700. Pell Grant amounts are determined by FAFSA filing. The maximum Pell Grant for 2021-2022 is $6,495.
Federal Direct Student Loan Options
Federal Direct Student Loan amounts may vary and are based on FAFSA filing.
How did we get this number?
Your Average Cost*
= $18,304
* Disclaimer
This is just an estimate of the cost the student would pay and does not include other factors such as Federal Direct Parent Loans. This estimate applies only to undergraduate on-campus students and is not a legal document.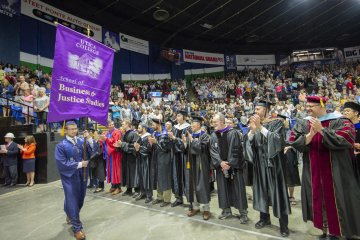 Never Stand Still
As a UC graduate, you join more than 20,000 alumni worldwide who are doing amazing things, like leading the United States Army, creating the most popular mobile operating system in the world, and bringing down the most notorious white-collar criminals.
Real-World Internship Opportunities
Utica College students have access to hundreds of internship opportunities...and we're not talking about organizing folders and refilling coffee. UC students have recently compelted internships with the Secret Service, NCIS, Estee Lauder, and ESPN.
True Faculty Mentors
All of our 140+ faculty members have one thing in common: a commitment to your success. Small classes and an 11:1 student-to-faculty ratio mean your professors will be mentors, advisors, and friends long after you graduate.
More about Financial Aid
Scholarships, Grants & Awards
Resources for Current Students