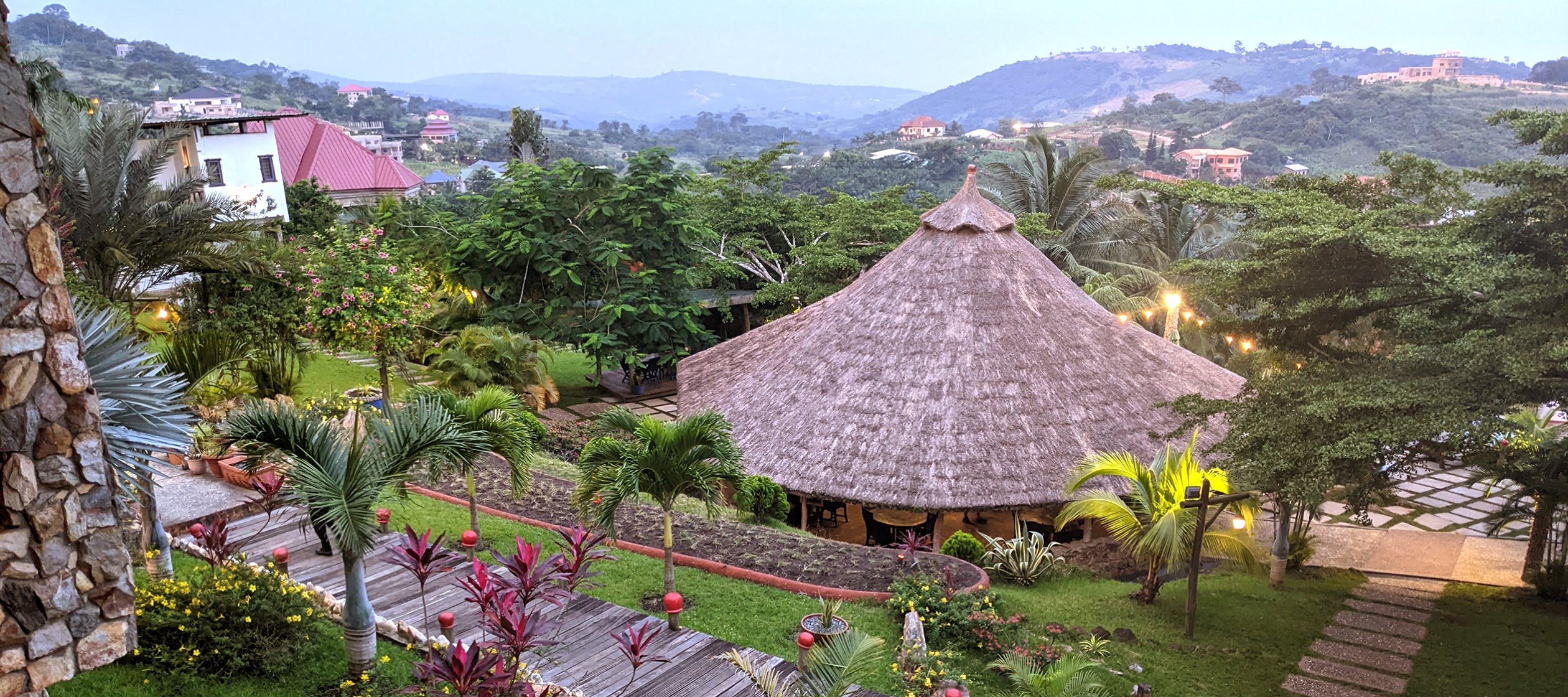 Experience in Ghana
Experience in Ghana
IPE 505:  Interprofessional Education Experience in Ghana
Course Description:
IPE 505 focuses on international and interprofessional practice dedicated to preparing Utica University students of the health professions for the collaborative practice of patient care through an innovative practice experience. It includes over 15 hours of interaction in interprofessional practice settings with peers of different cultures and health professions to achieve appropriate patient/client care outcomes.
IPE 505 Abroad in Ghana will allow opportunities for students to compare the current health status, public policies, and healthcare systems in Ghana and the United States through reflective discussions and direct observations of healthcare practices. Students will explore how the social determinants of health impact communities in Ghana and the U.S., through immersion in Ghanaian communities and their historical and healthcare delivery organizations. Students will gain a deep understanding of the Transatlantic slave trade, colonization and exploitation of Western Africa, and how it shaped American and Ghanaian health and society.
Course Objectives
Students will:
Demonstrate knowledge, skills, and attitudes required of health professionals for collaborative practice as a member of the interprofessional care team
Appreciate the expertise provided by other professions within the interprofessional care team
Describe the historical and upstream causes of economic, environmental, and race-based health disparities in Ghana and the U.S.
Discuss the impact of the Transatlantic slave trade and colonization on the health of Ghanaians and African Americans.
Explore health and healthcare practices and the impact of culture on health.
Fast Facts:
Next Cohort:
January 1-14, 2023 (Tentative)
Eligibility:
All health-related majors welcome.
Pre-Requisites:
IPE 102 or IPE 504 (or permission of the instructor)
Faculty Leaders:

Ellen Smith, PhD, RN
Assistant Professor of Nursing

Clemmie Harris, PhD
Associate Professor of History, Director of Africana Studies
Enrollment & Payment Schedule
Application & Deposit Deadline: October 1, 2022 with $500 deposit
Acceptance Notification: rolling, within two weeks of application
Balance will be charged to student's account for Spring 2023
Cancellation Policy
Utica University reserves the right to cancel this course for any reason, without penalty. If the course is cancelled, Utica University will make a full refund to applicants including the deposit.
Program Details
Medieval Roots
The Republic of Ghana is named after the medieval West African Ghana Empire. The empire became known in Europe and Arabia as the Ghana Empire after the title of its Emperor, the Ghana. The Empire appears to have broken up following the 1076 conquest by the Almoravid General Abu-Bakr Ibn-Umar. A reduced kingdom continued to exist after Almoravid rule ended, and the kingdom was later incorporated into subsequent Sahelian empires, like the Mali Empire several centuries later. Geographically, the ancient Ghana Empire was approximately 500 miles (800 km) north and west of the modern state of Ghana, and controlled territories in the area of the Senegal River and east towards the Niger rivers in present-day Senegal, Mauritania, and Mali.
Toward the end of the classical era, 8th century BC and 6th century AD, larger regional kingdoms had formed in West Africa, one of which was the Kingdom of Ghana, north of what is today the nation of Ghana. Before its fall at the beginning of the 10th century Akans migrated southward and founded several nation-states around their matriclans, including the first empire of Bono state founded in the 11th century and for which the Brong-Ahafo (Bono Ahafo) region is named. The Mole-Daghon people who founded the earliest centralized political kingdoms of Ghana, migrated from Lake Chad to present-day Ghana. Later, Akan ethnic groups such as the Ashanti, Akwamu, Akyem, Fante, state, and others are thought to possibly have roots in the original Bono state settlement at Bono Manso. The Ashanti kingdom's government operated first as a loose network and eventually as a centralized empire-kingdom with an advanced, highly specialized bureaucracy centered on the capital Kumasi.
Slavery to Post-Colonial Era
Ghana was the first place in sub-Saharan Africa where Europeans arrived to trade - first in gold, later in slaves. It was also the first black African nation in the region to achieve independence from a colonial power, in this instance Britain.
Despite being rich in mineral resources and endowed with a good education system and efficient civil service, Ghana fell victim to corruption and mismanagement soon after independence in 1957.
Ghana was formerly known as the Gold Coast. On March 6, 1957, Kwame Nkrumah, the nation's first president, declared the country's independence. Three years later, Ghana became a commonwealth republic. The flag of Ghana consists of the colors red, gold, and green, with a black star.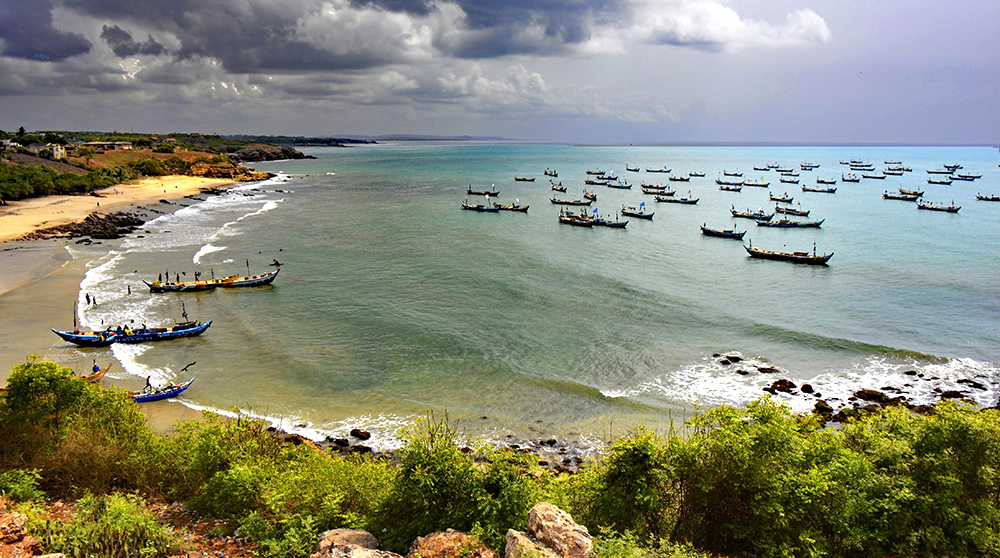 (Image by lapping from Pixabay)
---
Present Day
Today, Ghana is the world's second-largest cocoa producer behind Ivory Coast, and Africa's biggest gold miner after South Africa. It is one of the continent's fastest-growing economies and has made major progress in the attainment and consolidation of growth. Significant progress has been made in poverty reduction. In fact, Ghana is the first country in Sub- Saharan Africa to achieve the Millennium Development Goal 1, which is the target of halving extreme poverty. Ghana has recently become a middle-income country. The discovery of major offshore oil reserves was announced in June 2007, encouraging expectations of a major economic boost. Production officially began at the end of 2010, but some analysts expressed concern over the country's ability to manage its new industry, as laws governing the oil sector had not yet been passed. In July 2009, Ghana secured a 600-million-dollar three-year loan from the International Monetary Fund (IMF), amid concerns about the impact of the global recession on poorer countries. The IMF concluded that the Ghanaian economy had proved to be relatively resilient because of the high prices of cocoa and gold. Besides economic development, Ghana has made notable progress in good governance, and youth and gender empowerment. Important pieces of relevant legislation have been enacted and implemented to promote a more inclusive society. The government, for instance, has enacted Domestic Violence and Disability Laws, established Domestic Violence Victim Support Units, along with the implementation of the National Social Protection Strategy.
Additionally, over the last decade, Ghana has enjoyed increasingly stable and deepening democratic governance. Four successful elections in 2000, 2004, 2008, and 2012 have strengthened the effectiveness of key national institutions, enhanced investor confidence, and anchored the new economy in an environment for positive growth. Ghana has a high-profile peacekeeping role; troops have been deployed in Ivory Coast, Liberia, Sierra Leone, and DR Congo.
Finally, Ghana enjoys a high degree of media freedom, and the private press and broadcasters operate without significant restrictions. The media are free to criticize the authorities without fear of reprisals, says Reporters Without Borders. The private press is lively, and often carries criticism of government policy. Animated phone-in programs are staple fare on many radio stations. Radio is, arguably, Ghana's most popular medium, although it is being challenged by increased access to TV.
| | |
| --- | --- |
| Day 1: | Morning arrival in Accra, rest, and tour Old Accra |
| Day 2: | Visit Elmina Castle in Cape Coast |
| Day 3: | Visit Kakum National Park and Cape Coast Castle |
| Day 4: | Visit Assin Manso Slave Market and River Site |
| Day 5: | Travel to Mampon and tour the Center for Plant Medicine Research |
| Day 6: | Travel to Liati Wote and the Tagbo Falls Lodge |
| Day 7: | Hike to Tagbo Falls and meet with the village Chiefs |
| Day 8: | Service projects at community clinic & elementary school |
| Day 9: | Travel to Ho and visit Kekeli and UHAS – University of Applied Sciences |
| Day 10: | Full day service project with Kekeli |
| Day 11: | Travel to Accra and tour the West African Aids Foundation Clinic (WAAF) |
| Day 12: | Full day service project with WAAF |
| Day 13: | Tour of Black Star Independence Square, Kwame Nkrumah and W.E.B. DuBois Memorials, depart Accra in evening |
$5,150 per student, includes:
Roundtrip airfare from New York City to Accra
Lodging in double rooms in hotels
All meals (including stipend for meals on your own)
Bus transportation to all site visits and excursions
International health and evacuation insurance
Entrance fees for all sites on itinerary
Visa fees, including mailing
Tips for tour guides, drivers, etc.
Program fee does NOT include:
passport application costs
required and recommended vaccinations (Yellow Fever shot and malaria pills required)
tuition for one credit (if desired) is included in the Spring 2023 tuition bill.
Spring 2023 Financial Aid can be used to pay the program fee in some circumstances - check with your Financial Aid Counselor.
Documentation:
Passport must be valid for 6 months beyond return date
Visa - required for US citizens (Non-US citizens: please check with Office of International Education)
Utica University reserves the right to cancel this course for any reason, without penalty. If the course is cancelled, Utica University will make a full refund to applicants including the deposit. 
After admission into the program, the student is responsible for the full program fee. The deposit is nonrefundable. Should the student wish to withdraw from the program for any reason after admission, only recoverable expenses may be refunded. Utica University withdrawal/drop/add deadlines do not apply. The student must submit his/her intention to withdraw in writing. 
Utica University will not be liable for any costs incurred by a participant in preparation for the trip, including nonrefundable or restricted airline tickets connecting to the course's flights. Participants who miss any flights during the trip are responsible for their own costs to continue in the course or to return home. 
Utica University does NOT provide travel insurance and recommends that each individual consider purchasing their own travel insurance policy in the event that the participant cannot attend the course.
Academic Experiences Abroad (AEA)
Academic Experiences Abroad provides international, educational immersion on a local level to bring people around the world closer to understanding and appreciating one another. Specializing in faculty-led programs and starting with China in 2005, AEA quickly started to operate in the rest of Asia, and grew into other parts of the world at the request of clients, first with Brazil in 2008, Ghana in 2010, and Europe in 2015. As travelers, we are guests in the communities and homes we visit. AEA encourages respect for and learning from locals, practicing responsible travel and actively increasing our positive impact on people and the planet.
The Yellow Fever, malaria pills, COVID-19 vaccine, and routine vaccines are required. For more information, see the CDC page for Ghana.
All participants will have international health insurance coverage provided by UHC which provides medical care and repatriation, if needed, in case of illness or accident.
Utica University conducts a risk assessment with recommendations for risk mitigation for all international trips.
Contact Us
Assistant Professor of Nursing
Associate Professor of History, Director of Africana Studies
I would like to see logins and resources for:
For a general list of frequently used logins, you can also visit our logins page.