The Office of Student Living and Campus Engagement has many options for transportation on campus and in the local area.
Here are some of the options. If you have further questions, always feel free to call, e-mail, or visit the office and ask!
The Office of Student Living and Campus Engagement employs certified student van drivers to shuttle Utica students from campus to the local Sangertown Square Mall and Walmart in New Hartford on Commercial Drive. Shuttles will also bring students to the train station on weekends if requested in the SLCE office in advance.  The schedule changes according to the drivers' availability, but an updated schedule can be found on the bulletin board outside the 205 Strebel office door, or at the link below.

Cost:
FREE to Utica students
*Want to be a van driver?* Must have minimum 3 years clean driving experience. Contact Student Living and Campus Engagement, slce@utica.edu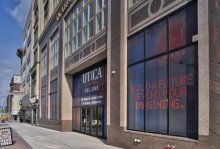 We're proud to announce that the School of Business and Justice Studies has relocated to the Robert Brvenik Center for Business Education in the Clark City Center, Downtown Utica. Program classes in Business Administration (MBA), Business Economics, Economics Management, Health Studies Management, Risk Management and Insurance will be held at the Clark City Center. The address is 181 Genesee Street, Utica, NY 13501 (click for Google map). Shuttles will run in coordination with course schedules at both main campus and downtown locations. For more information or to ask questions, please contact the Office of Student Affairs at 315-792-3100.

Details:
Monday-Friday, shuttle schedule link below. No service on weekends. Note abbreviated Wednesday schedule.
Centro is the public transit system in Central New York. Buses come through campus at all times of the day, and make many different stops. There are two bus stops on campus- they are green glass covered waiting areas.  One is at the stop sign near the Cynkus Welcome Center and past the Gannet Library just before the turn into the Strebel Circle.  Check a map of the area you want to go online, and the chart will tell you the time you need to get on the bus. Maps and routes can be planned on the Centro website, or call (315)797-7803.
Cost:
$1.50 for Single Ride pass (cash only on bus)
$15.00 for 10 Ride Pass
$150.00 for Unlimited Semester Ride Pass
*transfers are free*
Coach USA provides a service to popular college-towns at very reasonable rates to college communities. Shortline is the name of the route that travels from Utica, NY to NY, NY and almost anywhere in between. Check online for maps that list the destinations along the Shortline route. These tickets are non-refundable; however, they are good for 30 days past the purchase date (which appears on the ticket), so if the traveler misses the bus, they can catch the next one. Buses leave from the Strebel bus stop on campus every day at 11:00am and 5:00pm. The bus may be late, but DO NOT ever leave the bus stop, they WILL NOT wait for you.
For questions, call the Binghamton location at 1-800-647-6471 or 607-722-7553, open 24 hours.
Cost:
Varies according to destination, one-way vs. round-trip, and date of departure.
TGIF deals on certain destinations charge a discounted rate if travelers depart on a Friday and return on a Saturday, Sunday or Monday.
Uber and Lyft are available in the Utica area.  Reservations can be made through individual apps on the traveler's smart phone.  Please be cautious when using these services; always check the driver's name, description of vehicle, and license plate, and make sure they match the information the app gives.
 
Cost:
Varies by company and destination.
The most popular taxi services our students use are:
New Hartford Taxi: 315-507-2171

M-F 6 a.m. - 9 p.m.
Sat 7 a.m. - 7 p.m.
Closed Sunday

AmeriCab: 315-724-5454

M-F 7 a.m. - 3 or 5 p.m.
Closed Weekends
Cost:
Varies by company and destination.
Adonis-Avanti Transportation: 315-866-2011
Utica area to Hancock International Airport (Syracuse)
Preferred schedule 1 week in advance (unless emergency)
Cost: 
Varies by trip
$150 - $225 depending on people, luggage, and timing.
12 a.m. - 6 a.m. extra $10 charge.
Student groups that need transportation can have their faculty or staff advisor reserve a University van. It is the group's responsibility to get a certified van driver to drive it.
 
Cost:
Charges per mile. Call Facilities Management at x3191 for details.
I would like to see logins and resources for:
For a general list of frequently used logins, you can also visit our logins page.