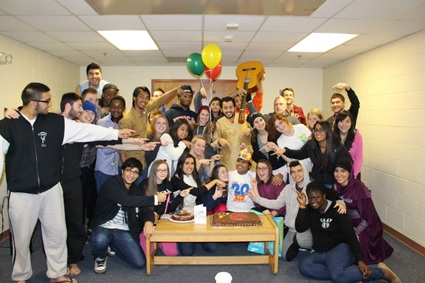 Global Village
What is the Global Village?
Utica College is proud to offer students a globalized living experience within the Global Village. Tower Hall, a cluster-style residence hall, is home to the Global Village and is composed of students from across the globe that interact together to have a multi-cultural living experience. These students select to live within the Global Village because they want to connect with students from other backgrounds, cultures, and viewpoints. This community focuses on acceptance, appreciation, and awareness of international affairs.
Unique Living Experience

Residents living in the Global Village have the unique opportunity to:
Reside within a cluster that is occupied by U.S students and International students.
Participate in a variety of events that focus on experiencing the Utica, New York, and American cultures
Participate in a variety of events to educate individuals on cultures from across the globe
Participate in discussions that focus on awareness and acceptance of international issues
Practice communicating with individuals from various backgrounds, cultures, and countries
Educate themselves on different cultures through first-hand interactions and experiences

How to Apply
Please submit your application through the
Utica College Special Housing Application.
This form must be completed and submitted by March 29, 2019, at 11:59 pm.