UCTV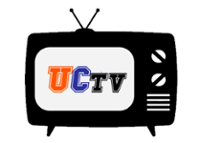 UCTV is a co-curricular student organization that writes, produces, and edits a variety of shows and public service announcements (PSA) promoting the College's athletics, majors, minors, departments, and other student organizations. UCTV is open to all majors, and can be taken up to four times for credit via the practicum course, JLM 133. This organization is designed to teach all students what it takes to produce quality video and audio. You can see work produced by UCTV on their website
uctelevision.org
.
The Tangerine
The Tangerine is the student-run newspaper of Utica College. It operates as an online news source and prints weekly during the academic year.
The Tangerine functions as an outlet for student journalists to learn the craft of reporting and storytelling across multiple platforms. The publication encourages all members of the student body, regardless of academic year, major or background, to contribute and invites a wide range of voices and viewpoints.
First published on Nov. 6, 1946, The Tangerine was founded during Utica College's first semester in operation and has remained an independent news source for the student body ever since.