RAY SIMON INSTITUTE
Ray Simon's Contributions to Public Relations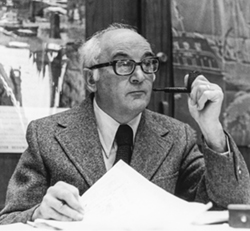 R
aymond Simon
was professor emeritus of public relations at Utica College and an internationally recognized leader in public relations education.
Born August 12, 1915 in Union City, NJ, to Isaac and Rae (Etkow) Simon, Raymond attended schools in Union City, graduated from the University of North Carolina and received a Master's Degree in journalism from Northwestern University. After graduation, he enlisted in the United States Army and served from 1942 to 1946 in the Army Signal Corps. After his discharge, he remained in Berlin as a civilian in the Army's Public Information Department until 1948 when he flew out in the middle of the Berlin Airlift. In 1949, Syracuse University hired him to develop one of the first undergraduate majors in public relations at Utica College, where he taught until 1985. He remained actively involved with the public relations program for more than two decades after his retirement.
PRWEEK
named him as one of the 20th century's 100 most influential people in public relations and in a survey by
Public Relations News
, Raymond Simon was named one of the forty prominent public relations educators and executives.
A prolific author, he wrote three well-reviewed textbooks that provided a foundation for the classroom teaching of public relations. Originally titled
Casebook in Publicity and Public Relations, Public Relations Management: Cases & Simulations and Public Relations: Concepts and Practice
, each book was subsequently published in multiple revised editions and in other languages. He also edited a volume of essays by leading public relations practitioners,
Perspectives in Public Relations
. After retiring, he co-authored a revision of his
Public Relations Writing
worktext with his faculty successor, Joseph Zappala. In addition, he wrote several public relations handbooks and chapters in textbooks by others and authored more than forty articles in academic and professional publications.
As a member of the Public Relations Society of America and the Association for Education in Journalism and Mass Communication, Professor Simon served on PRSA's first Education Advisory Committee and was an author of the national Accreditation in Public Relations exam. The first recipient of the Carl Byoir Fellowship, he served a summer residency at Byoir headquarters in New York City and also at Hill and Knowlton. (He is fondly remembered for summers spent editing copy at the
Utica Observer-Dispatch
and
Daily Press
.)
Under his guidance, Utica College established one of the first chapters of the Public Relations Student Society of America. The Raymond Simon Chapter, formed in 1968, continues today at the college and has won national awards in student competitions.
He was the longest serving Chair of the college's Division of Business Administration and a member and leading voice in all aspects of faculty governance. In 1996, the Utica College Board of Trustees awarded him the college's first honorary doctorate in humane letters.
Above all, he was recognized as an educator. He was the first member of the Utica College faculty to receive the Distinguished Teaching Award and is the only one to receive it twice. In addition, the Public Relations Society of America honored him with its Distinguished Teacher of the Year Award. The Central New York Chapter of PRSA gave him its first ever Lifetime Achievement Award. In 2015, the Genesis Group in Utica inducted him into its Education Hall of Distinction.
Upon his retirement, his alumni underwrote the Raymond Simon Institute for Public Relations at Utica College. With a mission to promote public relations education and student achievement, the Simon Institute has provided more than $250,000 in student awards and scholarships. In 2005, in honor of his 90th birthday, Utica College and his alumni honored him at a gala in New York City and announced the creation of the Raymond Simon Convergence Media Center, a state-of-the-art multi-media facility on campus.
His influence continues today through his alumni who lead major public relations firms and corporations and who have played major roles in the United States Congress, New York State Legislature, prominent newspapers and television networks, top universities and more.