RAY SIMON INSTITUTE

Raymond Simon 1915-2017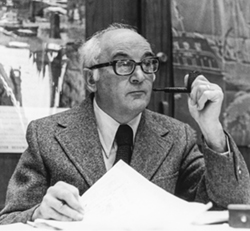 Raymond Simon, a pioneering educator in public relations passed away Nov. 7, 2017. He was 102 years old. If you would like to submit a memory about Raymond Simon please send it to Professor Patricia Swann at
pswann@utica.edu
. A history of Simon's contributions as an educator,
Raymond Simon - Public Relations Education Pioneer
, is available. This paper was awarded the history prize by the Museum of Public Relations.
---
About the Institute

Named for the former head of the Utica College public relations degree program, The Raymond Simon Institute for Public Relations was founded in 1986 with the purpose of enhancing UC's public relations and journalism programs. To achieve this purpose, the institute:
Honors the outstanding public relations/journalism alumnus or alumna
Grants the Ben and Gene Comora Scholarship, the John Behrens Journalism Scholarship, and the Raymond Simon Scholarship
Provides monetary support for faculty projects and student activities through the Bob '78 and Ellen Feldman Fund
Underwrites the cost of the Eleanor Sokolow/RSI Professional in Residence (PIR) program, which brings outstanding professionals in public relations and journalism to campus for several days
Funding for the PIR program was made possible by a grant from Owen Comora '53 and his wife, Betty, and is named after her late mother. Each year, the RSI also presents:
The George E. Jones '60 Outstanding PRJ Student awards to students in each of the four classes
The Owen Comora '53 Tangerine award to the most valuable staff member of the college newspaper
The Fred and Corinne Grates/RSI Achievement Award
The Flaherty Creativity Award
The David D'Alessandro '72 summer internship awards, granted to help cover the expenses of student internships
Each of these annual scholarships and cash awards, made possible through generous contributions from PRJ alumni, are granted to encourage excellence on the part of students in the public relations/journalism program. Selection of the awardees is made by the PRJ faculty and the executive director of the RSI.