Student Coaches

Reflection Log template

larger image
What it Means to Be a Coach
Service and Dedication
"I was very excited to see my help going somewhere. I really feel important and its a great feeling."
UC SHINE Coach Spring 06
larger image
Service Learning
"The connection that we made was reviewing sun protection and w
hat can happen to your skin when it has had too much sun. the students had already learned about this at the health fair, but they still had questions about things they didn't understand. "
UC Shine Coach Spring 06
larger image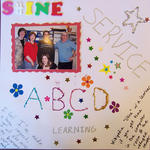 Thank You
"We are very thankful for the big job you did for us. We know we are going to miss you guys but we can't forget you guys for what you did and your patience with us."
A letter written to a UC Coach from the Learners at MVRCR Spring 06
larger image