Utica College

Metlife Health Literacy Initiative
Health Fair
The Health Fair is scheduled to take place on Wednesday April 13 2011. Please contact shine@utica.edu to find out how can you help!
Brief History...
The Health Fair began in the Spring of 2005 as an opportunity to have students enrolled in various health professions courses on campus become invovled in the process of further educating immigrants and refugees about different aspects of the United States health care system. In its initial year students went to the Mohawk Valley Resource Center for Refugees (MVRCR) to give their presentations.
In an effort to further expose the immigrant and refugee population to the community the Spring 2006 Metlife Health Literacy Initiative Health Fair was held on the Utica College campus. The immigrants and refugees were bused to the Utica College campus where students gave their presentations in the Hubbard Hall section of the academic building.
The Spring 2007 Health Fair was again held on the Utica College campus. This year the shuttle vans from Student Activities were used to transport the immigrants and refugees from BOCES and the MVRCR.
The Role of Metlife...
Metlife funds the Health Literacy Initiative and also provides wonderful volunteers each year for the Health Fair. These volunteers help to lead groups of refugees and immigrants throughout the various presentations. They are always so enthusiastic and helpful. Thank you Metlife!
Impact...
Below are the images of four thank you letters written by students at the Adult Learning Center housed at the Mohawk Valley Resource Center for Refugees who attended the Spring 2007 Health Fair.
(
Under each picture is the exact text of the letter. To see a larger image, click on the picture.)
"Thank you for inviting us to your health fair. I learned that I must brush my teeth everyday. I learned 911 is emergency phone number. I learned that exercise is good and fun. I saw many new things at the college. I like students classroom and buildings. Visit a dentist every 6 months. We learned don't eat a lot of candy. We learned don't seat a lot of fats like pizza, hot dogs, and hamburgers. Thank you."
"Thank you for inviting us to your Health Fair. I learned exercise is good. I learned about fruits and vegetables are important. I learned that I must brush my teeth everyday. I learned to eat a good lunch everyday. We learned don't eat a lot of fats like pizza, hotdogs, oils and hamburgers. If your hands are cut wash with soap and water. If you nose is bleeding we must hold tissue over not tight. We don't blow nose. We just hold for 10 minutes."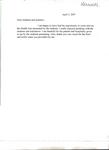 "Dear students and teachers, I am happy to have had the opportunity to come and see the Health Fair presented by the students. I really enjoyed speaking with the students and translators. I am thankful for the patents and hospitality given to me by the students presenting. Also, thank you very much for the food and bottle water you provided for me."
Media Coverage...
The Spring 2007 Health Fair received significant media coverage.
The following Press Release was issued by the college on the 29th of March 2007... http://www.utica.edu/instadvance/marketingcomm/news/index.cfm?featureaction=detail&id=1511&archive=1
Project SHINE Sponsors Health Fair at UC
Exhibition Connects Student Presenters with Local Immigrants

Written By Ami Olson, PR Intern

Fair to take place Wednesday, April 4 in Hubbard Hall
---
Contact
cleogrande@utica.edu
Utica, NY (03/29/2007)
- Project SHINE will host its third annual health fair at Utica College on Wednesday, April 4, from 12:30 to 2:30 p.m. in Hubbard Hall. As part of the MetLife Health Literacy Initiative, refugees and immigrants from throughout the area will attend the fair and view presentations given by Utica College students in various health-related fields of study.

The health fair is intended to allow some of the area's newest and most diverse residents to gain education about their health and local resources, as well as to expose students to a group of area citizens with whom they may not normally encounter. Students will present at the fair as part of a course curriculum.

The event will bring together nearly a hundred immigrants and refugees from the Utica area, as well as 80 Utica College students from different health-related fields of study. Ten volunteers from the Utica MetLife office will also attend the fair.

Project SHINE (Students Helping in the Naturalization of Elders) is an organization aimed at connecting health care educators and students with older immigrants and refugees, providing valuable experience to students while promoting English literacy and eliminating barriers for elder immigrants. Those attending the fair will be members of local English for Speakers of Other Languages classes.

Transportation for health fair attendants will be provided by Utica College; the event is only open to those who have recently relocated to the U.S. For more information regarding Project SHINE, call 223-2550.



About Utica College – Founded in 1946, Utica College is a comprehensive private institution that grants the Syracuse University baccalaureate degree and the Utica College master's and doctoral degrees. The College, located in central New York, approximately 90 miles west of Albany and 50 miles east of Syracuse, currently enrolls nearly 3,000 undergraduate and graduate students in 32 undergraduate majors, 24 minors, 13 master's and two doctoral degree programs.
In a response to the press release, the Utica affiliate for New 10 Now came to campus to get footage for a short news story which was shown on April 4th. The day of the 2007 Health Fair.
Please follow the link to view the news story. http://www.news10now.com/content/all_news/romemohawk_valley/?SecID=87&ArID=100884
Following the Health Fair, two articles, one focusing on Project SHINE (written by Meaghen Clarke) the other focusing on the Health Fair (written by Jonathan Monfiletto) ,appeared on page 6 of the
Thursday, April 12, 2007 edition of the school newspaper,
The Tangurine