Project SHINE at UC


Students Helping In the
Naturalization of Elders

News and Notes
Orientation - January 26, 2011!!!
Faculty Center room 101 - 1pm-3pm

If anyone is interested in Project SHINE please click the link below for information on how to get involved.


GET INVOLVED
If you have any further questions about getting involved do not hesitate to contact us by email at
shine@utica.edu
or stop by our office
White Hall 236
.
FOR MORE INFORMATION PLEASE CLICK THE GET INVOLVED LINK DIRECTLY ABOVE!!!
Project SHINE would like to send a big thank you to all the Project SHINE Coaches, community partners, and faculty for making the Spring 2010 semester a success. Utica College sent 20 coaches into the field. SHINE staff is in the office and is available to answer e-mail questions. If any students, faculty, or student groups are interested in participating in Project SHINE during the Spring semester please send us an e-mail at
shine@utica.edu
We look forward to hearing from you.
BURMESE REFUGEES IN UTICA

*The Mohawk Valley Refugee Center will be processing and resetteling over 200 refugees from the country of Burma (Myanmar). Check out the SHINE bullentin board for more information on Burma and the refugee population.* (You can also visit
www.unhcr.org
for more information.)
If you have further questions regarding Project SHINE stop by and visit! (Room 236 Miller White Hall)

What we are…
SHINE stands for "Students Helping in the Naturalization of Elders." It is a national service-learning initiative currently existing at 19 colleges and universities in 9 cities across the U.S. SHINE builds partnerships among colleges, universities and community-based organizations to benefit older immigrants, refugees and college students, who participate through a service-learning class, Federal Work Study, or as volunteers.
What we do…
SHINE links college students with older refugees and immigrants (50 and older) seeking to learn English and navigate the complex path to U.S. citizenship. In community centers, temples, churches, senior housing and classrooms, students coach or tutor elders in English, helping them become more actively engaged in their communities and teaching the U.S. history and civics needed to pass the citizenship exam.
Here in Central New York, Utica College and Hamilton College partner with the Mohawk Valley Resource Center for Refugees (MVRCR), the BOCES Utica Access Site, Matt Apartments and the Mohawk Valley Latino Association (MVLA).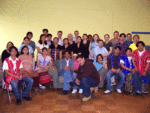 Contact Utica College Project SHINE
Coordinator
Darlene Heian
dheian@utica.edu
(315) 792-3309

Student Administrators
Kimberly Perth
Meagan Manuele
Room 236 Miller White Hall
shine@utica.edu
SHINE LINE (315) 223-2550