Gifts of Henry DiSpirito's Work to the Utica College Library (1997-1998):
By Dolores A. DiSpirito, Theresa M. DiSpirito, and Loretta DiSpirito Loconto


(All photos taken by Robert Chalmers, Class of 2001)
The Pain of War
(clay)
--This piece was inspired by the remembrance of World War I, in which the artist served four years in the Italian Army. (First modeled sculpture done at the MWPI, under Richard Davis, circa 1941)
The Refugee
(plaster)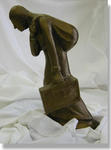 -- Again the artist recalled the devastation of war. (MWPI, under Richard Davis, circa 1941)
Model of The Athlete

--The Athlete [The Basketball Player] -- Plaster model completed in 1970. First model or idea of what the final statue would look like. Actual carving was done on the land opposite the Frank E. Gannett Memorial Library near Burrstone Road.
The Pioneer
-- This plaster model of the artist's concept of "The Pioneer." When the actual carving began, DiSpirito decided to make "The Pioneer" more rugged, so he made him without the coonskin hat and eliminated the log cabin in the background.
Dodging the Wind
(clay maquette*)
-- The finished piece follows the first concept the artist had. He modeled this sketch while looking at students from his studio window as they fought the wind and cold to obtain their education. He dedicated this piece to them.
The First Lesson
(plaster and clay maquette*)
-- DiSpirito often chose mother and child subjects. Always aware of the importance of education, he chose to combine the two, and so the idea of "The First Lesson" was born.
Mark Twain
(clay)
-- Life-size portrait of Mark Twain.
The Fox
(plaster)
-- DiSpirito's first attempt at an animal sculpture. (MWPI, under Richard Davis, circa 1941)
Ten Small Models
(maquettes*) -- Animal subjects modeled in clay by the artist during visits to the Utica Zoo between 1940 and 1957. DiSpirito walked from729 Jay St., Utica, his residence at the time, to the Zoo to study animals for use in future sculpting. Vincent Clemente, ceramist and longtime friend of Henry DiSpirito, fired these studies in 1998.
Various sculpturing tools, smock, and goggles used by the artist.

The Works of Henry DiSpirito
Permanent Collection