Utica College Campus
Facilities and Technologies at UC

Leading-edge resources for learning and research

UC students have access to an array of top-level learning and research facilities and technologies on campus.
We offer sophisticated learning environments designed to provide students and faculty with a broad range of opportunities to build professional skills, create knowledge, and find solutions using the latest tools and techniques in:
... and other fields.

Facilities
F. Eugene Romano Hall
Life Sciences and Health Professions Facilities

Dedicated in 2007, F. Eugene Romano Hall features leading-edge learning resources and technology for students in physical therapy, occupational therapy, and nursing.
Learn more >
Professor Raymond Simon Convergence Media Center
Journalism and Public Relations Learning, Production, and Post-Production Facilities
A leading-edge learning center for the study of journalism and public relations, this facility provides the technology to support integrated professional training across all media, including broadcast television and radio, Web, and print.
Learn more >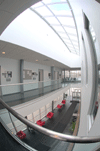 Economic Crime, Justice Studies, and Cybersecurity Building
Cybersecurity, Economic Crime, and Criminal Justice Research and Learning Facilities


Discover this innovative new facility to support UC's economic crime and justice programs, as well as the College's Center for Identity Management and Information Protection (CIMIP).
Learn more >
Back