Program Staff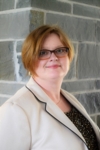 Mrs. Deborah L. Wilson-Allam, M.A.
Phone: (315) 792-3259
Office: 120 White Hall
International Education

Deborah has an MA in Teaching English as a Second Language from the American University in Cairo, and has taught ESL to students of all ages, from many different linguistic and cultural backgrounds. Deborah has also served as an administrator for school district ESL programs, and a professional developer for teachers of ESL in elementary and secondary schools.
...More About Deborah L. Wilson-Allam