Heart Run & Walk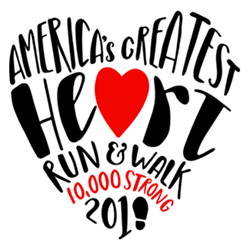 America's Greatest Heart Run & Walk
A Special Message for Residential Students
Utica College will host what is considered by many the most exciting charity event in central New York, America's Greatest Heart Run & Walk. On Friday, March 2 and Saturday, March 3, UC will open its campus to the nearly 10,000 people who will participate in Heart Weekend. For those who have not yet experienced this special event on campus, please take note of the specific details and instructions highlighted below. Those of you who have participated in or witnessed the Heart Run & Walk in previous years, please review the following guidelines and reminders:
More than 8,000 guests will visit campus Friday, March 2 to attend the Healthy for Good Expo, held in the Clark Athletic Center from 9:00 a.m. to 7:00 p.m. Guests will be using off-campus parking facilities, arriving on campus via shuttle buses beginning early in the morning. Students with proper student identification cards and/or a registered College parking permit will be permitted to park in their designated lot. The parking lots behind Clark Athletic Center will be closed from 6:00 a.m. on Friday, March 2 until the conclusion of Heart Weekend (approximately 1:30 p.m. on Saturday, March 3). Also, please follow campus safety traffic and parking instructions Friday when leaving and arriving back on campus.

All vehicles must be removed from Strebel Circle, the Strebel side lot, and the Strebel rear lot by 10:00 p.m. on Thursday, March 1 in preparation for the Heart Run & Walk. Violators will be towed at the owner's expense.

An anticipated 8,000 guests will be here on Saturday for the Heart Run & Walk, primarily in and around Clark Athletic Center and Strebel Student Center. Guests have been instructed to park in designated lots off campus. Shuttle buses will begin transporting individuals to campus at 6:00 a.m. A cannon will be shot off near the Burrstone Road entrance, indicating the start of the Run/Walk, at 10:30 a.m.

All residential students are advised to stay on campus Saturday morning unless they must leave for work or an emergency. In addition, students are encouraged to walk– not drive – to Strebel Student Center, Gannett Memorial Library, or other campus buildings as needed. If you must leave campus on Saturday morning, March 3, the only route to exit campus will be from the Clark Athletic Center parking lot to Ney Avenue (take the first left on Ney to Champlin Avenue). By order of the local police, no vehicles will be permitted back on campus until the completion of the event, which will conclude at approximately 1:30 p.m. If you work off campus on Saturday and your means of transportation is with a cab service, make arrangements to have the cab driver pick you up someplace on Ney Avenue.

The parking lots to both Burrstone and Champlin House will be blocked on Saturday morning through 1:00 p.m. Burrstone House residents who must drive off campus on Saturday before 1:00 p.m. should park their vehicles in the Gordon Science Center (Lot B) parking lot on Friday night. Allow extra time to walk to vehicles on Saturday due to the high volume of traffic on UC and local roadways.
America's Greatest Heart Run & Walk is one of the largest events of its kind in the country and a great opportunity to show your school spirit in a nationally recognized event. Utica College will once again be fielding a team, which will lead the thousands of walkers onto Burrstone Road for the 3- and 5-mile journeys. For information about joining Team UC, contact resident director Allison Moesel at 3322, or to register pick up a registration form at any of the many locations on campus. To volunteer, call the Office of Student Activities at 3037.
I encourage everyone to join the UC community as we bring awareness to heart disease and stroke. Your cooperation and support are important and greatly appreciated.
Thank you,
Timothy Ecklund

Dean of Students and Campus Life