Alumni Profiles:
Geoff Storm | Writing a new chapter in regional history

When Geoff Storm '06 began his research, he didn't imagine it would ultimately bring him to the dais of a major historical conference at Columbia University. Nor did he think the resulting paper would appear in the official journal of the New York State Historical
Association.
It was, however, a welcome affirmation of his work under the aegis of UC's History Project.
An integral component of the College's undergraduate history curriculum, the History Project allows students to engage in original research using primary source materials with the opportunity of having their findings featured in the Project's annual publication. The coursework covers advanced methods and practices in historical research as well as techniques for the development of scholarly literature.
The History Project chooses a different topic area each year. When Geoff took part in the program, research centered on the Mohawk Valley during the Great Depression.
"My specific topic was Franklin D. Roosevelt's use of radio while he was governor of New York," Geoff says. "I explored how this forum enabled him to develop his 'fireside chat' style and how the Schenectady-based station he used exclusively for his broadcasts was influential on the industry in terms of both format and technology."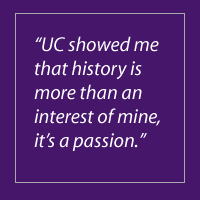 Geoff's archival research produced a work well worthy of publication. When he learned of an upcoming conference on New York state history at Columbia University, he submitted an abstract of his piece for review. The article was accepted, and before Geoff knew it he was on Columbia's Morningside campus presenting his findings before a roomful of scholars.
Following the conference, the New York State Historical Association informed Geoff that they would like to publish his paper in their journal,
New York History
. "I needed to talk to my professors, since they'd planned to include it in the next issue of the History Project journal. They knew it was a great opportunity, so they were glad to release it," he says.
Geoff's status as a published historian will likely further his plans for graduate-level study, an endeavor he is eager to take on. "I feel my experience in the UC history program has prepared me for graduate school," he says. "The classes are small, and most are conducted seminar-style, which I believe is the best way to learn. And Dr. Cash and Dr. Wittner absolutely made a difference. They're both very challenging, yet always accessible, and they're not afraid to encourage you or tell you when you're heading in the wrong direction. I can't speak highly enough about them."
And for all Geoff was able to discover about history, his most important discovery was about himself. "UC showed me that history is more than just an interest of mine, it's a passion that I want to pursue. So now I know I'm on the right path."