Campus Safety
LOCKDOWN
WHAT IT IS:


A lockdown is a procedure used to ensure safety when there is imminent danger. Individuals are asked to confine themselves by whatever means possible and remain indoors to secure their safety while the threat is handled by law enforcement.


LOCKDOWNS CAN BE USED FOR:


• Possible Active Shooter
• Nearby Danger
• Any other situations in which there is imminent danger


WHAT TO DO?


• Remain Calm
• Stop all activity and begin to lock/barricade doors
• Close blinds and cover windows to prohibit others from seeing inside the room
• Turn the lights off
• Stay low to the ground and away from windows/doors
• Ensure that the room is quiet and cell phones are silenced
• DO NOT open the door for anyone unless you are certain it is safe to do so (ex. Police officers, fire department, etc.)
• You will receive updates via UC Alert and be notified when it is safe to exit




---
To Reach A Safety Officer
Campus Safety Officers are available 24 hours a day and may be reached at the following numbers:


On Campus:

3046
or
611
Off Campus & Cell Phones:

315-792-3046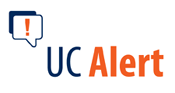 Get The (Text) Message.

UC Alert
helps keep you informed about safety concerns as they emerge.
Learn more →