The major in history offers one of the broadest and most flexible liberal arts fields at Utica College. It is intended for students who seek an understanding of the human condition through its historical development.




Special Opportunities


These programs celebrate anniversaries of events such as the Gettysburg Address@150, the Civil Rights Act@50, or WWI@100. They range in coverage from single talks to day long symposia.
to see pictures and information associated with recent symposia






Assistant Professor of History Peter DeSimone presents
at the Center for Historical Research's symposium

commemorating the 100th anniversary of World War I





These are monthly, informal talks that range from fully polished presentations to discussions of research in progress. Brown Bag Talks occur on the second Wednesday of every month from 12:30-1:30 in the DuRoss Faculty Dining Room. They are free and open to the public. Check the Utica College Department of History Facebook page for information about future presenters and locations: https://www.facebook.com/uticahistory/




The Center for Historical Research hosts a variety of public events celebrating various history months. These range from public lectures and receptions to other activities related to the month's theme. The Center celebrates LGBT History Month
(
October) Native American History Month
(
November), Black History Month (February), Women's History Month (March).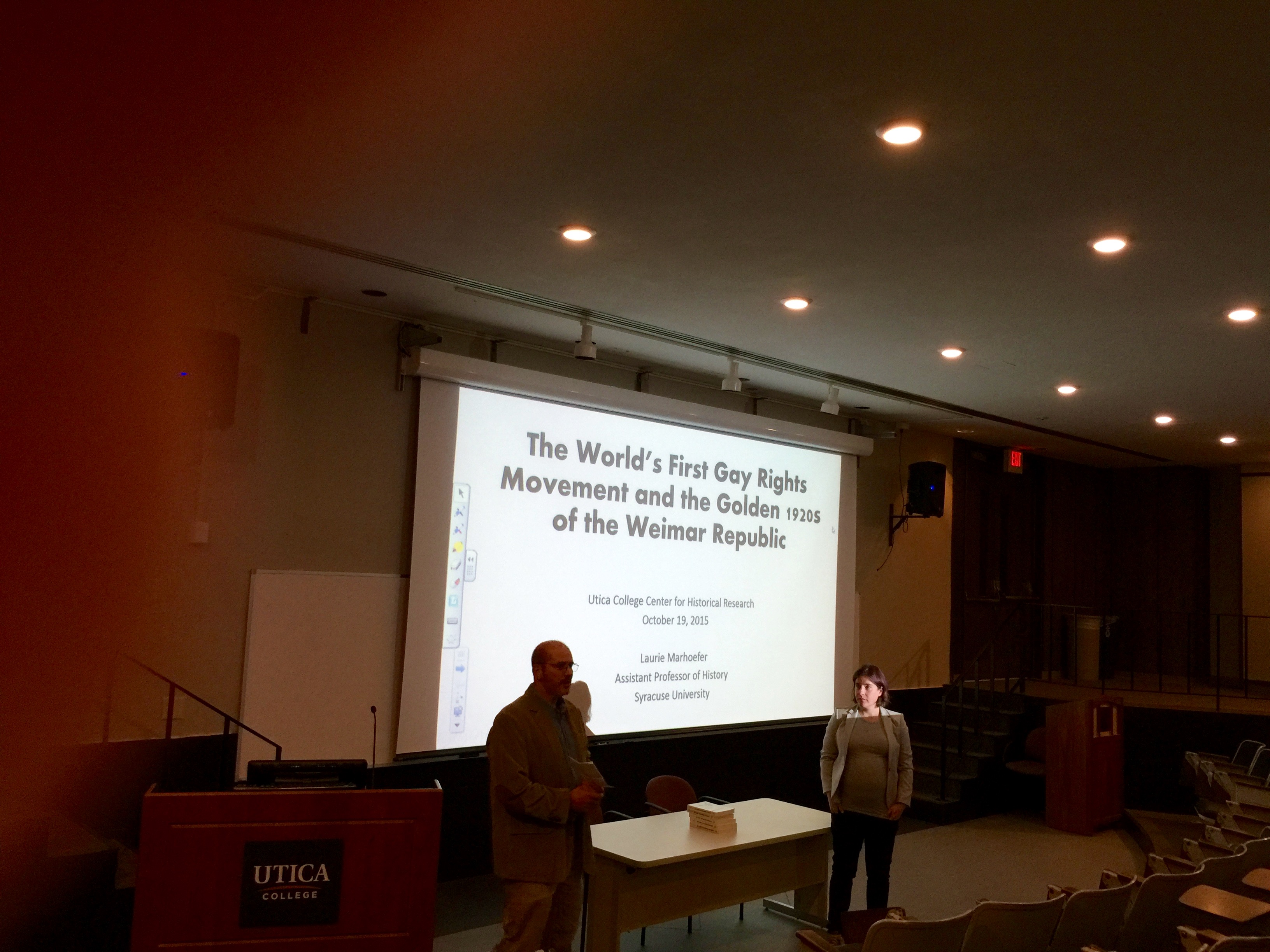 The History Club is open to the entire campus community. It undertakes several trips each academic year. Past trips have included: Washington, D.C., Gettysburg, Sleepy Hollow, New York, and excursions through the Mohawk Valley corridor to explore the region's Revolutionary War roots.
to find more information about the History Club and see pictures from previous trips.







Phi Alpha Theta is a professional society whose mission is to promote the study of history through the encouragement of research, good teaching, publication and the exchange of learning and ideas among historians. We seek to bring students, teachers, and writers of history together for intellectual and social exchanges, which promote and assist historical research and publication by our members in a variety of ways.


For more information,
to see the Gamma Xi chapter's official website.




Themed Events
These are talks with small receptions such as the foundations of English law and liberty or Halloween. We also have movie nights that are accompanied by discussions from experts. These have included talks by the New York State folklorist Ellen McHale and an academic discussion of iconic films like Godzilla.


History Receptions


These semi-formal gatherings provide majors, the history faculty, administrators, and department alumni with the opportunity to gather and socialize.



Faculty


The history department at Utica College has four full-time faculty members and a number of adjunct professors. They include:
Associate Professor Sherri Goldstein-Cash
earned a Ph.D. from the University of Arizona in U.S. History. Professor Cash specializes in 19th century labor and women's history. Her research is on the Burned Over District of Upstate New York.
Associate Professor David G. Wittner
holds a Ph.D. in East Asian History from The Ohio State University. Professor Wittner specializes in modern Japanese history, with a specialization in the history of technology in 19th century Japan.
Assistant Professor Peter DeSimone
earned a Ph.D. and M.A. from Ohio State University and a B.A. from Grand Valley State University. Prior to coming to Utica College he was a Graduate Research Associate at Hilander Library and Resource Center for Medieval Slavic Studies as well as adjunct faculty at Columbus State Community College.


Facilities


Utica College maintains seven academic computer laboratories on campus. These labs contain either IBM-compatible or Apple Macintosh computers. Classes are taught in some of the computer labs; all are accessible to any UC student during published hours. The labs are equipped with laser printers, and the computers have word processing, spreadsheet, and database programs. Student assistants and a Computer Help Desk provide any assistance that students need.
Career Opportunities


History graduates are prepared for fields such as social science teaching, all varieties of government service, and other careers requiring a liberal arts preparation. Students who pursue the minor in education are prepared for teaching at the secondary or elementary level.
Some students pursue graduate study of history. History is an excellent background for those contemplating professional training in law, library science, and similar fields.

UC Graduates
Featured Student:
Geoff Storm recounts his experience as a history major,
click here
Bridget Brown '74 teaches social studies at Proctor High School in Utica.
Barrett Carson '71 is vice-president for development at Georgia Institute of Technology in Atlanta, GA.
Frederick Degen '70 is associate attorney for the New York State Department of Law in Utica.
"I always liked history, and that's why I majored in it. I've been teaching social science for 22 years. At UC, I had some fantastic professors, especially in ancient history, and in the subject area I am teaching now, global studies, my teachers were outstanding."
--Bridget Brown '74, Social Studies Teacher, Proctor High School, Utica
"To understand the future you have to understand the past. John Locke always preached that experience is the best teacher. You can learn through history to analyze and use the past. As you get into business or any career, it's a great background because it allows you to put things in perspective and teaches you a sense of chronological order and time management, [which are] important skills for business."
--Richard Holcombe '69, President and COO, Visionaries, Westborough, MA
Further Information
Contact Department Chair Sherri Cash, Ph.D. at
scash@utica.edu