Reason 12: Value
THERE'S AN EASIER WAY TO GET GREAT VALUE.

A quality, private education you can afford.
W
ith
all that Utica College has to offer – truly awesome faculty, small class sizes, career-driven programs, advanced facilities, and more – you might think it's out of your price range.
The fact is, a quality, private education at UC is more affordable than you think. It may even prove to be more affordable than some of the larger, public institutions on your search list. Here's why.
Financial aid: the 95% solution.
More than 95 percent of Utica College students receive financial aid. Scholarships, grants, and loans reduce out-of-pocket costs for the majority of our students—often by more than half the cost of tuition.
Financial assistance falls into two categories:

Gift Aid, which includes grants and scholarships that students don't have to pay back. This also encompasses many federal and New York State aid programs.

Self-Help Aid, which requires repayment, such as low-interest federal loans.
Our Office of Student Financial Services will work closely with you to pursue every financial aid option available.
College scholarships and awards.
An important part of the affordability equation comes in the form of more than 300 scholarships and awards available through Utica College. These include:
College Scholarships: Awarded to full-time freshmen upon admission to the College on the basis of academic and personal achievements;

Endowed Scholarships: Endowed by alumni, friends of the College, and the community to provide continuing support to students based on need or achievement;

Merit Scholarships: Gift aid based on excellence in a particular field of study or in recognition of community service;
Do the math. (It's simple.)
You can get a rough estimate of your aid amount and expected cost by using our Net Price Calculator tool at
www.utica.edu/npc.
For a more complete and accurate picture, speak to a Financial Aid Counselor at Utica College. Visit our Student Financial Services site at
www.utica.edu/sfs
.
TWELVE GREAT REASONS:
---
"Pleasantly Surprised"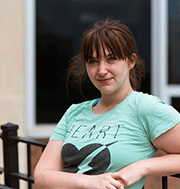 "I
had my heart set on going to Utica College, but my parents thought we couldn't afford a private school. After Utica awarded me a scholarship, we made all the calculations and were pleasantly surprised to see that it cost about the same as a larger public university."
Shauna Dieffenbach '13
Foreign Languages and History
By the Numbers
Get details about: