About This Program
You're intrigued by the way people think. You're curious about the comlplex connection between the brain and human behavior. You're naturally observant and analytical, and interested in studying social interactions from a scientific perspective. Psychology may be the right major for you.
Why Utica College
The psychology major at Utica College provides a broad foundation in a discipline that applies to a variety of professional areas. It is a versatile program that enables students to gain a deeper insight into human behavior and the scientific method. With a highly accomplished faculty and excellent facilities for the study of behavior, the major in psychology offers a strong emphasis on research and numerous opportunities to gain field experience.
Contact Information
(315) 792-3006
General Information
Utica Excellence, Utica Value
Psychology at Utica
"The brain is wider than the sky."
Career Opportunities
The psychology major provides a strong foundation for advanced study in the discipline, leading to rewarding career opportunities in:
Clinical and Research Psychology
Teaching
Social Work
Medicine
Law
Options
Utica College's Psychology program offers two degree options - B.A. and B.S.
Collaborative Research
Gaining a solid understanding and experience in conducting psychological research is an essential element of our program. The psychology faculty are actively engaged in various research activities and encourage student collaboration.
What You'll Learn
The psychology program at UC offers two degree options: Bachelor of Arts and Bachelor of Science. All of the traditional subdisciplines of psychology are taught, including developmental, social, learning/cognitive, biopsychology, clinical/counseling, and experimental methodology and analysis. This curriculum provides a broad background in psychology for those intending to pursue advanced studies, and general liberal arts education for students wishing to seek more immediate employment.
Psychology at Utica College
A Degree That Works
The psychology major prepares you for professional accomplishment in:
Mental Health Services
Assistance for individuals with developmental disabilities
Crisis management and substance abuse intervention
Business Management
Student Voices: Raneem Amra
A brief conversation with psychology major Raneem Amra, an international student from Palestine, about her program and her experience at Utica.
Student Voices: Kate Rosbrook
A visit with psychology major Kate Rosbrook, who was selected for a research assistantship at Yale School of Medicine's John B. Pierce Laboratory substantially on the basis of the high-level skills and abilities she developed at Utica College.
Psychology Society
Although consisting of predominantly psychology majors, this group is open to any student with a strong interest in psychology and topics relating to it. The purpose of the group is to search out careers and opportunities in, and become better acquainted with, the various fields of psychology and to promote understanding and cooperation between faculty and students in psychology.
PSYCHOLOGY SOCIETY
International Honors
Psi Chi is the International Honor Society in Psychology founded for the purpose of encouraging, stimulating, and maintaining excellence in scholarship, and advancing the science of psychology. Psychology majors at Utica College who excel in their coursework and meet the requirements are invited to join Psi Chi. Students are considered every semester and those who achieve this honor are invited to our annual Induction Ceremony each Spring semester.
PSI CHI
Lab access
Utica College's Psychology department offers three excellent facilities for research and discovery.
Abe Judson Memorial Psychology Center - features statistical and stimuli software on all computers
Animal Behavior Laboratories - located in Gordon Science Center, for research on behavior and visual perception
Child Development Laboratory - with one-way mirrored observation room
A Solid Foundation
All of the traditional subdisciplines of psychology are taught, including developmental, social, learning/cognitive, biopsychology, clinical/counseling, and experimental methodology and analysis.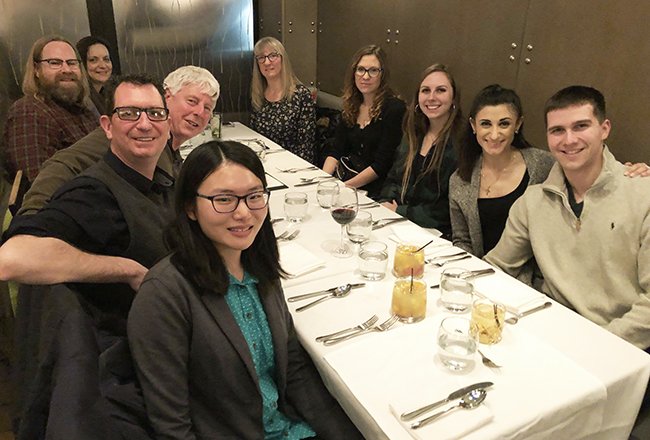 A Year To Remember
This brief retrospective takes a look back at a year (2018-19) in the life of the Utica College Psychology Department in photos, featuring conference presentations and other student/faculty achievements. 
View Presentation