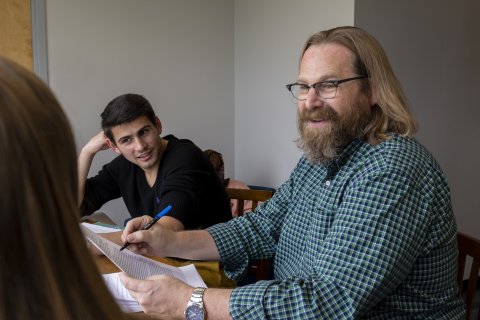 Position
Associate Professor of Psychology
Phone
(315) 792-3028
Email
Office
209 Science Annex
School of Arts & Sciences
Position type
Biography
I am a cognitive psychologist with broad interests in learning how we acquire, remember, and use knowledge about the world and ourselves. I love to teach psychology and, in particular, love to work one-on-one with students to help them to develop their understanding of psychological topics, to develop their research and writing skills, and to help them to pursue their own goals and interests in psychology. I hope that all my students will learn to put psychological science to work for them in order to enrich their everyday lives, work, and relationships. 
My current research interest concerns exploring why retrieval practice improves long-term memory. I am also interested in working with students to help them pursue their own research interests. I have worked with students on projects ranging from exploring the relationship between savoring and life satisfaction to examining whether a teaching intervention can reduce cognitive biases (e.g., confirmation bias). 
If you are a current student with a serious interest in working with me on one of my memory studies or in pursuing your own research interests, I welcome you to stop by my office (Faculty Center 209) to discuss it. If you are thinking about becoming a Psychology Major at Utica College and have some questions you'd like to ask, please feel free to send me an email at: jnschwoe@utica.edu 
Education
1998-2002 
Post-Doctoral Research Fellow, Cognitive Neuropsychology, University of Pennsylvania, Temple University, & Moss Rehabilitation Research Institute. Advisor: H. Branch Coslett
1993-1997     
Ph.D., Cognitive Psychology, Boston College
Dissertation: Recognizing objects seen from novel viewpoints: Effects of view similarity, variability, and time. Advisor: Kavitha Srinivas
1990-1992      
B.A., Honors Psychology, Castleton University
Past Research
For a full list of Dr. Schwoebel's publications, conference presentations, and other professional accomplishments, view his curriculum vitae.
Courses Taught
PSY101: Introduction to Psychology
PSY312: Research Methods in Psychology
PSY354: Cognitive Psychology
PSY411: Senior Seminar: How We Spend Our Days
Awards and Recognition
2019               
Senior Recognition Award: Nominated by the class of 2019 to be recognized for "unwavering support and guidance"
2014               
Utica College Women's Basketball Certificate of Faculty Appreciation
I would like to see logins and resources for:
For a general list of frequently used logins, you can also visit our logins page.