About This Program
Are you fascinated by the way people think, behave, and interact? Are you eager to explore individual and collective experiences of the past and present through hands-on learning? Sociology and Anthropology are the disciplines for you!
Why Utica University
Utica University's Department of Sociology and Anthropology provides students with opportunities to develop innovative research, communication, and socially aware problem solving skills. To develop such skills, students take a combination of required and elective courses in the major.
Interested students may choose to concentrate in a particular area of sociology and anthropology, such as criminology, gender studies, archaeology, and cultural anthropology (analysis of present peoples and cultures).
Students regularly pursue diverse interests in the form of internships, volunteering, and research projects on and off campus, which have supported local community, campus, and student needs. They may also present at professional conferences on and off campus. Past topics have included:
Non-profit organizations such as the YWCA and the Mohawk Valley Refugee Center in Central New York 
Social work that supports children, families, and the visually impaired 
Sports and Mental Health
Smartphone technology
Gun safety on college campuses
Criminal Justice
Forensic anthropology
Careers in museums and galleries
Immigration 
Local government and public policy
Online gaming
Careers in zoos in the care and conservation of monkeys and apes
Health and Nutrition
Human Resources
Such experiences prepare students for graduate school and careers after graduation.
The department also offers a study abroad opportunity in Forensic Anthropology.
Contact Information
(315) 792-3006
Department Chair
(315) 223-2468
General Information
Utica Excellence, Utica Value
Sociology and Anthropology at Utica
We could offer a course like the forensic anthroplogy field school anywhere, even at home. The extra benefit of coming to a place like Butrint is the opportunity to visit unusual parts of the world.
Career Opportunities
The sociology and anthropology major provides a strong foundation for advanced study in a range of disciplines and prepares you for professional accomplishment in:
Social Work and Counseling
Archaeology and Forensic Anthropology
Health Care and Education
Public Policy, Government, and Law
Applied Research and Data Science
Community Organizing, Entrepreneurship, and more!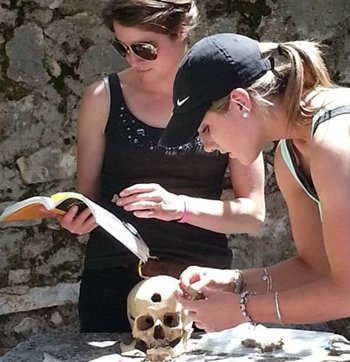 Experience It
The program maintains a strong focus on research with numerous opportunities for real-world experiences, including internships and field work.
Choices
The sociology and anthropology program at Utica University features five concentrations, giving students the opportunity to focus their studies where it interests them most.
What You'll Learn
Utica University's major in sociology and anthropology combines a strong focus on research with numerous opportunities for real-world experiences, including internships, fieldwork, and more. The major program features five topical tracks: Criminology, Gender Studies, Archaeology, Cultural Anthropology, and Build-Your-Own.
The department also offers minors in: Anthropology, Aging Studies, Gender Studies, and Sociology.
Sociology and Anthropology Faculty
A Degree That Works
The sociology and anthropology major prepares you for professional accomplishment in social services, government, teaching, and business; and provides a strong foundation for advanced study in a range of disciplines. Utica University sociology and anthropology alumni have taken leadership positions at:
The Social Security Administration
University of Arizona
National Development Council / Grow America Fund
The National Park Service