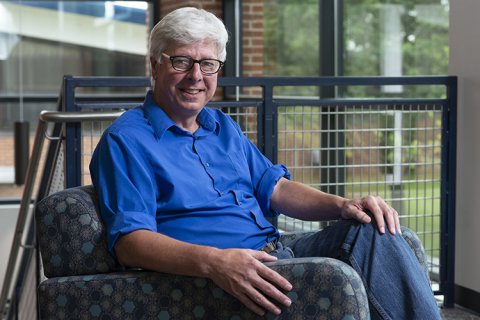 Position
Distinguished Professor of Psychology
Phone
(315) 792-3171
Email
Office
210 Science Annex
School of Arts & Sciences
Position type
Biography
Dr. Specht was trained as a psychobiologist but has recently re-focused his research on investigating the factors which influence how individuals perceive artwork. Dr. Specht is also an award-winning collage artist. He teaches courses in research design and statistics, psychobiology and a course entitled "Psychology and the Visual Arts".
 
Education
Ph.D. degree - Psychobiology, 1989 - Binghamton University (formerly State University of New York at Binghamton)
M.A.  degree, Psychobiology, 1987 - Binghamton University (formerly State University of  New York at Binghamton)
B.S.  degree, Psychology, 1982 - State University of New York, College at Oswego (Magna Cum Laude)
 
Past Research
For a full list of Dr. Specht's publications, conference presentations, and other professional accomplishments, view his curriculum vitae.
Courses Taught
Statistical Analysis & Design
Physiological Psychology
Research Practicum 
Drugs & Behavior
Advanced General Psychology
Psychobiology Seminar
Society and its Weapons: Modern Warfare (team-taught)
Topics in Art: Collage (studio course)
Positive Psychology
Experimental Psychology
Research Design & Statistics
Sensation & Perception
Learning & Memory
Introductory Psychology
Psychology & the Visual Arts
Clinical Research (Health Studies course)
History of Psychology
Seminar in Creativity                                                
Awards and Recognition
Utica College Faculty Summer Fellowship; "The effects of angle of perspective and individualability on estimation of putting distances" (2008)
Utica College Faculty Summer Fellowship; "Developing a series of fictitious research articles forstudent critiquing" (2002)
Lebanon Valley College Faculty Development Research Grant; "Developing procedures for determination of neurotransmitter levels in rat brain using HPLC" (summer 1990)
National Science Foundation Graduate Fellowship; Honorable Mention, Behavioral Neuroscience (1984 & 1985)
William G. McGarvey Award for the Outstanding Senior in Psychology; S.U.N.Y. Oswego (1982)
I would like to see logins and resources for:
For a general list of frequently used logins, you can also visit our logins page.