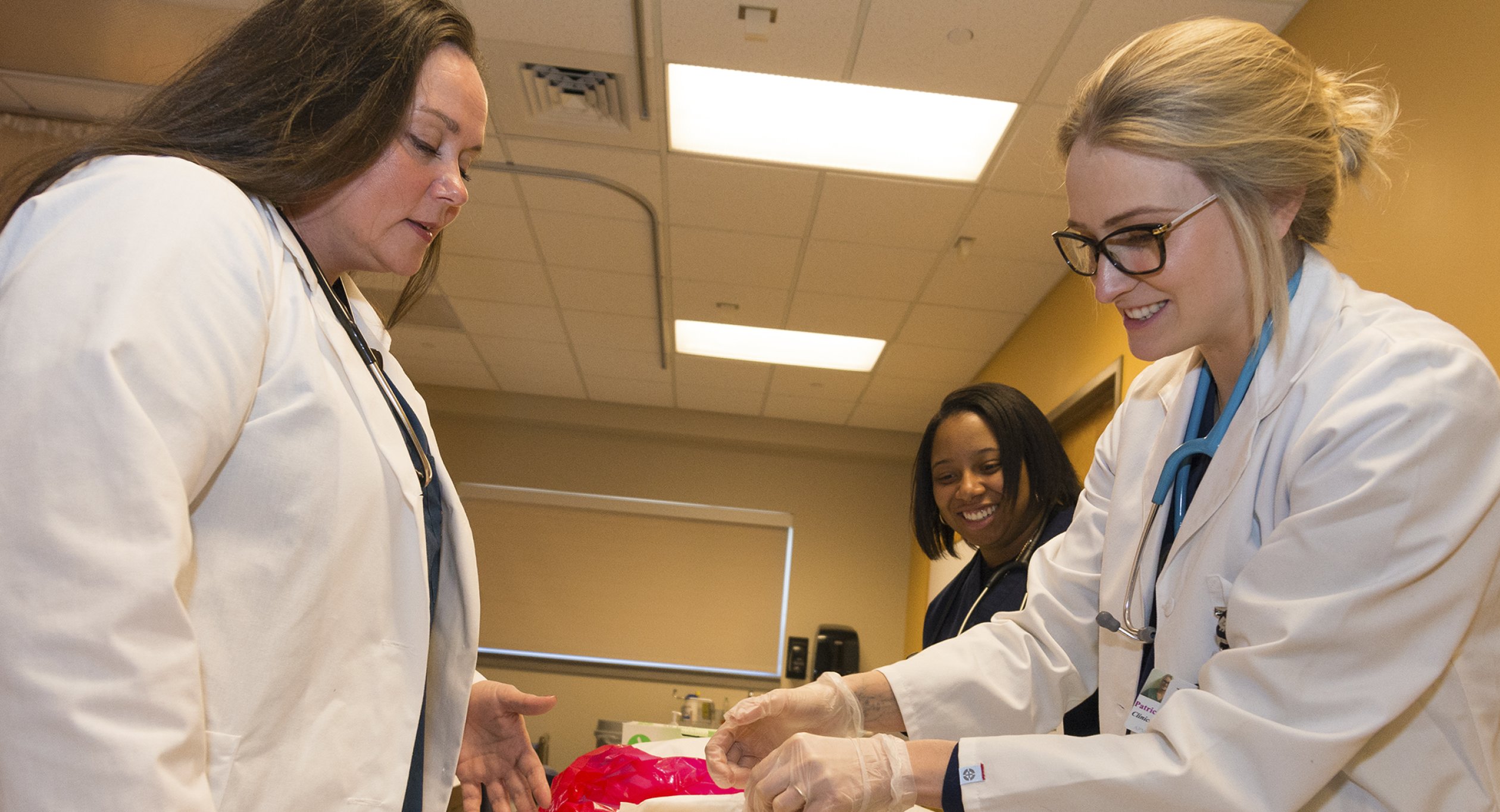 About This Program
Whether you're starting your first year of college or already have some classes under your belt, the Utica University FLEX-Track nursing program is your pathway to a rewarding career in the rapidly growing field of nursing.
Department
Why Utica University
Through a combination of online curriculum and lab / practical work on our Florida campuses, the FLEX-Track Nursing program at Utica University allows you to earn a B.S. in Nursing on your schedule, helping you develop the skills to provide quality care to your patients and achieve success in this highly rewarding profession.
As a student in our hybrid nursing program, you can expect a rigorous, full-time format that blends online and experiential learning.
Online nursing coursework occurs through an interactive e-Learning platform.
Clinical skills and nursing simulation labs provide hands-on practice in a risk-free environment.
Clinical rotations at local hospitals provide diverse patient care experiences in advanced medical settings.
Nursing faculty and staff offer guidance and support every step of the way.
Contact Information
General Information
Utica Excellence, Utica Value
Nursing (FLEX-Track) at Utica
"I chose Utica because they offered the best course to completing a B.S. in nursing."
Career Opportunities
Our hybrid nursing program uses a blend of online and in-person learning to prepare you for joining high-demand careers with qualified care providers, such as:
Medical Administration
Childbearing & Family Nursing
Critical Care
Community Health
Geriatrics
And more!
Rolling Admissions
As soon as your application is received, it's reviewed, which means you'll learn of your acceptance to our program sooner!
Start When You're Ready
Three start dates per year (January, May, and August) allows us the capacity to accept more qualified students than other area nursing schools.
What You'll Learn
With a rigorous learning model that blends online courses and face-to-face onsite labs, live simulations, and clinical rotations, the hybrid nursing program at Utica University is the perfect option to get your started or help you continue on your way to a nursing degree.

A Degree That Works
Utica University's hybrid program in nursing prepares you to take advantage of a growing demand for qualified care providers in critical care, childbearing and family nursing, geriatrics, community health, medical administration, and more. Utica nursing alumni have taken leadership positions at:
BayCare Health System - Tampa Bay
BayFront Health
Holy Cross Hospital - Fort Lauderdale
Johns Hopkins All Children's Hospital
Tampa General Hospital
Memorial Healthcare - South Florida
Moffitt Cancer Center - Tampa Bay
Empath Health - Clearwater, Florida
On the frontlines
In partnership with Bayfront Health St. Petersburg, students administered the COVID-19 vaccine in January 2021 to more than 60 high-risk individuals, including frontline health care workers and people aged 65 and up, as part of phase 1 of the Florida vaccine rollout plan. This once in a lifetime opportunity allowed members of Utica's FLEX-Track nursing program in St. Petersburg to be a part of history as they help fight back against the pandemic.
Why a BS in Nursing?
A growing number of hospitals are only hiring nurses with baccalaureate degrees, and industry trends suggest that an associate degree in nursing could eventually become obsolete. There is also mounting evidence of our country's increasing demand for baccalaureate-educated nurses as a means to improve patient outcomes and healthcare delivery.
Nursing Fact Sheet
Speaking from Experience
Students receive first-hand insight and experience through a variety of speakers that includes alumni, professionals, and industry experts from throughout the medical field.
Visit Our Florida Campus
Discover Utica University's St. Petersburg campus and explore a rewarding career in nursing or respiratory care. Register now for one of our upcoming events.
Browse Florida Events
Go Further
A baccalaureate education in nursing goes far beyond the fundamental nursing skills taught in an associate degree program. When you pursue a bachelor of science in nursing, your curriculum goes deeper into the nursing profession, covering areas such as nursing research, nursing management, and community health.
Dive Deeper
The Interprofessional Education (IPE) program at Utica University helps you develop a deeper understanding of a broad range of roles in the health professions so that you can effectively team up with practitioners in other disciplines to deliver outstanding patient care.
Learn More
Need help with your English Language skills?
Utica University offers an English for Healthcare program for those looking to improve English fluency, accuracy, vocabulary, communication skills, and confidence in order to take the next step in your healthcare career.
Learn More
Nursing at Utica University