Major in Neuroscience
Bachelor of Science Degree • School of Arts and Sciences
Neuroscience Program Faculty
Dr. Daniel Kurtz , Ph.D.
Professor BIO
Phone: (315) 792-3923
Office: 183 Gordon Science Center
Biography
---
visit Dr. Kurtz' ResearchGate Page

Much of my research career has centered on two area of research. One area involves sensory research of consumer products. Recently, Kim Foote, Jessica Wilczek and I have been investigating the influences of storage conditions on light-struck flavor (both smell and taste) in American beer packaged in different containers.. The second area involves understanding the nature of and basis for human olfactory loss and olfactory phantosnia. In this work, I have been examining various causes of hyposmia and a possible relationship to odor quality confusions – a kind of Ishihara color blindness test for the etiology of olfactory loss. As a continuation of this work, I have been developing a test that utilizes odorant quality shifts to diagnose the cause of an olfactory loss. That is, this test would rule out a neural disorder and rule in a conductive disorder as the causes of the loss. This work is reflected in the work of Kim Foote in our work on the relationship between odorant quality perception and the pathological presentation of patient from the Smell and Taste Disorders Clinic at SUNY Upstate Medical University. In addition, Kim and I are continuing work determining odorant solubility in human nasal mucosa.
Recent pubs/presentations:
Foote, K, Wilczek, J, Kurtz, D. A sensory comparison of the effects of photochemical transformation and temperature fluctuation on the smell and taste of domestic beer in regards to commercial packaging methods. Presented to Student Research Day, Utica College, Utica NY, Spring 2010
Mazyck, B. and Kurtz, DB. 2011. Smell and taste disorders. In: Five Minute Consult, 2010. Lippencot Williams and Wilkins.
Schwob, J.E., Kurtz, D.B., and Goldstein, B.J. 2006. The biology and testing of olfactory dysfunction. In: Otolaryngology Basic Science Review, Chapter 39. T. Van De Water and H. Staecker, Eds., Thieme, NY.
Kurtz, DB, Zhai, K, Hornung, DE, Scherer, P. 2005. Experimental and numerical determination of odorant solubility in nasal and olfactory mucosa. Chemical Senses, 29(9):763-777.
---
Admissions Events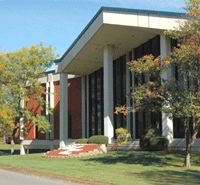 JOIN US ON CAMPUS:

EXPERIENCE UC

Meet students and faculty, tour campus, and join us for lunch.
Learn more / register


SATURDAY INFO SESSIONS
Q&A with staff followed by a campus tour.
Learn more / register
OPEN HOUSE
Learn more about programs, financial aid, student life, more.
Learn more / register
Upcoming events >