About This Program
You know how life-changing knowledge can be. You thrive when you're sharing information and ideas with others. You want a career that gives you the power to influence the future. Education may be the program for you.
Department
Why Utica University
The major in Adolescence Education is a 120 credit program approved by the New York State Education Department  (NYSED) and prepares teacher candidates with the knowledge, skills, and dispositions to teach in public and private schools in grades 7-12 in the specified NYSED certification area:
Biology
Chemistry
Earth Science
English
Mathematics
Physics
Social Studies
Students who complete the Adolescence Education, Grades 7-12 (B.S.) will:  
Demonstrate strong knowledge of the subject matter they will teach  
Demonstrate pedagogical content knowledge and the ability to use this knowledge to  design effective lessons  
Demonstrate teaching skills that promote student learning  
Teach caringly, effectively, and professionally  
Know how to learn  
Seek to understand multicultural perspectives  
Use technology effectively 
Contact Information
(315) 792-3006
General Information
Utica Excellence, Utica Value
Education (Adolescence, Grades 7-12) at Utica
Career Opportunities
Graduates of Utica University's Adolescence Education major are well-equipped for a variety of careers, including, but not limited to, employment at:
Public Schools
Private Schools
Tutoring Centers
Refugee Centers
Health and Human Services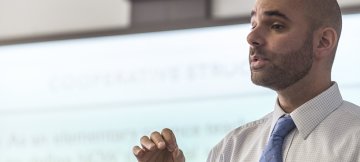 Opportunity
Student teaching opportunities are available at 35 area schools, providing hands-on experience in the classroom.
Real-World Experience
The Adolescence Education major includes observation and teaching in area public schools.
What You'll Learn
The Adolescence Education major requires teacher candidates to complete studies that prepare them with the knowledge, understanding, and skills in the liberal arts and sciences, including but not limited to: artistic expression; communication; information retrieval; concepts in history and social sciences; humanities; a world language other than English; scientific and mathematical  processes; and written analysis and expression.
Curriculum and Learning Objectives:
A Degree That Works
Utica University's education programs prepare you for a range of fulfilling career options as an educator, as well as graduate study in education. Utica University also offers master's degree and CAS programs in education. Our alumni have distinguished themselves as educators and administrators in school districts throughout New York State and across the country.
Experience in the Classroom
Adolescence Education majors complete a minimum of 100 hours observing and working public school classrooms, putting what they've learned to use in their senior year with an entire semester devoted entirely to student teaching.