Student Activities
Recognized Student Organization Re-Registration


Re-Registration for Student Senate Recognized Student Organizations that are seeking re-recognition for the 2017-2018 school year runs
Wednesday March 22, 2017 - Wednesday, April 19, 2017.
All re-registration steps MUST be completed before
Wednesday, April 19, 2017 at 11:59 PM
Decide your 2017-2018 Executive Board positions


Before your organization can begin the re-registration process, you will need to decide who will run the organization next year. All following steps require the new executive board members for the following year to complete and/or participate.
Each club and organization has a different process of how to determine new executive board members, whether it's elections, appointments, interviews, or something else. It's important the the clubs and organizations follow the process their individual constitution outlines. If your constitution does not outline a process for determining new executive board members, please refer to the process used in the Student Senate Constitution.
There are multiple Student Organization Board Training sessions scheduled. This is a
MANDATORY TRAINING
for new executive board members. All sessions will present the same information, so the same person need not attend more than one session.
To receive credit, one new e-board member must attend, but it is recommended that all new e-board members attend a training. Attendance will be taken at each of these training sessions, so please be sure to sign in and write down the organization represented. If one person would like to represent more than one organization, they are free to do so.
Student Org Board Training sessions: *NEW TIMES*

Tue 3/28 2:30pm-4pm in Strebel Aud
Thu 4/6 10am-11:30am in Strebel Aud
Wed 4/12 3:30pm-5pm in MacFarlane Aud
Mon 4/17 6pm-7:30pm in MacFarlane Aud
Please sign up to attend one of the session times at
THIS
link
The Advisor Agreement can be found online
HERE
and must be printed, filled out, and returned to the Office of Student Living and College Engagement before the re-registration deadline.
Organizations do not have to keep the same advisor(s) from year to year, but the office recommends this to keep consistency and history records. We do allow for orgs to have more than one advisor, however, the primary advisor must be a currently-employed Utica College faculty or staff member. If orgs have supplemental advisors, a separate agreement will need to be filled out.
New executive board members should have a face-to-face meeting with the Advisor to go over the agreement and sign it together. After turning in the completed agreement to the Office of Student Living and College Engagement, the advisor will get an email with an Advisor Training Powerpoint.

Organization members can find the registration form button on the organization's Pioneer Place page. The purpose of the form is to gather all leadership information for the following year. Here are some details of the information that must be gathered in advance in order to complete the form:

A. Profile Picture: This should be the logo or group picture of your organization as a representation of your group. This is important to the visual layout of Pioneer Place as well as an identifier for your organization. If a page already has one, we do not require it to change every year.


B.
Current Roster:
The form requires designations of the following positions, make sure to have the names and e-mail addresses of the members who will be in the positions ready when completing the form. You should also be removing student members who will no longer be members of the club next year, like graduating or transferring students. The names on the roster when submitted should be names of those students who will be club members at the start of the Fall semester.
i. Advisor iv. Webmaster
ii. President v. Treasurer
iii. Vice President vi. Secretary
C.
Advisor:
Each organization is required to have a faculty or staff advisor listed on their Pioneer Place roster. Make sure your advisor knows they have to have a Pioneer Place account and accept the Advisor designation through the link they get in their email.
D.
Policies:
Students must abide by the policies set forth by Utica College. This section details some specific policies and the submitter must read through these policies, agree to abide by them, and make sure the organization abides by them as a whole. The policies are as follows (click to get details):
i.
Hazing Policy
ii.
Bias-Related Crimes Policy
iii.
Sexual Misconduct Policy
E.
Constitution:
organizations should have a current electronic copy
of their constitution and/or bylaws. These are confidential documents and are only seen by members of the organization unless an org administrator changes permissions.
Once everything is completed sufficiently, the complete re-registration form will be sent to the Office of Student Living and College Engagement for approval. After the re-registration deadline passes, all forms will be reviewed by an office staff member and the Student Senate Recognition Committee. The submitter will get a message stating whether the form was accepted by the office, or will ask the form to be resubmitted with accompanying specific details.

---
OFFICE OF STUDENT LIVING AND COLLEGE ENGAGEMENT
SafeZone Program:
The Gay Alliance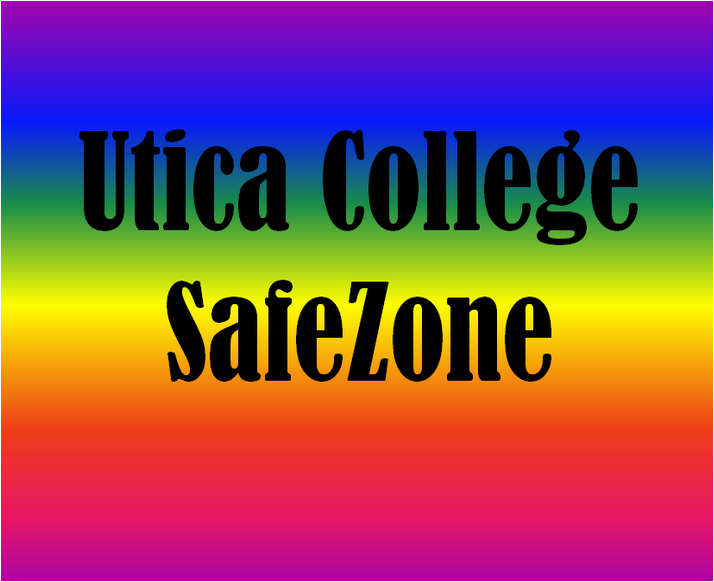 Adapted from www.GayAlliance.org
The SafeZone program was created to develop, enhance and maintain environments in workplaces, schools and other social settings that are culturally competent and supportive to LGBTQ (lesbian, gay, bisexual, transgender and queer/questioning) individuals, as well as straight, cisgender people who care about diversity, equality and inclusion.

What is a SafeZone?
A safe zone or a safe space is a place where all people feel welcome and safe. It may be a room, a car, or an entire college campus. The Gay Alliance SafeZone program aims to increase the awareness, knowledge, and skills for individuals and address the challenges that exist when one wants to advocate for their LGBTQ peers, family members, friends and co-workers. Creating safe zones or safe spaces is a proactive step that schools, agencies and corporations can take to create welcoming, inclusive spaces so that all people are empowered to reach their full potential.

Sponsored by the Diversity Committee
Contact Dean of Diversity and Student Development Alane Varga at avarga
@utica.edu
for more information or how to become SafeZone Certified