Campus Theme
UC's Campus Theme:


Exploring Key Issues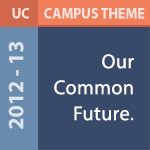 One of Utica College's most enjoyable traditions is the "Campus Theme," a year-long opportunity for all members of the College community to explore issues of great social importance from a variety of viewpoints. Events sponsored by other campus organizations, offices, or programs may all participate in and be recognized for "theme related" activities. The theme committee reviews proposals for theme sponsored events and contributes, as approved, to the funding of events that foster the campus theme. Faculty, staff, and students are invited to participate in and suggest:
Public events, including presentations by nationally recognized public figures
Classroom discussions
FILMS@UC
All-College forums

Campus Theme 2012-13: Our Common Future


"Our Common Future" focuses on the many threads of our shared opportunity and responsibility for the future of our world and beyond.... technology, sustainability, and reflections of history are among these threads.



This year's theme-sponsored and recognized events:

Construction Management Lower Union Park Playground Build Event: September 20, 2012
Business and Justice Studies Club and Pioneer Builders helped frame a house for a Burmese family: October 26, 2012
The Human Genome: Human Family Tree: October 15, 2012
"Diversity Committee's Guess Who's Coming to Dinner" Event: November 14, 2012
World AIDS Day events: December 1, 2012
Upcoming events include:


Campus visit and presentation by the founding chair Rick Fedrizzi of The U.S. Green Building Council: December
Storytelling event: TBA
25th Anniversary re-dedication of the Tree of Peace April 2013
Pioneer Builders Habitat for Humanity Project and posting of the 2012-13 Theme Graphic on the builder's project trailer

The Refugee Center's Health and Wellness Fair: April 2013
International Dinner April 18, 2013

Previous Campus Themes

If you have ideas for a Campus Theme
,
or if you represent a student or other campus organization and wish to
request funding
for a campus theme event, use our convenient
online suggestion form
.
Back
Share
|