Alumni Relations
Welcome UC Alumni and Friends.

Features: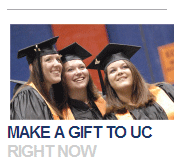 News
- Find out what is happening at UC and what your fellow alumni are up to.
Events
- Take part in these special events and activities for Utica College alumni and their families, catch up with some old friends, and meet some new ones, too.
Alumni Awards
- Do you know alumni who are continuing to give back to UC and or serving their community? Let us know by nominating them for an award.
Talk to Us
- Update your alumni contact information, and get your latest news published in the Pioneer.
Publications
- A number of publications are available to alumni. Subscribe or join our list today.
Volunteer
- Looking for the opportunity to make a difference? Why not start at your alma mater? From speakers' bureaus to special events, volunteer today!
Giving to UC
- You can make a difference today by giving to UC's Annual Fund.
Plan a Homecoming Event
- Got an idea for a Homecoming event?
Propose it for next year's celebration by
completing this form
and returning it to:

Mark C. Kovacs
Executive Director of Alumni Relations
Utica College
1600 Burrstone Road, Utica, NY 13502
mkovacs@utica.edu
.