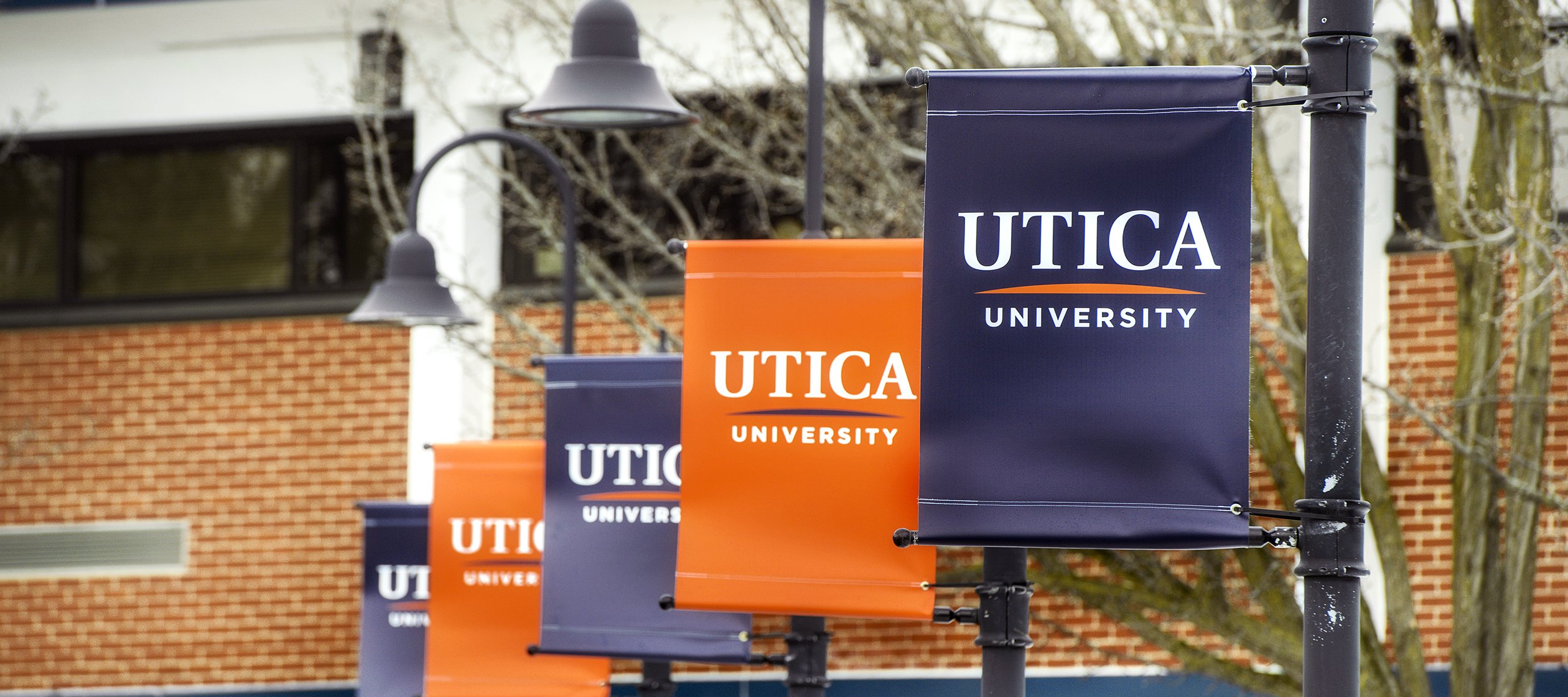 Honor Roll of Donors
Honor Roll of Donors
You Made A Difference
Listed below are the names of the many true Pioneers who supported Utica University's mission over the past year. Thank you all for making a difference.
2022-2023 Honor Roll
Giving Societies
The Oneida Square Society honors the visionary leadership of those donors whose lifetime giving to Utica University totals $100,000 or more. Their generous gifts helped build Utica University and lay the foundation for its future.
Genesee Street - $5,000,000 or more
Harold T. Clark Jr. '65
F. Eugene Romano†
Plant Street - $1,000,000-$4,999,999
Anonymous
Bob Brvenik '77
Larry '74 & Corky Bull
Community Foundation of Herkimer and Oneida Counties
John A. '57† & Valerie Donohue
The Hayner Hoyt Corporation Gary Thurston '68 & Jeremy Thurston '00
Lotis R. Howland Trust
Thomas J. '65 & Virginia Rossiter
Dr. Albert '49† & Gloria '82 Shaheen
Estate of Francis A. Wilcox
Hart Street - $500,000-$999,999
Adirondack Bank
George I. Alden Trust
ARAMARK
Donald G. '71† & Bernice F. '72† Benson
Thomas J. Jr. '49† & Marion D. Cahill†
The Carbone Family
Ellen Knower Clarke Charitable Trust
Harry J. Cynkus '71
Edward W. '50† & Jean M. Duffy†
Jim & Cynthia DuRoss
Charles A.† & Connie† Gaetano
Estate of Dr. Jean Halladay '53
Estate of Ruby Rogers di Iorio
Christopher '61 & Virginia Kelly
Albert S. Mazloom '58
John '61† & Betty Meehan
John F. Millett '52, DDS† & Margaret A. Millett†
Estate of Professor Wayne N. Palmer
Gerald Starer '65† & Dr. Stewart H. Starer '66
Francis Street - $250,000-$499,999
Adirondack Financial Services Corporation
Eugene† & Connie Corasanti†
John '66 & Ann Costello
Ronald '66 & Sheila Cuccaro
Fred L. Emerson Foundation
Estate of Joseph P. Furgal '50
Frank E. Gannett Foundation
Andrew '84 & Mary Hislop
Estate of Peter Kucherenko & Eugenia Kucherenko
Gary Kunath '79
LexisNexis
Mac-Clark Restaurants
Theodore E. Martin '61
Mele Foundation
Christian W. Meyer III '79 & Mary Beth Welle-Meyer '79
James '59† & Katherine Pyne
John F. & Jacqueline C. '11, G'13 Romano
Linda Romano & Russell Petralia
John & Deanna '62 Sammon
SBU Bank
Sodexo
Estate of Lt. Col. Edna Stappenbeck '51
Kenneth J. '80 & Wendy R. Taubes
Philip '70 & Barbara '69 Taurisano
Howard J. Terrilion '58
Dr. Esat Toksu
Walter W. '61† & Nancy Williams†
Estate of Gladys W. Young
State Street - $100,000-$249,999
Anonymous
Albert† & Nata M. Augustyn
Bank of Utica
BBL Charitable Foundation, Inc.
Ken Bell '75 & Anne Veness Bell
Nancy E. Blake '55
The Honorable Sherwood L. Boehlert '61†
Robert Brandt Jr. & Carole Brandt P'07
Dr. Leo J. '54† & Joan F. '54 Brannick
The Gilbert & Ildiko Butler Family Foundation
Judge Richard† & Catherine Clarke Cardamone
Filippo Casamento & Dr. Laura Casamento P'10 & P'13
John Casellini '81 & Christine Rutigliano
Thomas J. Cole '92
Thomas F. Cox Jr. '69
Professor Virgil C.† & Martha† Crisafulli
Steven M. Critelli '72
David F. D'Alessandro '72
Frederick C. Degen '70
Ronald H. '61 & May C. '60† Duff
Professor Allyn R. Earl '62
Estate of Suzanne J. Finegan '74
First Source Federal Credit Union
Marianne & Peter Gaige
Gilroy Kernan & Gilroy Inc. Larry & Elizabeth Gilroy
Arthur J. Golder '50†
Isaac Gordon†
Ronald '63 & Cecelia '62 Gouse
Friends of Dr. Michelle E. Haddad '81† Dental Seminar
The William Randolph Hearst Foundation
Dr. Hartwell C. Herring III & Paulette Herring
Sam & Nancy Hester
Heidi Hoeller '91 & Paul Serbaniewicz
Dr. Todd & Jennifer Hutton
Daniel B. '97 & Anne-Marie Jones
Estate of Mary S. Kramer '88
David Lamb '76 & Martha Sutton Lamb '77
Estate of Doris '52 & William Lynch
Sally '61† & Donald Majka†
Estate of Elvira Marotta
Professor Doris W.† & Walter E.† Miga
Wesley Miga '80† & Karen Stonebraker Miga '80
Wester '76 & Lorraine Miga
Fredericka Paine
Anthony C. '72 & Barbara Paolozzi
Dr. William F. Pfeiffer Jr.†  & Margaret M. Pfeiffer '89†
Mark '88 & Mary Beth Pilipczuk
P.J. Green, Inc.
John R. Pyle Jr. '50†
Dr. James H. Reagan Jr. '72 & Garnet Reagan
James E. Reid '73, Linda P. Reid & Griffin A. Reid '07
The Retirement Research Foundation
Estate of Esther Reynolds
Jeffrey B. Senft '76
Stephen R. '83 & Erika Sloan / S.R. Sloan
Slocum-Dickson Foundation, Inc.
Estate of Dr. Vincent A. Solomon '60
Charles '61† & Gretchen Sprock
Estate of Bernard W. Sullivan Jr. '61
Estate of Wilson H. Tyler '69
Utica First Insurance Company
Utica National Insurance Group & Foundation
Hans & Laura Wang
David J. Wilson '67
Women's Christian Association of Utica
George '55† & Ann '58 Wynne
Ronald & Helena Youngs Charitable Remainder Unitrust
Dr. Donald K.† & Doris Zellner†
† deceased  |  *arranged for matching gift
The Pioneer Society honors Utica University's most generous annual donors. The society recognizes those leadership donors whose commitment and investment in Utica University is critical to the institution's future. Each year, gifts received from Pioneer Society donors represent more than 80 percent of the University's total gifts.
Pioneer Society | Chair's Summit Circle
$20,000 or more
Anonymous
Kenneth Bell '75 and Anne Veness Bell
Robert Brvenik '77
Larry '74 and Cora Bull
Laura and Filippo Casamento
Harold Clark Jr. '65, H'03 and Bernadette Clark
Steven '72 and Dorian Critelli
Christopher '80 and Cynthia Crolius
Ronald '66 and Sheila Cuccaro
Harry '71 and Wendy Cynkus
Frederick '70 and Connie Degen
John Forte '73*
Peter '69 and JoAnn Lekki
Donald Majka †
Theodore '61, H'99 and Grace Martin
Christian Meyer III '79 and Mary Beth Welle-Meyer '79
Wester '76 and Lorraine Miga
Louis Natale '59
Mark '88 and Mary Beth Pilipczuk
James Reagan Jr. '72
Thomas '65 and Virginia Rossiter
Tricia and Joseph Rutkowski
Stephen '83 and Erika Sloan
Stewart Starer '66
Stephen '98 and Gina Surace
Kenneth '80 and Wendy Taubes
Howard Terrillion '58
Jeremy '00 and Carrie Thurston
David '67 and Jayne Wilson
Pioneer Society | President's Summit Circle
$10,000 - $19,999
Robert Brandt Jr. and Carole Brandt
Gerard Capraro '66
Don H'14 and Edna Carbone
Thomas Cole '92
Randolph Collins '83
Thomas Cox Jr. '69
Cynthia DeTraglia
Krista '82 and Louis DiBerardino
Violet Eagan '73 and J. Christopher Eagan
Allyn Earl '62
Arthur Golder '50†
Ronald '63 and Cecelia '62 Gouse
Hartwell Herring III and Paulette Herring
Samuel and Nancy Hester
Heidi Hoeller '91 and Paul Serbaniewicz
John G'13 and Deborah Johns*
Daniel '97 and Anne-Marie Jones*
George and Pinny Kuckel
Albert '58 and Elinor Mazloom
Jeffrey and Amanda Novotny
Rinae Olsen '09
Anthony '72 and Barbara Paolozzi
Vincent Rinaldi III '08
Linda Romano and Russell Petralia*
James '70 and Sharon Samuel
Kyle Sibley '08
Tanner Stewart '10*
Charles Teuscher '84
DeForest '62 and Arlene '63 Tinkler
Joseph Watson '08
Scott Weisman '77 and Virginia Furth Weisman
Pioneer Society | Burrstone Circle
$5,000 - $9,999
George '50 and Marilyn Barlow
Bart '62 and Carol Basi
William and Joan Blanchfield
Joseph '11 and Barbara Chubbuck
James and Margaret Clifford
Alan Ellinwood '68 and Susan Emery Ellinwood '69†
Daniel Fritz '20
William '74 and Linda Grammaticas
Robert Greene '67
Todd and Nancy Hutton
Carol and Robert Keller
Benay Leff '65
Bonnie '79 and David Liebers
Wesley Miga '80† and Karen Stonebraker Miga '80
Frank Mondi '62
Risa and Zachary Morrison
Thomas '69 and Anne '77 Nelson*
John Perillo '91*
Marianne and Dennis Reynolds
Kathleen Riley Tehan '76
Jeffrey Senft '76
Michael and Carol Simpson
Katie '98 and Richard Terry
Paul '05 and Catherine Ward*
Matthew Wilsey
Ann Wynne '58
Pioneer Society | Scholars Circle
$2,500 - $4,999
Anonymous
Andrew Beakman
Linda '89 and Les Bramblett
Geoffrey Brandt '07
Jim Brock Jr.
Alan Bucholtz '59
Mikhail Bushinski '17, G'18
William '68 and Judith Dowling
Matthew Dziekan '14*
Erica Eckman '08
Greg and Denyse Evans
Christine '92 and Peter Farley*
Richard and Bonnie Fenner
Linda Griffin '72 and Freling Smith
George Grisham Jr. '78 and Nancy Grisham
Douglas Gross '65
Andrew '69 and Eileen Guzzetti
J. Eric King '65 and Kathlene Thiel
Jean-Marie '78 and Richard Kneeley
Robert and Tatyana Knight
Dennis '13, G'15 and Heather '12 Labossiere
Carol and Steven Mackintosh
J. Kemper Matt Sr. and Angela Matt
Glenn Miga
Michael Miller '00
John '66 and Patricia '66 Mulhall
Stephanie Nesbitt and Liana Prosonic G'17
Todd Pfannestiel and Aimee Zellers
Solade Rowe '94 and Chidi Blyden-Rowe
Treesa Salter '88
Laura Salvaggio
John '71 and Mary Schalk
Kirsten Ullman '88 and Brian Bursa
Michael '66 and Mary Anne Valentine
Eric Watson and Paola Gentry
Pioneer Society | Charter Circle
$1,000 - $2,499
Anonymous
Nicholas and JamieLeigh Accordino
Kelly '00 and Michele '01 Adams
Jon '07 and Amanda Ames
Andrew '99 and Gina Arcuri
Francisco Ayala III '94
Alan Balutis '67
Gordon Bashant Jr. '55 and Nancy Bashant
Gregory '83 and Julie Benincasa
Aaron Benoit '09*
Marlene Bingaman '01
Ronald Blasi '68
Holly Boltz '75 and Daniel Vega
Jacqueline Boulden '75
Douglas and Catherine Bowne
Joan Brannick '54
Louis Brindisi
Bryant Buchanan and Sharon Wise
Stacy '88 and Robert Buckley
Janice Burke '70
Mary Cahalan '53
Matthew Carr '03 and Amie Lucia '05
Jeanette Carroll '50
James '78 and Catherine Caruso
John Casellini '81 and Christine Rutigliano
Al Cavo Jr.
Richard '71 and Paula Chmielewski
Dana Christofferson '14
Ann Ciancia '18, G'21
Peter and Suzanne Ciancia
Timothy Coakley '59
Richard Coffey
Frederick '73 and Bernadette Conte
Antonia Cortese '66
Vincent Coyne '66
Shad and Heidi Crowe
Kathleen '70 and Gordon '71 Custodero
Ann Damiano
Mark and Deborah Daviau
Leila Davis '89
Benjamin De Iorio '62 and Donald Daniels '61
Geno Decondo
Rory '77 and Vanessa '79 DeJohn
Dennis Donohue
Sharon Douglass '68
Richard '65 and Joan Evans
Michael Evolo Jr. '90 and Melissa Hobika Evolo*
Anthony and Katherine Farrington
Anthony Fasano Jr.
Francis Fiato '72
Anthony Fus Jr. '04, G'06, G'11
Shanelle Gabriel '06
Colleen Gaetano
Mary Gaetano
Anthony '61 and Annemarie '92 Garramone
Jeffery and Tara Gates
Mark Gauger '78
Lawrence Grasso '77 and Cindy Moeckel
Gwendolyn and Paul Grech*
Anna Green '73 and George Stairs
Lisa Green G'16 and Donald Green II
W. James Greene '54
Robert Gregg
Patrice and David Hallock
Jacqueline Hanifin '50
Mary Hayes Gordon '82, G'13 and Dean Gordon
Christopher Healy
Scott '69 and Paula Healy
Gary G'05 and Jodi Heenan
Kathy Hendel
Sarah Hinman '77
Stephen Hoffman '70 and Mimi Santos-Hoffman
John Hollister '69
Brian '75 and Susan Hughes
Michael '73 and Janice '73 Huss
Richard '67 and Sally '68 Jarvis*
Paul and Mairead Johndrow
Edward '62 and Honore Jones
Barbara Jordan '75
Robert '71 and Cindy Julian
Neal Keating '05
Harry '73 and Melissa Keel
Christopher '61 and Virginia Kelly
Richard Kennedy '97
Barbara Knauf and Arthur Knauf Jr.
Mark Kovacs
John Kuhlmann '72
Walter '60 and Gloria Kunz
David '76 and Martha '77 Lamb
Kim Lambert and William Wheatley
Ann Lambert Kremer '81 and Steven Kremer
H. Thomas Lennon III and Nancy Lennon
Michael Levine '05, G'12
Terrence Li '01 and Cat Bui*
Amy Lindner and Michael Failing
Dee London
Arlene Lundquist
Patrick MacDonald '02
W. Anthony and Carol Mandour
Barbara Marchilonis '69 and Clyde Evans
David '88 and Julie Martin
Anthony G'04 and Janice Martino
Nicholas and Susan Matt
Pamela Matt and Francis Matt III
William and Natalie Matt
Denise McVay G'07 and Robin Tayler
Daniel and Pamela Meehan*
Jennifer Miller '07 and Patrick Buchinski '08
Carol Montana
Robert '73 and Lynn Montesano
Richard '71 and Ellen '76 Moon
Rachel Netzband '63
Stephen and Joan Neun
Frank Notarianni '67
Kristi '90 and Geoffrey Noyes
Adalgisa Nucci '67
Peter '90 and Colleen O'Connor
John '81 and Kathleen '83 O'Donnell
Stephanie Opalka
Michael Pandolfo '78
Rose Patterson '87
Eric Peterson '13
Curtis and Joni Pulliam
Joseph Pupillo '04
Albert Pylinski Jr. '85
Sterling '74 and Douglas Remer
Doris Rice '68
Setsuko Rosen '87
John Rowe
Barry '70 and Patricia Ryan
William Salmeri II '73
James Salsbury '69
Ashlea and Cory Schad
Kristian Schlottner '01
Michael Scialdone '99
Anthony Shaheen '57
David Shanton '80
Robert '74 and Veronica Sherman
Norman and Ann Siegel
Kevin Smith '73
Susan Smith
John '95 and Renee Snyder
Vincent Stefan '18
Andrew Steiner '92
John '66 and Madeline Stephenson
Kyle Strife '08*
Ann Marie Teitelbaum Cassella '92
Elmus Thompson Jr. '74
Tracy Tolles-Rueckert '90 and Donald Rueckert
Joseph Tote '92
Kenneth '08 and Noel Visalli
Robert '72 and Susan '74 Warwick
Jeffery '04 and Kalia Whalley
Joseph Wojnas '88
John '68 and Patricia '68 Zalatan
Ralph Zegarelli '70 and Lucille Nickerson
Gerard '71 and Carolyn Ziehm
John Zografos '77
Jaime Zusman '65
† deceased  |  *arranged for matching gift
We gratefully acknowledge the commitment, foresight, and generosity of our community of alumni and friends who believe so fervently in our mission to educate that they have included the University when planning their philanthropy. Those listed here have either made provision in their estate and/or have taken steps to make a planned or deferred gift at some future point to benefit the faculty and students of Utica University.
Future Planned Gifts:
Lawrence and Linda '96 Aaronson
Robert '59 and Elizabeth Babcock
John Bach Jr. '75
Pat Bamdad '65
Annette Becker
Professor John C. Behrens †
Bernice Benson †
Leo '54 †and Joan '54 Brannick
Larry '74 and Corky Bull
Anne Calabrese '71
Gerard Capraro '66
Timothy Coakley '59
Thomas Cole '92
Harry Cynkus '71
Carolyn Dalton '74
Charles Daniels '64
Stuart Davis '58 and Constance Griffith Davis '58
Frederick Degen '70
Ron '61 and May '60 † Duff
Jim DuRoss
Carl Dziekan
Joan Friedenberg '73
Linda Gigliotti '69
Robert Greene '67
Honorable Linda Griffin '72
Mary Hayes Gordon '82, G'13
John Hobika Jr. '91
Eileen Hopsicker
Todd Hutton
Brian Jackson '85
Daniel Jones '97
Kevin Kasky '86
Harry Keel '73
Kim Landon '75
Benay Leff '65
Donald Majka†
Gerald Martin '71
Sharon White McEwan '64
Wester '76 and Lorraine Miga
Tim Nelson
Randall Nichols
Adalgisa Nucci '67
Theodore Orlin
Fredericka Paine
Charles '63 and Eleda '65 Roberts
James Samuel '70
James Sheldon '67
Henry Spring '77
William Swick '70
Ann Marie Teitelbaum Cassella '92
Howard Terrillion '58
Charles Teuscher '84
Joseph and Evelyn Tierno
DeForest '62 and Arlene '63 Tinkler
Hans and Laura Wang
Tina Wiernusz '79
Walter Williams '61†
Bequests Received from the Estates of:
Vincent A. Solomon '60
Wilson H. Tyler '69

† deceased 
Donors
1950
George Barlow
Jeanette Carroll
Rosalyn Danner
Arthur Golder†
Jacqueline Hanifin
Harry Kushner
1951
Robert Knapp
John McEvoy
1952
Jack Wittenberg
1953
Mary Cahalan
1954
Joan Brannick
W. James Greene
Robert Loomis
Andrew Siracuse
Marvin Sitrin
Talivaldis Spalvins
1955
Mitchell Amado Jr.
Gordon Bashant Jr.
Nancy Blake
Adrian Briggs
Donald Brown
Frank Chambrone
Senatro Iuorno
Katherine Shannon
1956
Anthony Fabbio
Robert May
Richard Mazzatti
1957
Daniel Cohen
John Dinneen
Anthony Shaheen
Stanley Walerski
1958
James Boehlert
Malio Cardarelli
Thomas Della Posta
John Dowd Jr.
Lorraine Fava
Frances Inkawhich
Frank LaPuma Sr.
Albert Mazloom
Terrence Nicholson
Alvin Rickman
Howard Terrillion
Florio Vitullo
Ann Wynne
1959
Alan Bucholtz
Timothy Coakley
Gilbert Condon
Mary Jones
Mark Morchower
Louis Natale
John Panarites
Arthur Sitrin
Ronald Varley
1960
Edward Cossette
Anthony Feduccia
William Gale
Walter Kunz
Roger Parish
Carol Parkola Murzin
James Vallee Jr.
1961
William Bushnell
Donald Daniels
George DiFabio
Grace Dreidel
Ronald Duff
Anthony Garramone
Christopher Kelly
Richard Kennedy
Marie Lambert
Theodore Martin H'99
Donna Merryman
John Moore
Anthony Pellegrino Jr.
Richard Thomas
1962
Nancy Aiello
Bart Basi
Richard Buckingham
Josef Burton
Lawrence Calabrese
Frederick Carville
Theresa Cohen
Benjamin De Iorio
Allyn Earl
Gary Gildersleeve
Cecelia Gouse
Malcolm Hughes
Edward Jones
Linda Julian
John McNeil
Frank Mondi
Bernard Roswig
DeForest Tinkler
Irene Urbas Brown
Edmund Waszkiewicz
1963
Jerry Amoroso
Donald Ballou
Rae Battle
Robert Brennan
Anne Burton
Barbara Clay
Teresa Cox
Patricia Davis
Naz Fiore
Ronald Gouse
Frances Hunter
Rachel Netzband
John Pinto
Peter Ricci
Maureen Scarafile
Carl Schmitt
Diane Talarico
Judith Talbot
Arlene Tinkler
Virginia Zito
1964
Ann Anderson
Nicholas Cardinale
Vincent Cicconi
Charles Daniels
Regina Galer
Sharon Giannico-Frisbie
Judith Gorman
Suzanne Harrington
John Haverlick
Carol and Kenneth Hawks
Harry Hertline†
Rosa Hosp
Patricia Jenkins
Dominick Mattia Sr.
Sharon Oberriter
Roy Raven
Pauline Rogers
Charles Sitrin
Joseph Sitts
Susan Slachta
Donald Starr
Lois Sumberg
James Walter
Cynthia Waymer
1965
Nannette Allen
Anthony Baleno
Stuart Barrett
Harold Clark Jr. H'03
Marta Donohue
Richard Eksterowicz
Richard Evans
David Greene
Douglas Gross
J. Eric King
Benay Leff
Anne Mercurio Dunn
Thomas Rossiter
Philip Scampone†
Vito Scarafile
Salvatore Zito
Jaime Zusman
1966
James Adasek
Gerard Capraro
Antonia Cortese
Michael Coyle
Vincent Coyne
Ronald Cuccaro
Francis Delaney Jr.
William Evans III
Barbara Freeman
Linda Handler
Robert Hubbell
Nicholas Kelly
Paul LaBella
Mary Malloy
Edward McDonald
John and Patricia Mulhall
Dorene Oberman Pizer
Lawrence Pasek
Francis Perretta
Anthony Perrone
Robert Polce
Stewart Starer
John Stephenson
Robert Thurnau
Diane Trotta Sacco
Michael Valentine
Daniel Ventimiglia
1967
Alan Balutis
M. Bruce Blocher
William Britt
Arthur Broga
Nelson Carpenter
Donald Commerford Jr.
Herbert Dorn
Robert Greene
William Grove
Richard Jarvis*
Janet Kolwaite
Karen Lally
Melissa Lazzara
James Leach
Terrence Lisbeth
Bruce Loomis
Richard Miller
James Mumford
Frank Notarianni
Adalgisa Nucci
Robert O'Gara
Richard Panko
Catherine Patterman
Frederick Scherer
Jacqueline Scotti
Vincenza Silverman
David Wilson
1968
Patrick Bastow
Ronald Blasi
Roberta Bonafield
Robert Byrd
Steven Callahan
Philomena Cerone
Cynthia Commerford
Judson Davis
Sharon Douglass
William Dowling
Lyle Eldred
Alan Ellinwood
Terry Fike
Barbara Fry
Anthony Grimm II
Joseph Hamoy
Thomas Helmer
Joseph Hovish
Paul Jasiewicz
Joan Koury
Lorraine Krecidlo
John Kuk III
Salvatore Pristera
Barbara Queirolo
Dominick Rasi
Doris Rice
Donna Schebel
James Smith
John and Patricia Zalatan
Maria Zegarelli
1969
Michele Boyer
Angela and Thomas Chmielenski
Thomas Cox Jr.
David Gibson
Diane Green
Andrew Guzzetti
Thomas Hansen
Daniel Hayes
Scott Healy
Jonathan Held Jr.
James Hickey
Gene Ann Hoffman
John Hollister†
Frank Kozusko Jr.
Peter Lekki
Kenneth Lerch
Barbara Marchilonis
Michael May
Thomas Nelson*
Mary Lou Pristera
Patricia Quinn
Robert Rasnick
Ronald Ribyat
Patricia Ruffalo
James Salsbury
Mary Scallon
James Silverman
Jane Sipila
Mark Stein
James Sullivan
David Suuronen
Harland Tolhurst Jr.
Imogene Zoller
1970
Patricia Bogan
Janice Burke
Alan Catlin
Kathleen Custodero
Frederick Degen
Patricia DeMatteo
William Dennison
Michael Dyer
Marcia Emmerich
Donna Falzarine
Kathleen Ford
Richard Gigliotti
Barry Grabow
Devlin Gualtieri
Jon Hoffman
Stephen Hoffman
Thomas House
Richard Janowitz
David Ketchiff
Joseph Kinney
Thomas Kinney
Kathy Lindsley
Nancy Mandry
Burrett McBee Jr.
Brenda McPherson
Robert Miller
John Nitchie
James Pugliese
David Quadrini
Joseph Rugari
Barry Ryan
James Samuel
Kenneth Scallon
Steven Slachta
Jeffrey Sweet
Linda Truax
Ralph Zegarelli
1971
Raphael Alcuri
Joseph Ayoub Jr.
Joseph Buttiglieri
David Calenzo
Richard Chmielewski
Gordon Custodero
Harry Cynkus
Gregory Donohue
John Gallicchio
Gene Goundrey
Anne Gualtieri
Sharon Gulla
Robert Julian
Ronald Kaminski
Frederick Kincaid
Richard Moon
David Navin
Mary Philp
Lawrence Piper
Eugene Quadraro Jr.
John Schalk
Donna Schofield
Alan Sherline
Nadine Thomas
Daniel Verna
Edward Wallace
Gerard Ziehm
1972
Michael Adamczyk
Thomas Bertlesman
John Bliss
Timothy Burback
Alan Caminiti
Martin Carlson
James Cook
Sherry Cooperman
Steven Critelli
Daniel Failing
Francis Fiato
Linda Griffin
Martha Hanson
Pamela Hodge
John Kuhlmann
Gordon Mappes
David Mathis
Anthony Paolozzi
Jan Radlowski
James Reagan Jr.
Lucille Ricci
Andrea Rounds
Robert Warwick
Harmon Wellman
John Winslow
William Young Jr.
1973
Ann and Thomas Berry
Leonard Bryant
Mark Cacozza
Joseph Calabrese
Rocco Carzo
Kenneth Circelli
Frederick Conte
Irmgard Dekin
Violet Eagan
Joanne Favat
John Forte*
Joan Friedenberg
Richard Fuller
Anna Green
Doris Hill
Charles Holmberg
Janice and Michael Huss
Harry Keel
Deborah Kinney
Carl Klossner
Joan Klossner
Thomas Krol
Cos Mallozzi
Joseph Militello
Robert Montesano
Edward Pfendler
Ralph Piscione Jr.
Eileen Rehm
Dwayne Robinson
Margaret Rowe
William Salmeri II
Kevin Smith
Daniel Szewczyk
David Thurmond
Robert Wineburg
1974
Arline Beaty
Michael Betrus
Christine Blossom
Larry Bull
Timothy Connors
George Crandall
Michael Donahue
Dennis Dyke
Michael Fanoun
William Grammaticas
David Hambruch
Paul Hawthorne
Patrick Helbach
Donald Henderson
Leo Joncas
Patricia Lonergan
Theresa Mack
Constance McConnell
Edwin Meyers Jr.
William Millar
Doris Nicholson
Diane Nobles
Anthony Prumo
Neil Reich
Sterling Remer
Robert Sherman
Mary Ellen Smith†
Joseph Tesoriere
Elmus Thompson Jr.
Guy Tomlinson
Patrick Tyksinski
Susan Warwick
1975
Lorraine Barringer
Kenneth Bell
Paul Bianchi
Richard Block
Holly Boltz
Jacqueline Boulden
John Burkholder III
Margaret Capalupo
Michelle Cashion
Thomas Davis
Douglas Garren
Raymond Hagan
Judy Hambruch
Brian Hughes
Barbara Jordan
Donna Kapes
Mary Karam Henderson
Donald Kelly
Gary LaBella and Jeanne Wickline LaBella
Robert Lalli
Kim Landon
William Lee
Edward Maziarz
Grace McNasser
Philip Mondou
James Moore
Aosta and Frank Nasutowicz
David Nobles
E. Daniel Powers
Angelo Reina
Ronni Shulman Mallozzi
Mark Techmanski
Annette Zarelli-Parsons
1976
Albert Allen III
Robert Baber
Janet Bennett
Alissa Bogorad
Steven Carey
Frank Gillette
Anne Ichihana
Dan Iovino
Jeffrey Kapela
David Lamb
Carol Lavelle
Scott Liebman
Wester Miga
Ellen Moon
Kathleen Riley Tehan
Stuart Rounds
Jeffrey Senft
Susan Torbin
Betty Torbit
Jeffrey Weiss
Mary Therese Zoeckler
1977
John Ata G'18
Robert Autrey
Theresa Brush
Robert Brvenik
Rory DeJohn
Lawrence Grasso
Timothy Gyana
Sarah Hinman
Lucretia Hunt
Martha Lamb
Belinda Lopez
Wendy Manitta-Holmes
Lorraine Martin
Frank Maurizio Jr.
Kevin McKeown
Matt Murell
Anne Nelson
Kevin O'Rourke
Timothy Perry
Patrick Putrello
Bella Reich
David Roberts
Nina Ven
Scott Weisman
Kirby Wilson
Joseph Zlomek
John Zografos
1978
James Caruso
Janine Carzo
Robert Clemente
Gary Gaffney
Mark Gauger
Leslie Goldberg
Elizabeth Gray-Nix
George Grisham Jr.
Suzanne Helbach
Wilson Jones
Jean-Marie Kneeley
James Kraus
Richard Lambert
Nancy Lavine-Anderson
Michael Pandolfo
Kathleen Potter*
Cynthia Riccio
Leroy Schmuck
Thomas Sweeney
Anthony Vincent
Marilyn Wright
Jill Ziemann Bergmann
Henry Zucker
1979
Peter Brody
Vanessa DeJohn
Siobhan Dugan
Donald Gregory
Michael Howard
Jerry Jadlowski
Jeffrey Johnson
Sylvia Liebers
Janice Maurizio
Christian Meyer III and Mary Beth Welle-Meyer
Kurt Miller
Paula Mrzlikar
Sharon Ruberti
Mark Salsbury
Alan Smith
Richard Smith
Tina Steen
Rosemary Stickles
Joseph Tarkowski II
Peter Tarnapoll
Marlene Urtz
1980
Anonymous
Kathryn Barefoot
Robert Blake Jr.
John Caher
Joseph Caruso
Audrey Copperwheat
Michael Corasanti
Christopher Crolius
Bruce Daniels Jr.
Robert Harris
Mark Hobaica
Philip Klossner
Susan Knox
Peggy Lounsbury
Timothy and Louise McGowan
Judith Owens-Manley
Wesley Miga†
Karen Potter-Hughes
David Shanton
Karen Stonebraker Miga
Kenneth Taubes
April Tiffany
Marjorie Ziegler
1981
Barbara Brusehaber McMurray
John Casellini
Nannette Dusseault
Ann Lambert Kremer
Helene Maichle
Michael Mayo
Jeannine Murtaugh
John O'Donnell
Richard Puff
Ronald Rudolph*
Thomas Scirto
Wendy Short
Thomas Warren
1982
Karen Bestwick Bricker
Gwen Connors
Christopher Crane
Naomi Dee
Krista DiBerardino
Veronica Frazier-Howard
Mary Hayes Gordon G'13
Dorothy Hilts
David Keller
Tracy Lach
Stephen Maslen
Kevin Mattison
Gloria Shaheen
Joseph Spadafora
Lawrence Stone
Kurt Thompson
1983
David Armon
Gregory Benincasa
Melody Blake
Linda Bowen
Randal Caldwell
Patrice Canady
Marina Cecchini
Daniel Chmielewski Jr. and Dawn Chmielewski
Randolph Collins
Janice DiNardo-Kaminski
Daniel Hess
Kim Inkawhich
Kathleen O'Donnell
Roger Shapiro
Stephen Sloan
Murray Smith Jr.
Elena Topoozian
Sabra Williams
1984
Dolores Boehlert
Alane Burke
John Burke
Thomas Green
Lennox Hackett
Sheila Ingram
Alexander Jess
Lynetta Lipsey-Hughes
Marian Marshall
Karen Mattison
Jacqueline Mayo
Philip Mazzatti
Deidra McGill
Olga Perez-Bowen
Jay Rich
Annice Smith
David Smith Jr.
Charles Teuscher
Janice Tona
1985
Paula Carey
Maryann Carlo
Rose Carpenter
William Chappell
Jai Dorsey
Adelaide Foresti
Terry Gras*
Brian Jackson
Michael Kardasz
Cathleen Krol
Mark Larson
Jennifer Leary
Lorie McClory
Tracy McDuffie
Kim McNeil-Capers
Philip Moehringer
Mariann Munson and Robert Munson II
Albert Pylinski Jr.
Linda Rooney
Carol Soja
Roxana Spano
Marianne Trevisani
Lynne Wadsworth
Selwyn White
Susan Whitteker
1986
Cora Bruns G'05
Charles Cerny
Victoria Delfino
Tholonikus Dupree
Romy Emery
Kevin Kasky
Janet Malone
Nora Mammen
Tracey Pierce
Thomas Wilson
Janis Winn
1987
Kenneth Barneys
William Boyd Jr.
Mary Cimbalo
Wendy Ellis
Evelyn Fazekas
Kathleen Gatzendorfer*
Sharun Goodwin
Desmond Gordon
Alan Higgins
James Humphrey
Wendy Lockwood
Daphne Mack
Eileen Navagh
Rose Patterson
Michael Rodzinka
Ann Roman
Setsuko Rosen
Lisa Ruyack
Deborah Sellars
Louis Shkane
Daniel Stalteri
Michael Trunfio Jr.
1988
Todd Armstrong
Joseph and Susan Baker
Stacy Buckley
Nancy Buswell
Michael Ciancaglini
Brenda Coyne Waters
Michael Dalgetty
Ronald Danilowicz
Yvette Harrison
Denine Johnson
Greg LeTendre
Susan Lux
David Martin
Lisa McCarthy Dennis
Kelly Moore
Mark Pilipczuk
Treesa Salter
Richard Short
Jillian Smith
Kirsten Ullman
LaVerne Wariboko
Joseph Wojnas
Susan Zullo
1989
Anonymous
Linda Bramblett
Ruth Dalgetty
Sarah Dam
Leila Davis
David Fontaine
Veronique Germaine
Annmarie Kinsella
Linda Lamach
Denise Leary
Robert Masorti
Kim Raga
Andrea Sappleton
John Stock
Lucius Thomas
Richard Viti
Kevin Wade*
Dale Wagner
1990
Mark Applebaum
Mary Cardinale
Bridget DeLoatch-Outlaw
Michael Evolo Jr.*
Michael Garguilo
Peggy Henry
Deborah Kessler
James Kozak
Pascale Lewis
John Murray Jr.
Kristi Noyes
Peter O'Connor
Joseph Perry
Richard Pratt
Tracy Tolles-Rueckert
Randall Vitullo
1991
Roger Archer
Anthony Baird
John Barbieri
Rebecca Burmaster
Bradley Buyce
Lucy Grande
Lorraine Griffo
John Hobika Jr.*
Heidi Hoeller
Julia Lynch
John Martello
Michael Mirras
John Perillo*
Jeffrey Pinard
Kevin Rasha
Ralph Rimando Jr.
Vaughn Saville
Robert Wiener
1992
Paige Barese Labelle
Michael Benson
Elizabeth Bernabe
Julie Betro Shkane
Thomas Cole
Robert Conrad
Michelle Droll
Christine Farley*
Annemarie Garramone
Annette Gleason
Ebony Harrison
Karen Hook
Stephen Lewis
Brian Lipkin
Heather Meaney
Christy Miller
Joleen Riscica
Curtis Smith
Andrew Steiner
Ann Marie Teitelbaum Cassella
Joseph Tote
1993
Kristin Bassett
William Girvan
Nicole Hadcock
Jeffrey Harrison
Beth Lanza
Jeremiah Malloy
Frederic Polito
William Prior
Richard Racioppa
Anthony and Leanne Rorick
Maryanne Seguro
Kathleen Smith G'09
Christine Stanavich
Anthony Sullivan
Nancy Wallace
Cynthia Wiener
Michael Yelle
Michelle Yerdon
1994
Francisco Ayala III
Linda Blodgett
Pamela Bongiorno
Alexia Conrad
Matthew DiCaprio
Bernard Hyman Jr.
Mark Kozak
Gina Pearce
Anthony Picente Jr.
Todd Prouty
Solade Rowe
Stephan Shapiro
Ann Tabrizi
1995
Jocelyn Brandt*
Leigh Levatino
Lisa Muurisepp
Lorraine Panella
Melissa Racioppa G'16
Kimberly Richardson
Joseph Sallustio III
Jennifer Sexton
John Snyder
Courtney Souvenir and Ericka Tate-Souvenir
1996
Linda Aaronson
Julie Bush G'11
Thomas Dosch Jr.
Heather Gaetano
Malin Noto
Scott Schauer
Mark Strong
Vicki Wilson
1997
Alexandria Caraballo
Robert Cole*
Ralph Figueroa
Brian Gabriel
Jason Harris*
Jennifer Herzog
Daniel Jones*
Richard Kennedy
Marcia Knapp
Denise Miles
Matthew and Tammy Mortier
Kevin Noto
Christie Paul
Jason Rosenberg
Kerry Sullivan G'04
1998
Jeffrey Baldwin
Amy Campanella
Laura DeStefanis
John Dodge
Kyo Dolan G'03
Scott Goodrich
Annalise Henry
Amy Kobelski
Regina Luttrell
Lauren Mattia
Andrew Siuta
Mary Snyder Radel
Stephen Surace
Nicole Tarson
Katie Terry
1999
Anonymous
Maria Araujo
Andrew Arcuri
Afealliah Asramon
Eryn Balch
Martin Bruns
Mary Christopher
Jill Goodrich
Amy Haver
Tyson Lowry
Eric Mosca*
Jessica Nelson
John Ossowski
James Ruotolo G'03
Michael Scialdone
Polly Smith
2000
Kelly Adams
David Baker
Mariah Kane
Michael Miller
Elaine Ramirez
Jodie Taylor
Jeremy Thurston
2001
Michele Adams
Stacie Baldwin
Marlene Bingaman
Dwayne Burns
William Callahan III
Nanthale Collins
Alicia Crandall
Scott Getz
Robert Jones G'01
Joanne Lein
Terrence Li*
Sasha Pryce-Roberts
Kristian Schlottner
David Thornley
2002
Richard Keeler
Patrick MacDonald
Roy Miller Jr.
Candice Ossowski
Kristin Phelps
Ryan Putrello G'11
Brian Reese G'04, G'07
Matthew VanWaes G'13
Charles Vivacqua Jr.
Michael Woodson G'02
2003
Brian Agnew
Devon Bonnemere
Jennifer Brock
Matthew Carr
Michael Clapsadl G'12
Lawrence Cracchiolo Jr.
Douglas Croft
Stephen Geng
Jonathan and Tori Henderson
Philip McGrath
Salvatore Paladino III
Cory Reid-Vanas
Angela Spetts
Cicily Talerico
Gregory G'06 and Katharine Williamson
2004
Malinda Abraham
Lindsay Copeland
Megan Cracchiolo
Edwin Cuebas G'04
Wayne Durant
Anthony Fus Jr. G'06, G'11
Renee Gamela
Brandy Gray G'10
Anthony Martino G'04
Michael Moonen
Colleen Multari
Ryan Palmer
Ciara Parrish
Joseph Pupillo
Benjamin Schoen G'08
Sinda Tomy
Jeffery Whalley
2005
Julian Alteri
Brian Barnfield
Molly Bonnell
Christopher Carr G'05
Geovanny Cuevas
Ryan Dolan
Heidi Farrell-Reese
Gary Heenan G'05
Joseph Henkel
Neal Keating
Jay Laing
Michael Levine G'12
Jenny Lounsbury
Amie Lucia
Jeffrey Mohney
Michael Owens
Amy Potrzeba-Macrina
Kristen Schoen G'09
Kirstin Walker G'05
Paul Ward*
James Wright
Taylor Wrye
2006
Anonymous
Kristen Bacon G'07
Sheavon Coggins
Antonina Cosamano G'06
Melissa Deeley
Derek Dudley
Shanelle Gabriel
Stephen Griffiths
Nancy Hauck
Michelle Kinville
Taletia Lucas
Barbara Macri G'10
Kyrra Marchese G'08
CorrinaMae Rustmann
Frank Salamone
Jennifer Steffen G'06
Corinn Zalewski
2007
Julia Alteri
Jon Ames
Amanda Bertram
Geoffrey Brandt
Shawn Brown
Robert Byrnes G'07
Jared Darlian
Kevin Krogol
Eric Longway
Craig Martel
Denise McVay G'07
Laura Meagher G'18
Jennifer Miller
Debra Nipe G'07
Michelle Nunno-Evans G'07
Marianne Pratt
Ahmed Radwan G'07, G'19
Gary Schachtler
Jan Simpson G'07
Dominic Tripp
Courtney Warner G'11
2008
Anonymous
Patrick Buchinski
Janette Castro
Dana Cerullo
Patrick Cooney
Lauren D'Antonio G'10
Adam Dekker G'19 and Kathryn Rossi
Erica Eckman
Brittany Foreman
Dale Fox III G'08
Megan Hyman
Brittany Johnson G'10
Kristen Jones
Hiroko Kujime
Nadia Mohamed G'08
Kyle Perry G'08
Vincent Rinaldi III
Kyle Sibley
Kyle Strife*
Kenneth Visalli
Joseph Watson
Courtney Witherspoon
Janet Woods
2009
Benjamin Atwood G'13
Michael Atwood
Aaron Benoit*
Justin Burrows
Amanda Butler
Andrea Coluccio
Heather Drummond G'09
Brian Gleitsmann G'19
Jianmin Kuchera
Kourtney Kupiec G'13
Kelly Monaco G'11
Rinae Olsen
Jaime Reynolds
Thomas Schneider
Anthony Wiseman
Gerad Woolley
2010
Anonymous
Megan Clapsadl G'15
Matthew Fitzgibbons
Rebecca Guthrie
Aaron Jeffery
Sean Jennings
Eric Kahl G'13
Jacqueline Klotzbach
Brian Marcantonio Jr.
Adam McClure
Casey McNulty
Vincent Nucci
Reed Reynolds
Nicholas Rowe G'10
Tanner Stewart*
2011
Anonymous
Sydney Bell
Stephanie Burkhardt
Joseph Chubbuck
Devon Croll
Michele Davis G'11
Jaime Evanoff
Kayla Fiveash
Irakadeem Griffith
Kregg Guestin
Martina Jackson G'17
Kasey Jennings
John Massoud G'11
Ryan Monaco G'11
Michael O'Connor G'11
David Parker
Keino Purcell
Amilcar Ramirez G'11
Judeanne Rockford G'11
Maria Santos Buenaseda G'11
Julianne Schultheiss G'13
2012
Keron Alleyne
Shelby Barbay
Justine Cabellos
Greg Caloia
Christopher Cooper
Jacob Crawford G'14
Michael Crowley G'12
Catherine DeGarmo G'12
Marisol Enriquez G'12
Andrew Fisher
Stephen Karboski
Heather Kingsbury G'14
Heather Labossiere
Rosemary McGuire G'12
Carmen Mercado G'12
Trista Richardson G'12
Maria Santucci
Jessica Scott
Laurel Simer
D. Kevin Stilwell Jr. G'12
Gail Tuttle
Max White
2013
Anonymous
Danielle Barcomb-Busansky
Trisha Barone
Andrew Benkwitt Jr.
Ashleigh Bones
Monica Brown-Hodkinson G'16
Megan Browning
Jamie Buell
Lauren Culyer G'13
Patrick Dundon
Gina Educate
Robert Etts
Meghan Fiore
Maxim Gorbachevsky G'13, '17
John Johns G'13*
Kurtis Kupiec
Dennis Labossiere G'15
Jennifer Lusardi G'13
Mary Maneen
Dave Ogwu G'13
Eric Peterson
Paul Smith
Sarah Spellman G'14
Megan Suwek
Jennifer Urbanke G'17
Nives Vujanic
Marisa Zogg G'13
2014
Cody Adams
Allison Brockington
Dana Christofferson
Jerrod Clowes
Tara Cullen G'14
Matthew Dziekan*
Sean Feener
Shanell Finney
Wayne France
Jessica Franklin
Ridge Garbutt
Christopher Gibbs
Susan Hall G'14
Jordan Hobaica
Alexandria Jennings G'17
Evelyn Kurzac G'15
Louis Malvasi
Robert Morton
Julia Primps G'17
Shaun Radley G'14
Jennifer Rogaski
Polimarta Rubenstein G'14
Sarah Southwell
Nicholas Therrien
Benjamin Tuchman G'16
Kemba Vance G'14
2015
Anonymous
Danielle Alpi G'17
Ziad Alwan G'15
Jonathan Atkatz
Imelda Bantay G'15
Denise Beighley
Adriana Benkwitt G'17
Mary Brockett
Christian Campilii G'15
Sheryll Catolico G'15
Angela Charles G'17
Sarah Christmas G'15
Olivia Cunningham
Marian Deacutis G'15
Elvie Dee G'15
Stephen Dowd
Daniel Droutman
Morgan DuPont G'17
Louis Educate
Thomas Fieber G'15
Courtney Fitzgerald
Antonio Fotino G'16
Scott Hibbard G'15
Nicole Hobaica G'21
Justin Hogan
Karolina Holl G'15, G'18
Megan Kane
Melissa Lopez
Ian Malloy G'15
Jodi Masumoto G'15
Sean McVey G'15
Lauryn Moore G'15
Melisa Pendergrass G'18
Eric Rightmier G'17
Eileen Salonga G'15
Brendan Ujvary G'15
Alexandra Wagner G'16
2016
Anonymous
Sherene Bailey G'16
Stephanie Beck
Michael Boehlert
Shauna Defone G'17
Donna Dolansky G'16
Briana Estabrook G'17
Jonathan Fiore
Juan Funes G'16
Lisa Green G'16
Zachary Handy
Taylor Lukins
Mary Marafino G'20
Mary Miceli G'18
Abigail Monroe G'18
Anca Pascu G'16
Megan Postol
Jessica Schumann G'19
Kristin St. Hilaire G'16
Shawntay Thompson G'16
Joel Wetmore
Courtney Wheeler G'18
2017
Tewasherake Barnes G'21
Nicole Bartolomie-Nucci
Techie Benhalid G'17
Luc Boby
Zachary Bruening G'19
Mikhail Bushinski G'18
Amanda Cataldo
Sonia Cubero G'17
Jenalyn De Leon G'17
Eustaquio Devilla G'17
Francesca Dunlevy G'17
Sami Guedouar G'17
Jamilah Hardeman G'17
George Herrera G'17
Kevin Kirisits
James McClendon
Jennifer Moronez
Nicholas Mulpagano
Tuan Tony Nguyen G'18
Gerald Onate G'17
Jane Pagano G'20
Bryce Patterson G'20
Liana Prosonic G'17
Andrew Rahme
Gabrielle Taverne
Steven Urbanke G'20
Jason VanBenschoten
Felicitas Wilson G'17
Harrison Zogby
2018
Roman Ammirato
Daniel Angotti
Rocco Arcuri Sr. G'18
Daeshan Buseck
Dalton Carter
Amanda Chruscicki G'20
Ann Ciancia G'21
Sarah Galea
Natasha Garcia G'18
Sarah Heil G'18
Amanda Henderson
Sara Hennessey G'19
Kyle Lajeunesse
Lisa Leary G'18
Rebecca Loeza
Anthony McVeigh G'22
Brooke Miller
Treberlyn Moreau G'18
Christina O'Neill G'18
Emily Pinckney G'19
Anna Ragno G'18
Krystiana Rehrig G'20
Domenica Risucci
Asia Marie Rosa G'20
Diondre Sanchez
Shweta Singh G'18
Vincent Stefan
Sabrina Stransky G'22
Brett Szajner
Margaret Tabone
Alaina Tripp
Kevin Valenti
2019
Robert Anderson G'19
Gianluca Baggetta G'20
Anthony Beaubrun
Charles Burmaster
Brian Carr G'21
Cody Cowles
Renee DeResh G'22
Justin Derlago
Molly Ferguson G'21
Deidre Jenkins G'19
Sonali Johri
Mona Kazour G'19
Asha Kuniyil G'19
Shawn Lynch
Samantha Marko G'20
Matthew Marmet G'19
Emily Martingano
Lara McNamara
Rylee Meelan G'21
Ariel Mroz-Brewer G'19
Madison Nash
Samuel Northrup
Adezeaputa Ogbanufe G'19
Kristina Perez
Sania Safdar
Katlyn Scarpinella G'21
Kristina Schrull-Valiente G'19
Jared Smaldon G'22
Dehstin Smart
Jessica Steinhilber
Malcolm Stowe
Mary Stuhlman
John Sebastian Tabuton G'19
Ma. Jhoanne Terrado G'19
Cara Watts G'19
Andrew Wells G'21
Maryalice Wiley
Rebecca Wilkinson G'19
Michalyn Winkler
Xyier Woodard G'20
2020
Karen Allard
Jacqueline Aronin
Madeline Behan G'21
Francis Bianco
Margaret Blaney G'20
Wendi Brown G'20
Devon Burri
Rachael Cooke
Brock Correll G'22
Justin Cortes
Emily Czerwonka G'21
Michael Defone
Sadie Evans
Jarrod Fitzpatrick
Briannah Florian
Daniel Fritz
Daniela Hannah
Lindsay Hayduk G'21
Todd Hrim
Courtney Kennedy
Jessica Macheda
Sotheary Meas
Maria Montero Silva
Christopher Netto
Matthew Patton
Michael Roberts
Judith Rojas G'20, G'21
Franca Sangiacomo G'21
Hali Vandermeulen
Allison Wagner
2021
Anonymous
Madison Akots
Chad Almadani G'21
Maria Amato G'21
Brad Barrett G'21
Kyia Bish G'21
Angelina Brown
Marissa Brown
Jamie Bucell
Amber Davis
Paul Dent G'21
Brendan Durow
Kaleb Elliott
Shayna Held G'21
Amber Jenkins
Brigid Johndrow
Madison Judge
Kristin Krieg
Bianca Leason
Enmanuel Mateo
Nicholas Miglio
Brittany Nowak
Christina Reecher G'21
Kyle Riecker
Arturo Sanchez
Jared Stanley
Joseph Tutokey G'21
Terrances Washington
Lauren Wolff
2022
Anonymous
Matthew Baron
Matthew Breault
Taylor Brown
Thomas Caputo
Brooke Catlin
Megan Chamberlain
Haley Collins
Haley Dekin
Emily Hill
Eric Holland
Jason Houn
Annika Howell
Zion Keitt
Benjamin Lake
Dalton Loper
Dayna Losito
Jacob Lukacz
Ann McGowan G'22
Kaitlyn Paul
Sydney Przygoda
Deanna Rosato
Cora Sawyer
Connor Schwartz
Brayden Smith
Emin Vukovic
Sarah Walldroff G'22
† deceased  |  *arranged for matching gift
Anonymous
Mariana Abate
JamieLeigh Accordino
McKenzie Ackernecht
Donald Adams
Julian Aiello
Florence Aikens
Frank Albano
Craig Alexander
Mark Alexander
John Aliberti
Mark Alison
Jane Allen
Chris Amandola
Adam Ambielli
Avery Anderson
Emily Anderson
Katie Anderson
David Andreatta
Kathleen and Mark Angelucci
Mia Anthony
Kevin Armistead
Jim Arnold
Adrianne Arnone
Jeff Arnts
Trish Arrington
Jose Arroyo
Jenny Ayers
Kathleen Ayers
Joanne Babiarz
Abby Bacher
Mark Badger
John Baker
Mary Baker
Emily Balog
Robert Bannigan
Brooke Baran
Kylie Barbato
Joseph and Kathleen Barilla
Kelly Bateman
Pat Bates
Victoria Battista
Daneen Baum
Joseph Baum
Amanda Beach
Elizabeth and William Beach
Destiny Bedell
James Bednarczyk
Mark Beer
Kimberly Bennati
Aime Bennett
Kara Bennett
Charles and I. Gwendolyn Beno
Margaret Bensin
Robert Bensin
Colleen Bentley-Ciccone
Mary Lou Berie
Mary Berry
Wade and Darlene Bianco
Jeffrey Bird
Kenneth Blum
Alexander Bonacci
Douglas and Catherine Bowne
Patricia Box
Luanne Brando-Ercolano
Matthew Brandt*
Jillian Breault
Alexander Breton
Jim Brock Jr.
Bill Brower
Dennis Brown
Jeremy Brown
Kathleen Browne
Karen Bugeya
Cat Bui*
Scott Burch
Gail Burdick
David Burkholder
Antoinette Butler
Brian Butler
Serina Butler
Brooke Candelaria
Brandi Candido
JoAnne Canitano
Bianca Cannistraci
Eva Capuana
Sienna Caracane
Marianna Caracciolo
Don H'14 and Edna Carbone
Marlene Carville
John Caulkins
Michael Cavanaugh
Brooke Chamberlain
Scott Chamberlain
Kimberly Chek
Norma Chrisman
Nikole Christmas
Giacomo and Janet Ciminello
Mary Jo Clark
Cole Cleary
Stacie Cleary
James and Margaret Clifford
Bill Cloghessy
Nikki Coe
Carter Coffin
Kacie Coffin
Toby Coffin
Jaqueline Cole
Allison Coleman
Charlotte Collver
Fred Conkling
Kaleigh Conners
Todd Conor
Sarah Conroy
Michael Constantine
Pam Constantine
Annie Cooney
Reed Corcoran
Sully Corcoran
Mark and Angelina Cornacchia
Alicia Countryman
Norman Crabtree
Laura and Michael Crigger
Ryan Crigger
Denise Cristman
Louis and Leona Critelli
John Cronin*
Jose Cruz
Alyssa Cushman
Michaela Cushman
Payton Cutting
Pauline Cynkus
Jacquelyn D'Amico
Mark and Deborah Daviau
Jillian Davis
Corey Day
Rita Deal
Kimberly DeCrescente
Brice Deking
Marissa DeLuca
Michael DePietro
Donald Derrico
RoAnn Destito
Michael Devin
Norma Devin
Jenessa Devins
Anthony DiGirolamo
Giuseppe DiGirolamo
Steven and Dianne DiMeo
Krysten Dobay
Richard Dodge
Makenna Donahue
Dennis Donohue
Craig Douglas
Robert Douglas
Lucy Dow
Eric Drummond
Ian Drummond
The Duffy Family
Bob Dunn
James DuRoss Jr. and Cynthia DuRoss
Donald Dylis Sr.
Braden Eames
Allison Eastman
Tyler Eck
Doran Edmond
Steven Egert
Daryl Eichhorn
Chrissy Eighmy
Mary Dee Eighmy
Amy Elliott
Art and Phyllis Ellis
Mike and Gail Ellrott
Tammy Emmons
Max Emond
John Esposito
Tony Esposito
Celia Esqueda
Alicia Estrella
Richard Evans
Valerie Fadigan
Joan Failing
Michael Failing
Jason Falcone
Jennifer Falcone
Jillian Falcone
Matthew Fanelli
Rory Farnan
Corey Fenstemacher
Ro Ferguson
Allison Feriola
Karen Ferrer-Muniz
Michael Ferris
Pam Fiano
Thomas and Cheryl Fletcher
Cindy Flisnik
Conner Flisnik
Gary Flisnik
Tyler Flisnik
Joseph Florio
Kristen Fluet
Caylie Fluharty
Ken Ford
Kristen Ford
Sue Ford
Wayne Ford
Alexis Fragapane
Allison Fragapane
Joseph Fragapane
Olivia Franzese
Renee Frederick
Michele Frontino
Christine Fuchs
Adam Furner
Rick Furner
Cori Gacad
Colleen Gaetano
Mary Gaetano
Timothy Gallaher
Jonathan Gambier
David Gardinier
Rachel Gelina
Cindy Gemmett
Hailey Gerling
Jordan Gerstenberger
Diane Gibbons
Laura Gillam
Lawrence and Elizabeth Gilroy
Lillian Gilroy
Beatrice Gloude
Karl Godlewski
Gauri Goel
Michael and Ceci Goldstone
Michelle Golonka
Dorothy Goodale
Cathleen Goska
Christine Goska Skokan
Donna Goulet
Susan Grad
Michael Grann
Warren Graves
Brian Greene
Richard Greene
Will Greene
Robert Gregg
Denise Gregory
Karen Greiner
Joseph Griffo
Bernadette Guba
Jennifer and Adam Guhin
Angela Gulisano
Shannon Gutt
Gary Gutterman
Kelly Guy
Jodi Habbinger
Elaine and Mike Habernig
Ryan Hagan
Elaine Hage
Daniel Haggerty
Alicia Hall
Robert Hammond
Devin Hansen
Peggy Hansen
Elizabeth Harvilla
Angela Hawkins
Brian Hayes
Kristen Hayes
Sheri Hayes
Veronica Hayes
Christopher Healy
Matthew Hearn
Kathy Hendel
Paige Hesdra
Samuel and Nancy Hester
Meghan Heyes
Kelly Hickey
Charlotte High
Michael Hill
Sarah Hladik
Mia Hobbs
Chris Horowitz
Matthew Horowitz
Sue Hotaling
Christine Houlihan
Shawn House
Sheila House
Kelly Howick
Maile Howick
Colin Hubbell
Shawn Hughes
David Huller
Sandra Huller
Emily Hynes
Rachel Hynes
William Iannone
Annette Iannuzzo
Janet Iffert
Laura Ilishaev
Jean Iselo
Lisa Iselo
Brianna Jackson
Nicole Jackson
Ian Jahrsdoerfer
Allison James
Young Jay
Sean Jedreicich
Payton Jenkins
Shelby Jenkins
Gacquette Jennings
Richard and Sarah Jerro
Abram Johnson
David Jones
Fred and Deb Jones
Jessica Jones
Karen Jones
Rebecca Jones
Richard Jordan
Kaitlyn Judd
Meaghan Judd
Camille Kahler
Lisa Kaiser
Jan and Karen Kaleta
Jessica Karmiol
Carol and Robert Keller
Erin Kelly
Katharine Kelly
Michael Kelly
Joseph Kenyon
Stephen and Susan Keyser
Alexandra Kimmel
Keala King
Michele Kipers
Esther Kirchheimer
Kelly Kirker
Christine and Paul Kisiel
Regina Klose
Robert and Tatyana Knight
Jessica Koenig
John Kolenda
Anna Korniak
Jack Kraft
Karen Kraft
Carly Kubacka
George and Pinny Kuckel
Gretchen Kupiec
Kyle Kupiec
Sharon Kupiec
Steven Lambert
Leslie Landry
Laura Lang
Anne Lansing
Pam LaPolla
Thomas LaPolla
James LaPorte
Kali LaRue
Natalie Lascala
Susan Lavigne
Steve LeBlanc
Alan Leist Jr. and Constance Leist
Julie Lenhart
Pamela Lentz
Joe Leuthauser
Zach Levanduski
Darlene LeVielle
Adam Levine
Leiah Levine
Agnes Lewis
Lesley Lewis
Richard and Gail Lewis
Harris Lindenfeld
Frederick Lindheimer
Patricia Lindner
Richard Lindner
Madeleine Lipe
Elaine Lippert
Douglas Littlefield
Joseph Lizardi
Michele Lockwood
Barb LoGalbo
Karen Longendyke
Brett Longway
Brian Longway
Carole Longway
Daniel Longway
Janice Loomis
George Lotito Jr.
Anthony Lucier
Maria Lumbrazo
Benjamin Madonia
Giovanna Mahar
Donald Majka†
Caroline Malles
Sean Malone
Melanie Mancari
W. Anthony and Carol Mandour
Richard Manigault
Kim Manino
Genevieve Manning
Michelle Manning
Stacey Manno
Janice Mans
Jessica Marotta
Andrew Marshall
Brenda Marshall
Antonio Martinez
Liz Marto
Marilyn Massini
Beth Mastrianni
Barbara Mastrole
Vinny Mastropasqua
Mel Mathias
Anthony Matt
J. Kemper Matt Sr. and Angela Matt
Jolene Matt
Nicholas and Susan Matt
William and Natalie Matt
Brandi McCanney
Ed McCue
Edward McCue III
Ann McDowell and Raymond Zielinski
Kathleen McDowell
Arline McElwee
Amy McGinnis
Julie McMullen
Claire McNitt
Shannon McPheron
Daniel and Pamela Meehan*
Ryan Meenan
Malia Meredith
Makenzie Merendo
Austin Metzger
Glenn Miga
Christopher Might
Caitlin Miller
Carl Miller
Keith Miller
Robert Miller
Laura Mills
Emerson Mish
Sara Mitchell
Helena Mochak
Karen Moliero
Kathy Moloney
Carol Montana
Brendan Montgomery
Jennifer Moody
Danielle Moore
Risa and Zachary Morrison
William Morrow
Nathan Moulton
Barbara Murphy
Caitlin Murray
Lola Muscari
Daniel Napolitano
Hannah Nashir
Sondra Nassar
Pamela Naventi
Curt Nellenbach
William Nemyier
Denise Nepveux and David Hill
Liz Neubinski
Andrew Nguyen
Kirsten Nicholson
Mary Kay Nitti
Hannah Noecker
Brandon Noga
Christina Nolan
Shaun Norfolk
Christina Obie
Tracie O'Connor
Ryan O'Dell
Diane O'Donnell
Molly O'Donnell
Rory Ogden
Jodi O'Hara
Zane O'Hara
Paul and Carol Ohlbaum
Meghan Olesen
Mary Lee and Terrance Oliver
Greg Olsen
Ryanne Olsen
Dyana O'Neill
Stephanie Opalka
Colleen Oremus
Tammy Osborne
Larissa Osterbaan
Douglas Oswald
Deborah Pallozzi
Brian Palmer
Elizabeth Panuccio
Michael Paolillo Jr.
Jeffery Pardi
Elizabeth Parker
David Parrish
Amy Paul
Anthony Paul
David Paul
Meghan Paul
Nancy and Bruce Paul
Richard Paul
Richard Paul Sr. and Mary Paul
Tracy Paul
Shannon Peck
Chico Penkrak
Carlota Perez-Belcher
Jennifer Pfendler
Bill Pian
Trent Piersall
Bob Piraino
Anthony Polidoro
Matthew Potasiewicz
Peter Potasiewicz
James Powell†
Lois Pownall
Richard Presky
Jessica Price
Jesica Prievo
Lindsay Pritchard
Erika Profenno
Debra Pugliese
Sonja Purinton
Paul Quinn
Frances Raboin
Dana Ragen
Justin Rahn
Christopher Ranalli
William Read
Georgiana Rebhahn
Christine Reddy
Michael Reddy
Cheryl and Greg Reed
Earle Reed
Chase Regan
Taylor Reh
Douglas Remer
Nora Revere
Marianne and Dennis Reynolds
Megan Rice
Charles Richards
Melvin Richards
Micah Riddick
Michele Riter
Dyanne Roberts
Jessica Robinson
Kristin Robinson
Shaun Robison
Crystal Robledo
Randy Rockford
Sheri Rodriguez
Linda Romano and Russell Petralia*
Sara Roseen
Gloria Ruckdeschel
Leanne Ryan
F. Christine Sacco
Erin Sacks
Alena Sagalovsky
Melissa Sallustio
Gina Santoro
Sandra Satterlee
Geoffrey Sawyer
Tracy Sawyer
Fred Scarano
Gail Scarano
Casey Schad
Cory Schad
Michelle Schafer
Chris Schlegel
Brooke Schneider
Melissa Schneider
Deborah Schrader
Bonni Schumann
Judith and Leo Schwenzfeier
Andrew Serio
Janet Shivers
Raymond Shivers
Norman and Ann Siegel
Jill Siegenthaler
Michael Simmons
Philip Simon
Kevin and Brenna Simons
Michael Simons
Karl Skokan
Marie and Gary Slagle
Mark Sloan
Clayton Smith
Denise Smith
Erin Sobecks
Stephanie Spoto
Karen St. Hilaire
Camryn St. Hilaire-D'Antonio
Jimmy St. John
Butch Staffo
Patti Staffo
Carol Steele
Susan Steiner
Aiden Stephens
Madison Stephens
Miranda Stephens
Carole Stine
Lisa Stiver
Toni Storz
Emily Strohl
Pamela Strohl
Erin Strollo
Pamela Strollo
Susan Stumpf
Jennifer Sullivan
Mary Ellen Sullivan
Michael Sullivan
Richard Sullivan
James Suriano
Shelagh Swanberry Landry
Erik Swanson
Sheila Sweeney
Kaylee Swetmon
Eric Szatko
Lisa Szot
Ann Taylor
Patrick Taylor
Debbie Terralavoro
Vincent Tessitore
Deb Thompson
Scott Thompson
Katelyn Tierney
Joseph and Evelyn Tierno
Christopher Tingley
Lynn Tomaino
Maria Torralba
Bryan Torres
Ali Tourkia
Wendi Trousdale
David Trunfio
Lisa Tyson
Kachi Ugwu
Gregory Unger
Dave Valentine
Eve Van de Wal
Eugene Van Deusen
Joann Vazquez
Mary Vicks
Anthony Vitulli
Linda Vitulli
Tracy Vivacqua
Terry Wadsworth
Richard Walters and Cathy Newell
Carol Ward
Christopher Warner
Wayne Warner
Jimmie Warren
Kimberly Warwick
Patrice Washington-Goines
Eric Watson and Paola Gentry
Megan Watson
James Waymer
Jaclyn Welfeld
Hannah Whalen
Hailee White
Nancy White
Sharon White
Kimberly Whiteman
Kate Wilkie
Gerald Willett
Chloe Williams
Matthew Wilsey
Deborah Wilson-Allam and Ashraf Allam
Elizabeth Winn
Diane Wise
Robert Wise*
Dawn Wojciechowski
Karen Wolff
David Woodcock
Starr Wooden
Jennifer Worthington
Alexandra Wright
Lori Young
Mike Zalocha
Zack Zarrilli
Linda Zee
Fredrick Zegibe
Louis Zeillmann
Naser Zenelovic
Christopher Ziegler
Nicole Zito
Linda Zulager
Scott Zulager
† deceased  |  *arranged for matching gift
Anonymous
Ruby Ackerman
Abigail Ainsworth
Dakota Alexander
Makayla Arnold
Alyssa Barbato
Hailey Bassett
Julianna Beaulieu
Madison Brand
Lauren Buehler
Haley Burchhardt
Kelsey Carter
Caden Congdon
Riley Cosimeno
Madelyn Cozzens
Katie Crofoot
Seamus Crowe
Mara Cunningham
Samantha DeCondo
Petrina DeMarco
Cassidy Doiron
Anthony Fasano Jr.
Abbigayle Finch
Devon Firpo
Alanna Fragapane
Caiden Frey
Landen Frey
Kaitlyn Furner
Lucia Gargiulo
Kristina Geraci
Kassidy Gloude
Jonathan Goodspeed
Alexandra Gorbachevskaya
Paige Graves
Ashley Guerra
Margaret Habernig
Hope Halvarson
John Hawthorne
Lucas Herrmann
Josiah Hodkinson
Liam Horodnik
Megan Hourican
Sarah Hovey
Juliana Huckabone
Sarah Huller
Christina Jackson
Shannon Jedreicich
Jenna Keeman
Sierra Kinne
Mason Knauf
Taylor Kraft
Sara Kuiken
Colby Kusinitz
Jeremiah Lockwood
Madison Maggiore
Taylor McDuell
Bailey McElwain
Michael Milankovic
Kristine Miller
Kimberly Morton
Kylie Murray
Daniela Muscari
Brooke Myers
Karlee Nims
Samantha Noffer
Alexandra Osilovskiy
Patrick Oswald
Lauren Paul
Julia Phelps
Alyssa Pisano
Ginamarie Pizza
Noah Posson
Garrett Pratt
Emma Puleri
Kyla Reed
Carter Reilly
Brooke Riscica
Chase Rorick
Julia Rotando
Abigail Sacks
Erica Sanford
Shayla Seymour
Diana Sidorevich
Kimberly Soriano
John Spoto
Hannah Stack
Brenna Stanton
Rachel Stark
Francis Tavino
Eh Thaw
Kelly Thornton
Alec Valenti
Ainsley Vyse
Kathryn Whitney
Catherine Winter
Kylee Wojciechowski
Adam Woodmansee
Samantha Young
Madison Zulager
Anonymous
Malinda '04 and Charles Abraham
Marilyn Adams
John Adasek Sr. and Julianne Adasek
Michelle Agnew
James and Renee Ainsworth
Rosemary Albert
David Albrecht
Eric and Christina Alexander
Joseph and Paula Alfeo
Jerry '63 and Susanne Amoroso
Nathaniel Anthony
Rocco Arcuri Sr. G'18 and Victoria Arcuri
Sean and Tammy Arnold
Cheryl and Lane Ashton
Robert Baber '76
Paige Barese Labelle '92 and Brian Labelle
Andrew and Katheryn Barnes
Karen Barnish
Michelle Barrett
Lisa Batista
Anthony and Christine Battista
Lisa Baxter
Arline '74 and Robert Beaty
Anne and Chris Beavers
Kenneth Bell '75 and Anne Veness Bell
Patricia Benthin
Angela Berger
Kyle and Jennifer Billand
Donald and Amy Blaszka
Dana Bochan
Damian Boehlert
Geneen Bolton
Paul and Carolyn Bongiorno
Jack Bono
Janet and Charles Bouteiller
Kim Brand
Robert Brandt Jr. and Carole Brandt
Dean Brown
Richard and Brown
Tracey Brown
Monica Brown-Hodkinson '13 and Kevin Hodkinson
Cora '86, G'06 and Martin '99 Bruns
Jamie Buell '13
Diane Burchhardt
Robert and Mildred Burke
Rebecca Burmaster '91 and Charles Burmaster Jr.
Chris Burry
Julie '96 and Robert Bush
Glenn Buttermore and Christina McCrea
Robert '68 and Mary Byrd
Lawrence Calabrese '62
Fred and Dusti Callo
Bradley and Joann Campbell
Maryann Cancellire
Joseph Caracciolo
David and Laurie Cardone
Paula Carey '85
David and Nancy Carlon
Susan Carroll
Laura and Filippo Casamento
Vince Catalfamo
Amy Catlin
Terry and Tammie Chamberlain
Anthony and Lisa Chisari
Mary '99 and David Christopher
Joseph '11 and Barbara Chubbuck
Regina Chung
Janice Ciancia and James Ciancia Sr.
Suzanne and Peter Ciancia
Eric Cicchetti
Anthony Colavita
Maureen Cole
Randy and Michelle Congdon
Veronica Connolly
Timothy '74 and Gwen '82 Connors
Jeffrey and Emaline Conte
Iolanda Cooper
John and Elin Cormican
Steven and Pamela Cox
Brenda Coyne Waters '88 and Richard Waters
Michael and Kimberly Cozzens
Deborah and Robert Crill
Debra and Wylie Crisanti
Stephen Cromer
Beth and Bill Crossley
Shad and Heidi Crowe
Patrick and Laura Cunningham
Ann and Patrick Curley
Christopher and Patty Cusanelli
Louis and Tricia D'Agostino
Gary and Jennifer D'Amico
Jeffrey and Elizabeth Daniele
Ronald '88 and Lucille Danilowicz
Robert and Deborah Danziger
Vajra Daumont
Timothy and Patricia Day
Geno Decondo
Naomi Dee '82
Felix and Nina Delatorre
Kathy and Peter Dellerba
Vincent and Kimberly Delucia
Michael and Trina DeMarco
Gregg and Desiree Derlago
Andre and Doreen Dessureau
Craig Dewan
Joe DiGirolamo
Annette Dimon
Karen Doiron
James and Shirley Dooley
Mary Ellen Doran
Michael and Rosa Drell
David and Susan Druziak
William and Dana Dundon
Stephen and Joyce Dunn
Gail Dwyer
Paul and Katherine Educate
Ashraf Elazzazi and Nadia Mohamed G'08
Toby Elmore
Mark and Elizabeth Elsesser
Greg and Denyse Evans
Steven and Dina Evans
Michael Evolo Jr. '90 and Melissa Hobika Evolo*
Anthony and Katherine Farrington
Jay and Jennifer Field
Marc and Rise Fine
Brandi Finniss
Brian Fiorello
David and Joanna Fitzgerald
Joseph Flak and Dawn Marie Lohrman-Flak
Carin Fleshman
Noelle Florio
Eric and Christel Flynn
Ronald and Josette Fontaine
Jen Ford
Kathleen '70 and Daniel Ford
Kenneth Ford
James Fortunato
Frank Fragapane
Michael and Stacey Frank
Herbert Freeman Jr.
Jane Freeman
Todd Freeman
Krista Frey
Sharon Frey
Patricia Fuller
Kelly and Joseph Galea
Jeff Gambitta
Carmen and David Garcia
Marlene Gardner and James Gardner Jr.
Albert Gargiulo
Anthony '61 and Annemarie '92 Garramone
Richard Gaudio
Catherine Gehring
Anthony and Monica Geraci
Tiffany Gerling
Ralph Giovinazzo Jr. and Pauline Giovinazzo
Kimberly Giovingo
Michael Giustiniani and Nicole Spinelli Giustiniani
Edward and Noel Glomski
Joseph and Colleen Gloude
Maxim Gorbachevsky G'13, '17
Daniel Goslicki, Jr. and Ellen Goslicki
Elizabeth and Bruce Gould
Tammy Goutremout
Paul and Gwendolyn Grech*
Keith and Dorna Griffiths
Richard and Virginia Guistina
Craig and Susan Halvarson
Linda Handler '66
Dan Hansen
Kenneth '64 and Carol '64 Hawks
David and Tomi Heckathorn
Paul and Sharon Helfeld
Donald '74 and Mary Karam '75 Henderson
Brenda and Kendall Hicks
Mark '80 and Elizabeth Hobaica
James and Judith Hoffman
Scott and Laura Hogan
Bohdan and Patricia Horodnik
Robert and Cheryl Hourican
Susan House
Robert Hubbell '66
Jaime and William Huckabone
Brian Huller
Bernard Hyman Jr. '94 and Megan Hyman '08
Paul and Michelle Iannuzzo
Donald Jackson
Nicole Jackson
Manuel Jaime and Marcela Mendez
Renato and Christine Jedreicich
Morgan Jenkins and Melanie Manwarren
Brian Jennings
Paul and Mairead Johndrow
Shannon Johnson
Christopher and Colleen Jones
Daniel '97 and Anne-Marie Jones*
Edward and Cathy Joss
Ed and Lori Joyce
Christine Kahwaty
Daniel and Susan Kane
Denise Kanyuk
Robert and Paula Keeman
Jeannine Kelley
Michael and Kathleen Kennedy
Carol and Jerome Kieffer
Thomas '70 and Janice Kinney
Annmarie '89 and Steven Kinsella
Robert Klasen
John and Barbara Klein
Jodie Knabe
Amanda Knaisch
Barbara Knauf and Arthur Knauf Jr.
Laura Knight
Richard and Gina Kraft
Marcia Krug
Ronald and Melinda Kuiken
Robert Kulawy and Holly Mangels-Kulawy
Theresa and Michael Kupiec
Paul and Karen Laible
Richard '78 and Marie '61 Lambert
Jennifer Lamphere
Bruce and Barbara Lanz
Frank LaPuma Sr. '58 and Marie LaPuma
Gabrielle Lasand-Seale
Steven and Mapsita Laughlin
Christine Lawas
Patrick Lawler
Dyann Levine
Lloyd and Stephanie Levine
Larrie and Beth Lichtman
Will and Tara Lindheimer
Richard Lipani III and Debra Lipani
Wendy '87 and Mark Lockwood
Lance and Jennifer Loiselle
Dee London
Karen and Ralph Lorraine
Peggy '80 and Robert Lounsbury
Kenneth and Stacy Love
Stephen and Suzanne Lukacz
Matthew and Janis Lumley
Leticia Luna
Cindy Maher
Danielle Mahoney-Brown
Ismael Maldonado III
John Malzahn
Thomas Mangi
Vincent and Donna Mangino
Roberta and Thomas Marafino
Brian and Sheila Marciano
Doreen Maritato
Andrew and Leanne Martin
Shawn May
Frank and Donna Mazovec
Julie McCardle
Erin McCue
Meghan McDowell-Vyse
John and Darlene McLaughlin
Lawrence and Siobhan McMahon
Paul and Susan McNeil
Thomas and Danine McShane
Michael and Maryann Mecca
Christian Meyer III '79 and Mary Beth Welle-Meyer '79
Walter and Barbara Mierek
Bobby and Sonja Milankovic
John and Karen Miller
Lori and Thomas Miller
Lori Mix
Michael and Rebecca Mix
Francis and Jean Mochak
Frank Mondi '62
Elise Morgenstern
Glenn and Gwendolyn Mucica
Tim and Monica Murray
Christopher and Annamarie Muscari
Jason and Michele Nare
Abdul and Amtul Nasar
Jose and Mikilani Negron
Thomas '69 and Anne '77 Nelson*
Jeana Nicotera
Debra G'07 and Charles Nipe
Jeffrey and Amanda Novotny
Melissa Osborne
Brian and Karen Osmundson
Susan Osowski Castilla
Carole Oswald
Doug and Jen Oswald
Ryan '04 and Amanda Palmer
Frank Palmieri
Ron Patry
Anne and Joseph Patterson
Dianne and Todd Patton
Stephen and Heather Patton
Daniel and Christine Paul
Steve and Kristen Paura
Rachael Payton
Susan Pecora
Dawn Pender
Anthony '66 and Shirley Perrone
Darlene Pesnel
Marc and Vincenza Phelps
Will Pian
Jeffrey Pinard '91
Shannon Pinard
Phillip and Ivon Piranio
James and Kristen Pisano
Elaine Polito
R. Paul and Susan Porter
Tracy Powell
James Prastio Sr.
Douglas Pratt
Richard '90 and Tracy Pratt
Terri and Irving Provost
Nahchezeskah Prusky
Michele Puleri
Patrick '77 and Deanna Putrello
Lawrence and Jennifer Queen
Kim '89 and David Raga
Michael and Nancy Ranalli
Tracy Reed
Mary Regan
Jennifer Reifsteck
Cindy Reitberger
Anita Ricci
Kathleen Riley Tehan '76
Maryanne Rinaudo-Concessi
Joleen '92 and Joseph Riscica
Robert and Lisa Robertaccio
Deborah and Mark Robinson
Wesley and Holly Rollins
Thomas and Lisa Roman
F. Eugene H'01† and Loretta Romano
Anthony '93 and Leanne '93 Rorick
Jennifer and Ryan Rossi
Stuart '76 and Andrea '72 Rounds
John Rowe
Tricia and Joseph Rutkowski
Lisa Ruyack '87
Barry '70 and Patricia Ryan
Jason Ryder
John Sabotka
Chris and Wendy Sachel
Gary and Valerie Sacks
Chris Salbinski*
Frank Salles
Krista Sanford
Carol Santucci
Scott and Stacy Schilling
Thomas and Elizabeth Schwartz
Matt and Maria Sclafani
Phil Scoville
Patricia Searle
Julia Serrano
Melvin Serrano
Karen Servage
Jonathan and Heather Seymour
Mike and Jenn Shaler
Michael and Bridgid Shanley
Tim Short and Dawn Terralavoro-Short
Kathleen Sileno-Rios
John and Kerry Silva
Kevin and Michele Simons
Jan G'07 and Robert Simpson
Michael and Carol Simpson
Bree Smith
Polly Smith '99
John '95 and Renee Snyder
Theresa Snyder
Charles and Janet Son
Camille and John Sorbello
John and Marcia Spoto
Brandy and Joseph Stack
David and Susan Staniszewski
Mark Stevens
Susan Story
Reginald Stroughn
Tyler Sturtz
Kerry '97 and Michael Sullivan
Stephen '98 and Gina Surace
Pamela and Peter Tabone
Richard and Elizabeth Tantillo
William and Maureen Thornton
Thomas and Shelly Tice
Tracy Tolles-Rueckert '90 and Donald Rueckert
Gail '12 and Gary Tuttle
Jacqueline Tweedie
Mark and Laura Valenti
Michael and Andrea Vargo
Maureen and Charles Veach
Edwin and Carin Velazquez
William and Suzanne Virkler
Richard Viti '89
Stephanie Viti
Jennifer Walker
Kirstin Walker G'05
Mark and Laurie Walker
Jimmie and Marisol Warren
Lori Webster
Tami and Kenneth White
Elizabeth and Mark Whiting
Mark and Ann Whyte
Richard Williams
Richard and Melissa Winchell
Brenda Wolff
Ann Wynne '58
Stephen and Sharon Yantz
Tracy Young
Tammie Zapata
David and Constance Ziskin
† deceased  |  *arranged for matching gift
Anonymous
Lawrence and Linda '96 Aaronson
Nicholas Accordino
Kelly Adams '00
James Adasek '66
John Adasek Sr.
Anthony Baird '91
Jamie Barcomb-Busansky
Hannah Barley
Trisha Barone '13
Victoria Battin
Lindarae Bauer
Andrew Beakman
Frank Bergmann
William Blanchfield
Rosemary Bonacci
Sinead Bonner
Judy Borner
Mary Brockett '15
Cora Bruns '86, G'05
Jacob Bryant
Bryant Buchanan and Sharon Wise
Julie Bush '96, G'11
Greg Caloia '12
Elizabeth Caraco
Paula Carey '85
Matthew Carr '03
Jerome Cartwright
Laura Casamento
Megan Chamberlain '22
David Chanatry
Kyung-Seok Choo
Mary Christopher '99
Ann Ciancia '18, G'21
Robert Cimbalo
Michael '03, G'12 and Megan '10, G'15 Clapsadl
Jerrod Clowes '14
Richard Coffey
Gineene Comito-Paulson
Gwen Connors '82
Laura Cook
Lynn Cope
John Cormican
Nicole Cornacchia-Morgan
Susan Cox
Douglas Croft '03
Joshua Crossman
Shad Crowe
Ann Damiano
Ronald Danilowicz '88
Michele Davis G'11
Adam Dekker '08, G'19
David Dellecese Jr.
Jennifer DeMayo
Jason Denman
Renee DeResh '19, G'22
Craig Dewan
Annette Dimon
Kyo Dolan '98, G'03
Donna Dolansky G'16
Mary Donofrio
Paul Drobin H'16
William Dundon
Francesca Dunlevy G'17
Allyn Earl '62
Ashraf Elazzazi and Nadia Mohamed G'08
Blaise Faggiano
Evelyn Fazekas '87
Richard Fenner
Samuel Ferrara
Leonore Fleming
Conner Flisnik
Anna Foland
David Fontaine '89
Melissa Foote
Anthony Garramone '61
Jeffery and Tara Gates
Scott Getz '01
Austen Givens
Brian Gleitsmann '09, G'19
Maxim Gorbachevsky G'13, '17
Abbie Gorczynski
Ariel Gratch
Brandy Gray '04, G'10
Allison Green
Lisa Green G'16
Lynn Guca
Kristin Haag
Marissa Hall
Robert Halliday
Patrice Hallock
Glen Hansen
John Hartpence
Amy Haver '99
Mary Hayes Gordon '82, G'13 and Dean Gordon
Gary Heenan G'05
Margaret Hemstrought
Hartwell Herring III
Jennifer Herzog '97
Leigh Hewes
Molly Hickey
Kathleen Hobaica†
Nicole Hobaica '15, G'21
Karolina Holl G'15, G'18
Rosa Hosp '64
Zhaodan Huang
Janice Huss '73
Todd Hutton
Bernard Hyman Jr. '94
Susan Johnston
Edward Jones '62
Barbara Jordan '75
Eric Kahl '10, G'13
Karen Kaleta
Mariah Kane '00
Kenneth Kelly
Courtney Kennedy '20
Gayle Kilburn
Annmarie Kinsella '89
Laurah Klepinger
Jennifer Klimek-Yingling
Mark Kovacs
Daniel Kratochvil
Kim Lambert
Marie Lambert '61
Kim Landon '75
Anthony Leone Jr.
Keith Levatino
Laura Lewin
Amy Lindner
Wendy Lockwood '87
Carl Lohmann
Meredith Lopata
Karen Lorraine
Dayna Losito
Arlene Lundquist
Paul MacArthur
Carol Mackintosh
Kira Maddox
Nancy Mandry '70
Brian Marcantonio Jr. '10
Kyrra Marchese '06, G'08
Andrea Mariani
Matthew Marmet G'19
Stephanie Marquez
John Martello '91
Anthony Martino G'04
Erin Massoud
Pamela Matt
R. Bruce McBride
Ann McGowan G'22
Denise McVay G'07
Carmen Mercado G'12
Jeffrey Miller
Musco Millner III
Patrick Mineo
Florence Mitchell
James Monahan
Yvonne Monti
Richard '71 and Ellen '76 Moon
David Moore
Lauryn Moore G'15
Mariann Munson '85
Kailea Murray
Aimee Music
Elizabeth Nassar
George Nehme
Jessica Nelson '99
Tim Nelson
Stephanie Nesbitt
Stephen Neun
Nina Nguyen
Zachary Nordstrom
Kathleen Novak
Geoffrey Noyes
Michelle Nunno-Evans G'07
Rinae Olsen '09
Candice Ossowski '02
John Ossowski '99
Salvatore Paladino III '03
David Parker '11
Ciara Parrish '04
Anne Patterson
Rose Patterson '87
Francis Perretta '66
Joseph Perry '90
Luke Perry
Todd Pfannestiel
Kristin Phelps '02
Megan Postol '16
Tracy Pratt
Terri Provost
Diane Pudney
Jeffrey Pullen
Curtis and Joni Pulliam
Deanna Putrello
Lisa Rabideau
Richard '93 and Melissa '95, G'16 Racioppa
Ahmed Radwan G'07, G'19
Donald Reese
Trista Richardson G'12
Kyle Riecker '21
Ariel Rios
David Roberts '77
Michael Roberts '20
Lelan Rogers
Asia Marie Rosa '18, G'20
Lucille Roser
Thomas Rossi
John Rowe
Pamela Salmon
Laura Salvaggio
Bethany Samuels
Ashlea Schad
Victoria Schad
John Schwoebel
Camille Sciortino
Daniel Senif
Rachel Shaver
Jan Simpson G'07
Michael Simpson
Jessica Skeldon
Ellen and James Smith
Michael Smith
Polly Smith '99
Bobbi Smorol
John Snyder '95
Camille Sorbello
Steven Specht
Gregg Sponburgh
Daniel Sportello
Kristin St. Hilaire G'16
Christine Stanavich '93
Kerry Sullivan '97, G'04
Colleen Sunderlin
Kimberly Suriano
Patricia Swann
Jillian Szeliga
Daniel Tagliarina
Cicily Talerico '03
James Teliha
Nicholas Therrien '14
Jessica Thomas
Dimitar Todorov
Hava Turkakin
Alissa Tuthill
Gail Tuttle '12
Jennifer Urbanke '13, G'17
Irene Urbas Brown '62
Bethany VanBenschoten
Hali Vandermeulen '20
Alane Varga
Jo Ellen Vespo
Anthony Villanti
Mathew Vincent
Samantha Vincent
William Virkler
Allison Wagner '20
Kirstin Walker G'05
Lesley Wallace
Gregory Walsh
Lauren Waszkiewicz
Andrew Wells '19, G'21
Kenneth White
Megan White
James Wilson
Janis Winn '86
David Wittner
Robert Woods
Joann Zazula
† deceased  |  *arranged for matching gift
In memory of Jonathan Adewumi '86
Anonymous
Barry Callender
Maurice Etheredge
Lesley Lewis
Walter Marable
In memory of Carol L. Albrecht
David Albrecht
Kelly Albrecht
Glenn and Marcia Armstrong
Ron Conroy
Kathaleen Docherty
Jason and Courtney Dygert
Deborah English
Nancy Mae Flanagan
Debra Hasse
Everton Henriques
Richard Keeler '02
James LaPorte
Barbara Lawton
Joseph Mroz Jr.
Kristina Neth
Stephen and Joan Neun
Grace Osborne
Chris Schlegel
Sue Wainwright
Timothy Wainwright
In memory of Dr. Louis Angelini
Charles and I. Gwendolyn Beno
Jill Ziemann Bergmann '78 and Frank Bergmann
Randal Caldwell '83
James Ciancia Sr. and Janice Ciancia
Mary '87 and Robert Cimbalo
Mary Lourdes Doyle
Anthony '61 and Annemarie '92 Garramone
Mark and Elizabeth Halpin
Elizabeth and Peter Hotvedt
Anthony and Kim Matt
Ann Marie Murphy
Dominic Santa Maria and Family
Judith and Leo Schwenzfeier
Louis Shkane '87 and Julie Betro Shkane '92
Ruth Solan
Edie Weintraub-Danovitz
Matthew Worth
Maria '68 and Joseph Zegarelli
In memory of Curtis Buckingham
Richard '62 and Margo Buckingham
In memory of Hildred Butters '61
Eryn '99 and Kyle Balch
In memory of Charles P. Carey '96
Paula Carey '85
Utica University Occupational Therapy Faculty
In memory of Jean Carman
Victoria Battin
In memory of Philip J. Caruso '49
Joseph Caruso '80
In memory of Robert Cross, Jr.
Jill Ziemann Bergmann '78 and Frank Bergmann
In memory of Donald DeRosa '54
Jill Ziemann Bergmann '78 and Frank Bergmann
In memory of Dr. John J. DeTraglia
Raphael '71 and Marcia Alcuri
Joanne Babiarz
Meghan and Michael Beckman
Timothy '72 and Paula Burback
Maryann '85 and Anthony Carlo
Michelle Cashion '75
Mary Jane Centola
Louis Centola Jr.
Karl and Anne Clauss
Mark and Angelina Cornacchia
Ronald '66 and Sheila Cuccaro
Anthony and Marjorie Dardano
Kathy and Peter Dellerba
Pomp DelMonte
Donald and Ann Teresa Derrico
Cynthia DeTraglia
Gustave DeTraglia Jr.
Michele DeTraglia
Thomas and Ellen Duffy
Gary and Lisa Eklund
Art and Phyllis Ellis
Cara and Keith Fenstemacher
Corey Fenstemacher
Peter and Linda Freedman
Carol Girards
Reesa Glassman
Lorraine '91 and Joseph Griffo
Stephen and Susan Keyser
Gretchen Koback Pursel
Alan Leist Jr. and Constance Leist
Patricia Lonergan '74
Frank Mondi '62
Anthony '94 and Eleanor Picente
Elaine Polito
Frederic Polito '93
Earle Reed
Robert and Lisa Robertaccio
Judeanne G'11 and Randy Rockford
Laurence and Ann Ronan
Patrick Ronan
Joyce Rossi
Francis Roy
Nicole Sabatini
Philip '65 and Carol Scampone
John and Marie Scialdone
Gloria Shaheen '82
Richard '79 and Judianne Smith
Kathie Tailon
John Thomas
Daniel Verna '71
Jeffrey Weber
In memory of Patricia M. Dugan
Siobhan Dugan '79
In memory of John C. Ford
Peggy '80 and Robert  Lounsbury
In memory of Charles A. Gaetano
Rocco Arcuri Sr. G'18 and Victoria Arcuri
Susan Bawarski
Edward and Mary Bradley
John and Elizabeth Calogero
Gerard Capraro '66
Al Cavo Jr. and Susan Cavo
Harold T. Clark Jr. '65, H'03 and Bernadette Clark
James and Margaret Clifford
Daniel '57 and Theresa '62 Cohen
Thomas Costello
Paul Cremo
Ronald '66 and Sheila Cuccaro
Sari Jean DeLuca
Michael DePietro
Steven and Dianne DiMeo
Brian and Marian Donohoe
Tony Esposito
Michael Evolo Jr. '90 and Melissa Hobika Evolo
Antoinette Ferrucci
David Fontaine '89
Ronald and Josette Fontaine
Peter and Darlene Freer
Daniel and Joan Freytag
Anthony '61 and Annemarie '92 Garramone
Lawrence and Elizabeth Gilroy
Todd and Jen Hutton
Donna Jones-Ilsley
Deborah '73 and Joseph '70 Kinney
Anne Lansing
Anthony Leone Jr. and Mary Rose Leone
Agnes Lewis
Vincent LoRusso
Kim Manino
Craig Mealman
Dominick Paternoster
Angela and Thomas Pfisterer
F. Eugene H'01† and Loretta Romano
Linda Romano and Russell Petralia
Robert Roselli
Marylouise Russo
John Sabotka
Camille Sciortino
Christine and Robert Teesdale
Antoinette Turi
Richard Walters and Cathy Newell
Elizabeth Winn
Greg and Liz Wolff
In memory of Charles and Cornelia "Connie" Gaetano
Gary Norman
Camille Sciortino
Linda Sciortino
In memory of Gregory Henry '93
Heather Meaney '92
In memory of Mary Alice and Harold Lennon
H. Thomas Lennon III and Nancy Lennon
In memory of Michael Levine '61
Joyce Barkin
Myra Mederos
In memory of Dr. Gian Carlo Mangano
Jill Ziemann Bergmann '78 and Frank Bergmann
In memory of William McLaughlin '65
Gail '12 and Gary Tuttle
In memory of John Meehan '61
Susan Smith
In memory of Wesley Miga '80
J. Gary and Judith Phillips
In memory of Clorinda Mondi '62
Joanne and George Amendolare
Bart '62 and Carol Basi
Lawrence Calabrese '62
Bradley and Joann Campbell
Frederick '62 and Marlene Carville
Michael '88 and Louanna Ciancaglini
Margaret and James Fallon
Robert and Suzanne Fornaro
Ralph Giovinazzo Jr. and Pauline Giovinazzo
Lynarda Girmonde
John and Barbara Klein
Francis and Annette Paparella
John Pinto '63 and Emily Clay
Philip '65 and Carol Scampone
Lynn Tomaino
Anthony and Barbara Villanti
Florio '58 and Rosemarie Vitullo
In memory of Michael Parnell '02
Zachary Bruening G'17
In memory of Dr. William Pfeiffer, Jr.
Jill Ziemann Bergmann '78 and Frank Bergmann
Stephen Brady
Donald Henderson '74 and Mary Karam Henderson '75
Frederick Kincaid '71
Professor Kim Landon '75
James Laser
Sonya Linakis
Nancy '70 and Robert Mandry
Curtis and Joni Pulliam
Karen and Don Young
In memory of JP Ramel '22
Thomas '73 and Selma Krol
Connor Schwartz '22
Elizabeth and Thomas Schwartz
Thomas Wilson '86 and Kristin Koehler
In memory of Robert H. Robertson '78
Theresa Williams
In memory of F. Eugene Romano H'01
Joan Abbass and Philip Abbass, Sr.
Michael and Rosemary Bonacci
Randal Caldwell '83
Christopher Carr G'05 and Kristen Martin
James and Margaret Clifford
Norman and Susan Crabtree
Ronald '66 and Sheila Cuccaro
RoAnn Destito
Betty Di Nardo
Steven and Dianne DiMeo
Janice DiNardo-Kaminski '83 and Edward Kaminski
Cecily and Lester Eidelhoch
Richard and Judith Evans
Mary Gaetano
Anthony '61 and Annemarie '92 Garramone
Donna and Bob Imobersteg
Brian '85 and Michele Jackson
John and Elaine Montrose
Mary Primero
Earle Reed
Licia and David Ronan
Richard '79 and Judianne Smith
Tracy Tolles-Rueckert '90 and Donald Rueckert
Bernard and Antoinette Turi
Merritt Vaughan
William and Suzanne Virkler
In memory of Dr. James Scannell
Jill Ziemann Bergmann '78 and Frank Bergmann
In memory of Mary and Raymond Seng
Richard and Sarah Jerro
In memory of Lyn Simon '56
Bradley '91 and Joan Buyce
In memory of Nancy Lee Williams
Regina and Michael Blake
Helga Grosskopf
Walker Williams
† deceased  |  *arranged for matching gift
In honor of Jacob Barnes '23
Katheryn and Andrew Barnes
In honor of Nancy E. Blake '55
Donald Adams
Joanne Adams
In honor of Cora Bruns '86, G'06
Paula Carey '85
In honor of Dr. Laura Casamento
Nancy Blake '55
James '58 and Rose Marie Boehlert
In honor of Ann Ciancia '18, G'21 and her birthday
Peter and Suzanne Ciancia
In honor of Harry Cynkus '71
Pauline Cynkus
In honor of Sarah Galea '18
Joseph and Kelly Galea
In honor of Todd and Jen Hutton
George and Pinny Kuckel
In honor of Ryan Kulawy '23
Robert Kulawy and Holly Mangels-Kulawy
In honor of Nathan Lawler '23
Patrick Lawler
In honor of Cesar Luna-Rodriguez '23
Leticia Luna
In honor of Gail and Frank '66 Perretta
George and Pinny Kuckel
In honor of Lauren Searle '23
Patricia Searle
In honor of Alexander Tweedie '23
Jacqueline Tweedie
In honor of Women's Ice Hockey Class of 2024
David and Nancy Carlon
AIG
BPAS Actuarial and Pension Services, LLC
Charities Aid Foundation of America
CyberGrants
Goldman Sachs
IBM
John Hancock
Johnson & Johnson
KPMG Foundation
Marsh & McLennan Companies
National Grid
New York Life Insurance Company
Northwestern Mutual
Otsego Mutual Fire Insurance Company
State Farm Insurance Companies
UBS
Utica National Insurance Group
Verizon
Wells Fargo
YourCause, LLC
Anonymous
260 Structural Engineering
AAUP/Utica University Chapter
Adirondack Bank
AGC NYS Chapter, Inc.
Alpha Delta Kappa Nu Chapter
Amazon Smile
AmeriCU Credit Union
A. Ramos & Co.
Arch Management
Arcuri Group LLC of Tampa Bay
AX Enterprize, LLC
A-Z Recruiting & Training
B-Dry System of Syracuse & Utica, Inc.
Beebe Construction Services, Inc.
Benchmark Construction Company, Inc.
Blue Truck Wine and Liquor, LLC
The Law Offices of William M. Borrill
Borza's Recreation Center, Inc.
Boulevard Graphics
Boulevard Trailers Inc.
Bremer's Wine and Liquor
C2C Construction Solutions, LLC
Callanan Industries, Inc.
Caruso McLean & Co. Inc.
Celia & Allen LLC
Charles A. Gaetano Construction Corporation
Chironutts, LLC
Chris Ward Basketball, Inc
City of Utica
Clifford Fuel Co., Inc.
Clifford's Sunrise to Sunset Markets, Inc.
Clinton Counseling Center
CNY-Implant Study Group
College Street Orthopedics
Construction & General Laborers Local Union 190
Cooley Group, Inc.
Couch White, LLP
County of Oneida
C.T. Male Associates, P.C.
Dash Capital, LLC
Dick Smith's Tavern
Dikindurt Distillery, LLC
E. B. Enterprises
EV Roofing Corp.
Excellus Health Plan, Inc.
Firley, Moran, Freer & Eassa, CPA, P.C.
First Source Federal Credit Union
Flynn Electrical Contractors, Inc
Follett Higher Education Group
Frank J. Basile, CPA's PC
Freeway Administrative Services, Inc.
Genesee-Brennan LLC
Getnick Livingston Atkinson & Priore, LLP
Gilroy, Kernan & Gilroy, Inc.
The Goldmine Jewelers
GPO Federal Credit Union
The Grand Healthcare System
Haver's, Inc.
The Hayner Hoyt Corporation
Helio Health
Howland Pump & Supply Company. Inc.
Inserra's Flooring Outlet
J & P Insurance Agency, LLC
John E. Creedon Police Benevolent Association
Lady Ray's Culinary Delights
Lafa Mediterranean by Zeina's
Lemoyne Interiors, Inc.
Lockheed Martin
LPL Financial
Lupini Construction
M&M Riter, LLC
Mac-Clark Restaurants
Magnet Holdings LLC
MARCH Associates Architects and Planners, P.C.
Mastrovito Hyundai
Matt Cooney State Farm
Mattakesett Properties
McCraith Beverages, Inc.
McQuade & Bannigan, Inc.
Meyer Contracting Corporation
Millbasin Contracting, LLC
Mountainside Medical Equipment
MVHS Quality Department
NBT Bank of New Hartford
New York Sash
New York State Tool Company
Nino's
Northern Safety Co., Inc.
Northwestern Mutual
Nunn's Hospital Supplies, Inc.
NY Army National Guard
NYS Correctional Officers & Police Benevolent Assoc., Inc.
One Genny
Pacemaker Steel & Piping Co., Inc.
The Paige Group
Paige Marketing Communications Group, Inc.
Parkway Drugs of Oneida Co. South, Inc.
Pavia Real Estate Services
Pearl Property Management Corp.
Persevering Nexus of EIGHT
The Pike Companies
The Pines at Utica
P.J. Green, Inc.
Power Line Constructors, Inc.
Pulver Roofing Co., Inc.
RD Advisory Group, LLC
Resource Center for Independent Living, Inc.
Retired Utica Teachers Association
R. J. Reynolds Tobacco Holdings, Inc.
Rollins, Inc.
S&O Construction Services
Scala and Roefaro Funeral Home, Inc.
Society for Personality & Social Psychology
Sotera Investigative Group, LLC
S. R. Sloan Inc.
Steet Toyota - Scion
Stewart Financial
Stone Ridge Residences
Strategic Financial Services
Summit Mental Training
TIAA
Tony's Pizzeria & Sports Bar
Tote Construction Services
United Food and Commercial Workers
Utica First Insurance Company
Utica Glass Company
Utica Lady Comets Youth Softball Inc.
Utica National Insurance Group
Vanguard
Venice Pizzeria
Verizon
Wagoner-Hickok Agency, Inc.
The Women's Fund of Herkimer & Oneida Counties, Inc.
Yorkville Memorials, LLC
BBL Charitable Foundation, Inc.
Bank of Utica Foundation, Inc.
Mabel W. Bishop Foundation
Joseph & Inez E. Carbone Foundation
Central New York Community Foundation, Inc.
The Community Foundation of Herkimer & Oneida Counties, Inc.
Eagan Family Foundation
Eastern Star Hall & Home Foundation
Farash Foundation
Give Lively Foundation, Inc.
Hazen B. Hinman Sr. Foundation
Sibbri Foundation
Slocum-Dickson Foundation, Inc.
DJ Smith Family Foundation
I would like to see logins and resources for:
For a general list of frequently used logins, you can also visit our logins page.