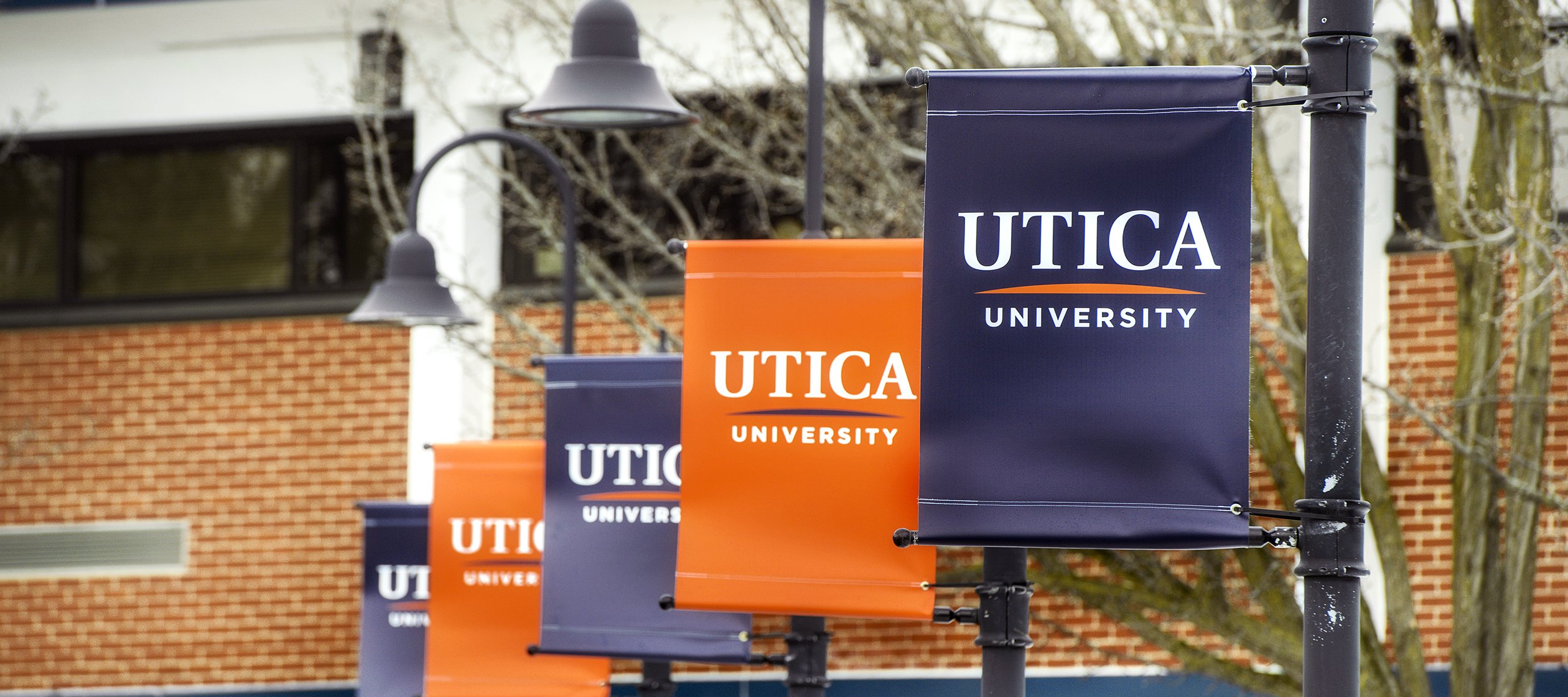 Employee Giving
Employee Giving
When you support Utica University through the Employee Giving, you make it possible for deserving students to follow their passions, gain new skills, and achieve success.
HELP OUR STUDENTS ACHIEVE SUCCESS
Make A Gift To Utica University
Ways to Give:
Annual Fund
A gift to the annual fund provides crucial support for three core initiatives set out by President Casamento specifically aimed at improving affordability and student success:
University Scholarships that make a Utica education more affordable for the families we serve;
Teaching and Learning via advanced tutoring and technology resources in the University's Learning Commons;
Career Advancement through robust internship and career placement programs.
Scholarships and Awards
Contributing to one of the 251 scholarships and awards helps both students and the University because it builds the endowment and helps with the DOE ratio while providing financial support to deserving students.
Department, Dean's Discretionary Funds and Beyond
There is always the option to designate your gift to a specific area, like a department, a Dean's discretionary fund or athletics. Just ask. Chances are it is either already set up or can be set up.

Even a modest gift can help bring promising students closer to their dreams. Please join the many Utica University faculty and staff members who support the University's mission through our employee giving program.
We would like to recognize the Utica faculty and staff donors who have contributed to Utica University consistently for five, ten, and even twenty consecutive years. Your partnership with Utica makes the dream of a university education a reality for many students.
20 Or More Years
Carl Dziekan
David Fontaine '89
10 To 19 Years
Dr. Lawrence Aaronson
Linda Aaronson '96
Kelly Adams'00
Trisha Barone '13
Dr. Annette Becker
Laura Bedford
Martin Broccoli '70
Cora Bruns '86, G'05
Martin Bruns '99
Dr. Bryant Buchanan
Gil Burgmaster
Matthew Carr '03
Dr. Laura Casamento
Dr. John Cormican
Susan Cox
Harvey Cramer
The Reverend Paul Drobin H'16
Blaise Faggiano
James Farr '05, G'12
Dr. Richard Fenner
Carol Fitzsimmons
Melissa Foote
Dean Gordon
Dr. Robert Halliday
Dr. Patrice Hallock
Joanne Hathaway
Mary Hayes Gordon '82, G'13
Gary Heenan G'05
Kateri Teresa Henkel
Dr. Nancy Hollins
Ric Hollins
Douglas Houghton '66
Dr. John Johnsen
Christine Kisiel
Mark Kovacs
Dr. Daniel Kurtz
Kim Lambert
Christine Leogrande '81
Karen Lorraine
Frances Lucia
Stacy Ludwikowski
Johnni Mahdi
Dr. R. Bruce McBride
Ellen Moon '76
Richard Moon '71
Julie Murawski
Doreen Murray V
ictoria Nackley
George Nehme
Timothy Nelson
Jessica Nelson '99
David Parker '11
Michael Parnell '02
Captain Cully Patch '03, G'12
Joseph Perry '90
Dr. Terri Provost
Deanna Putrello
Melissa Racioppa '95, G'16
Richard Racioppa '93
Jan Simpson G'07
Ellen Smith
Dr. James Smith
Dr. Polly Smith '99
John Snyder '95
Wayne Sullivan
Caren Summers G'13
Patricia Swann
Dr. Frederick Tehan
Dr. Alexander Thomas
Thomas Trinco
Alane Varga
Anthony Villanti
Kirstin Walker G'05
Robert Warwick '72
Dr. Sharon Wise
Regina Zdeb '70
5 To 9 Years
John Adasek
Benjamin Atwood '09, G'13
Tracy Balduzzi G'14
Colleen Bentley-Ciccone
Jamie Callari
Elizabeth Caraco
Dave Clausen
Alexis Cooper
Duane Corbo
Leslie Corbo '09, G'12
Dr. Thomas Crist
Douglas Croft '03
Michele Davis G'11
Gail Durr '97
Joseph Giordano '81
Lisa Green G'16
Lynn Guca
Kristin Haag
Robert Harvey Jr.
Jo Ann Hayward
Kim Landon '75
Anthony Leone Jr.
Carl Lohmann
Halina Lotyczewski
Derek MacTurk '04
Linda Madore G'14
Brian Marcantonio Jr. '10
Gina Marcantonio '13
Anthony Martino G'04
Erin Massoud
Ann McGowan
Dr. Denise McVay G'07
Patrick Mineo
Mariann Munson '85
Stephanie Nesbitt
Kathy Novak
Candice Ossowski '02
Salvatore Paladino III '03
Anne Patterson
Rose Patterson '87
Raymond Philo '81
Joanne '11 Pluff
William Pluff '06, G'11
Dr. Curtis Pulliam
Joni Pulliam
Lisa Rabideau
Dr. Donald Rebovich
John Rowe
Pamela Salmon
Charleen Sangiacomo '06
Sandra Shepardson G'16
Bobbi Smorol
Kristin St. Hilaire G'16
Jennifer Urbanke '13, G'17
Honorable William Virkler
Kevin Waldron
Lesley Wallace
Questions? Contact Nick Accordino at naaccord@utica.edu or (315) 792-3939
If You Haven't Enrolled in Payroll Deduction ...
Please consider doing so - it will make an enormous difference for our students. Gifts of any size are greatly appreciated.
Q: Why is it important for me to give to Utica University?

A: As part of the Utica University faculty and staff, when you give you help to improve Utica's potential to obtain grants. Grant-funding foundations and institutions frequently allot funds according to the percentage of faculty/staff actively giving to the institution.

Q: Where will my gift go?

A: Your gift will benefit Utica University and our students in a variety of ways. The unrestricted Annual Fund is our greatest need. Your dollars can provide financial aid, technology upgrades, staff research, and general improvements and maintenance on campus. You may also designate your gift for a scholarship or initiative sponsored by a particular school, college or department.

Q: How can I make my gift?

A: You can make your gift online. Many employees prefer the convenience of giving through payroll deduction or by credit card. If you would like to write out a check, please send it to Office of Advancement, Utica University, 1600 Burrstone Road, Utica, NY 13502.

Q: I already have an active payroll deduction pledge. How can I make another gift?

A: If you participated in payroll deduction last year, you can increase your pledge online. You can also make a one-time gift by using our online giving form.

Q: My spouse/partner works for a company that matches gifts. How do I submit the paperwork?

A: Matching gifts can double or even triple your gift! Ask your spouse or partner to request a form from his/her Human Resources Department and send it to the Utica Advancement Office.

Q: I would like to make a gift, but I'm not sure I can afford it. What are my options?

A: Payroll deduction is a convenient, virtually "painless" way to give. You can arrange to have a small amount deducted from your paycheck over the course of a year. That way, for the weekly cost of premium coffee or a soft drink, you can help Utica University.
Giving Back
On May 12, 2022, Utica University officially dedicated the Jeremy C. Thurston '00 Center for Career Readiness. The Center, formerly...
On May 12, 2022, Utica University celebrated the renaming of the Economic Crime and Justice Studies building in honor of two of the University's most generous benefactors.
Jeremy Thurston, president of The Hayner Hoyt Corporation, and Dr. Laura Casamento, Utica University president, announced the establishment of an...
I would like to see logins and resources for:
For a general list of frequently used logins, you can also visit our logins page.