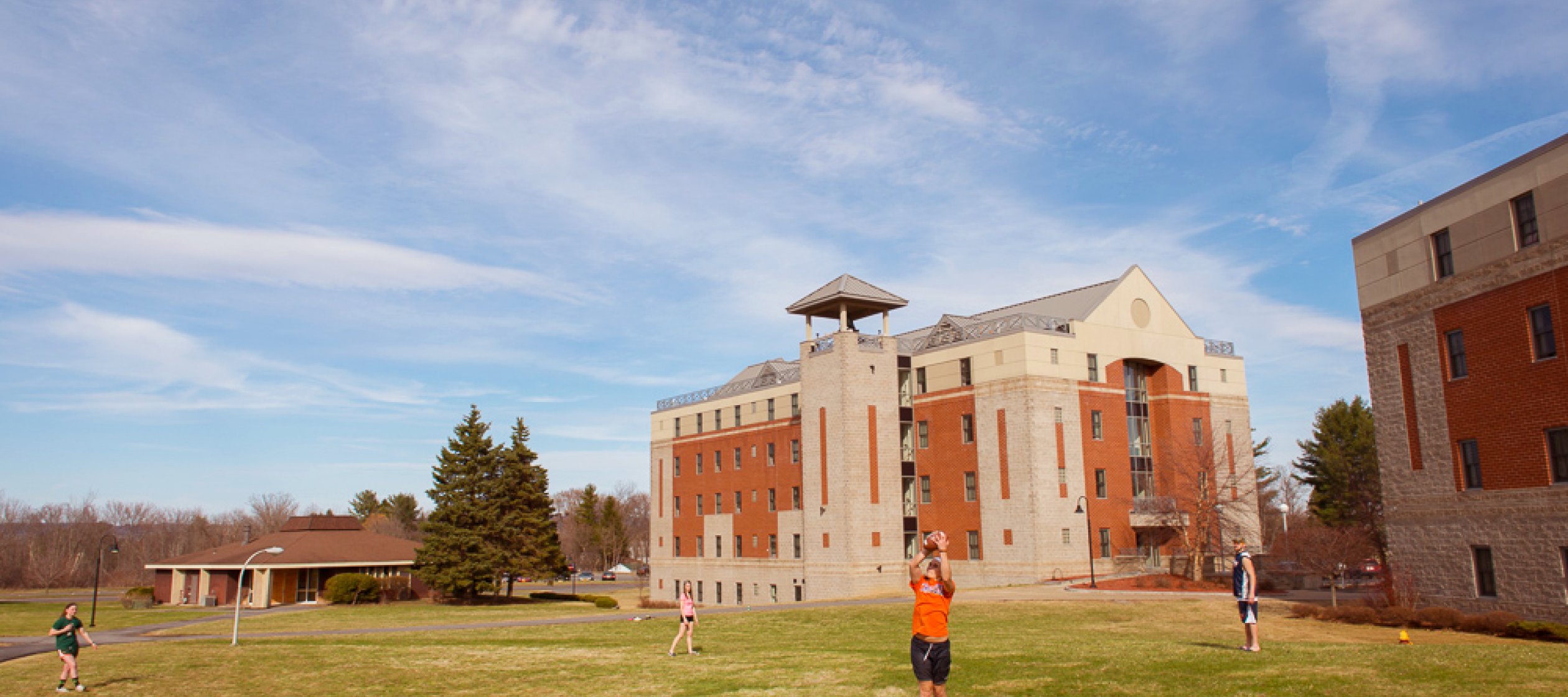 Grants play an important role in advancing Utica College's mission and educational priorities. The Grants Office oversees all activity related to grant-seeking at the College.
Grant awards may support a range of initiatives, such as new and innovative curricula; faculty and student research; the acquisition of new equipment; building renovation and capital improvements; scholarships; and projects that benefit the College and the community.

The Grants Office offers support to faculty and staff by helping to ensure that grant proposals are well planned, support the College's educational mission, reflect a high standard of quality, and are consistent with granting agency and other applicable guidelines.
The Grants Office can assist with:
identification of funding sources
assistance with proposal planning and development
development budgets
review of proposal drafts and supplementary information
proposal submission
acknowledgment of the award
coordination with Marketing and Communication to publicize awards
START EARLY!
Discuss proposal plans with your Department Head/Chair, School Dean, and grant officers well in advance of the proposal deadline to be sure it is consistent with departmental/school priorities and plans. Be sure to discuss course releases and program cost-sharing/matching requirements, if any.

If there is preliminary agreement on the concept:

The grant officer can begin a search for potential sources of funding. Faculty are encouraged to search for funding themselves using the SPIN grants database. If one or more sources have already been identified, discuss those with the grant officer to avoid submitting proposals that conflict with efforts already underway.
 
COMPLETE THE UTICA COLLEGE GRANT PROPOSAL 
APPROVAL FORM.

Obtain the approval signatures of the Department Chair, School Dean/Head of Administrative Division, as appropriate, and the Provost or his/her designee. Send the original signed form to the grant officer. The Utica College Grant Proposal Approval Form is available here.

a.) If the project includes research and/or testing of human or animal subjects, contact the College's Institutional Review Board (IRB) for additional review and approval.

b.) Requirements for matching funds or cost sharing, including in-kind contributions, must be approved in advance by the Department Chair, School Dean/Head of Administrative Division, as appropriate, and the Provost or his/her designee.

c.) Be sure to complete and sign the disclosure form to comply with Utica College's policy on Financial Conflicts of Interest for Externally Sponsored Projects.

Attach the disclosure form to the Utica College Grant Proposal Approval Form. This important step helps the College identify and manage, reduce, or eliminate conflicting financial interests in the design, conduct, or reporting of research or other projects funded by external sources. Be sure to read this policy.
 
DRAFT THE PROPOSAL NARRATIVE AND BUDGET. 

The grant officers can assist with editorial and budget support and with other required supplementary materials. As you plan your draft, visit the Utica College Grant Information and Utica College Description (Boilerplate) sections in this site. (Note: the boilerplate description may be adapted to address the special needs of your proposal.) Please consult the Utica College Comprehensive Grants Manual for additional direction.

Send the project narrative to your Department Head/Chair and the Provost or his/her designee for review and approval. Send the project budget to the Accounting Manager: Payroll & Grants for review and approval. The approved project narrative, budget, and other materials as may be required (CVs, timelines, position descriptions, other) should be sent to the grants officer at least four business days before the due date for the grant application. The grant officer will review the narrative, budget and other information for clarity, completeness, and consistency with the grant maker's proposal submission guidelines.
DO ADDITIONAL CONSIDERATIONS APPLY?
Fringe benefits:
If the grant request includes a salary, it is the College's policy to include fringe benefits using the rate in effect at the time the proposal is submitted. Contact the grant officer to confirm the College's current fringe benefit rate and how it should be applied.
Indirect costs:
Indirect or overhead costs are awarded to compensate the College for indirect, but real, operating expenditures, including heat, electricity, and other facilities and administrative costs. It is the College's policy to recover the full amount of indirect costs allowable. The College periodically negotiates a federal indirect cost reimbursement rate with the U.S. Department of Health and Human Services. Contact the grant officer to verify the current rate and how it should be applied.

For other salary considerations that may apply to a grant-supported project, contact the Office of Academic Affairs for guidance.
PROPOSAL SUBMISSION
Utica College has authorized the Chief Grants Officer, Amy Lindner, to submit proposals on its behalf. The grant proposal may be submitted after all required materials have been received by the Grants Office and all grant maker guidelines have been addressed.
Institutional Name and Address:
Utica College
1600 Burrstone Road
Utica, NY 13502-4892

Fiscal Year:
June 1 through May 31

Employer ID Number (EIN):
16-1476258

Federal Employer Identification Number (taxpayer number):
16-1476258

DUNS Number:
135514685

NYS Charitable Organization Number:
20-92-11
Type: NFP
Category: Exempt

New York State SFS Vendor ID:
1000016044

Indirect Cost Rates:
40.7% on salaries, wages, fringe for work performed on campus

NSF Institutional ID Number:
0028837000
Narrative For Inclusion in Grant Proposals
May be adapted to address the special needs of your proposal
Utica College is an independent, private, nonsectarian, comprehensive college located in the city of Utica, in the heart of central New York State. Accredited by the Commission on Higher Education of the Middle States Association of Colleges and Schools, Utica College offers many of the advantages of a large university, but with an intimacy, and a high degree of personal attention more closely associated with smaller private colleges.

Educational programs are delivered in three schools: Arts and Sciences; Health Professions and Education; and Business and Justice Studies. There are nearly 40 undergraduate programs and more than 20 graduate programs, which include master's degrees, doctoral programs, and graduate-level certificates. Several programs address emerging disciplines such as cybersecurity, economic crime, and areas of high need such as nursing and the health professions. Graduate degree programs include a doctor of physical therapy and masters of science degrees in economic crime and fraud management, in cybersecurity-intelligence and forensics, in professional accountancy, and in education.

Students hail from 45 states and territories and from 20 countries. Some 73 percent are from New York State; of that number, 46 percent come from the surrounding counties of Oneida, Herkimer and Madison, and much of New York State's Mohawk Valley. Utica College's Online School currently enrolls 1,700 students.

From our founding in 1946 to meet the educational needs of returning World War II veterans, Utica College has educated generations of students, many of whom were the first in their family to attend college. Like their predecessors, more than 25 percent of Utica College undergraduates today are the first in their family to attend college. The College is proud of our record of making a college education possible for many, who otherwise, would not have considered attending college because of financial constraints. Today, more than 95 percent of full-time undergraduate students receive financial aid. Representing a broad diversity of ethnicities, backgrounds, perspectives, and experiences, more than 25 percent of our students identify themselves as multi-cultural or minorities.

As in 1946, students are attracted to Utica College's integrated liberal and career education programs that offer promising career paths in many sectors of the economy. Recognized for the close, personal attention they give to students, our faculty help students define their educational goals and plan their future. Utica College employs 138 full-time faculty of whom 117 have earned their Ph.D. or the highest degree in their field. A small, personal environment and a student-to-faculty ratio of 11 to 1 helps reinforce a focus on student-centered teaching.

From its inception, Utica College has offered a robust cultural and learning environment that ensures opportunities for students to achieve both personal and professional success. The College's tradition of collegiate athletics, which is growing in both importance and competitiveness, supports these aims. At Utica College, intercollegiate and intramural athletic programs are an integral part of the College's culture. Utica College offers 25 Division III intercollegiate sports affiliated with the NCAA, Empire 8 Conference, and the Eastern College Athletic Conference (ECAC). Fully 32 percent of campus-based undergraduate students participate in intercollegiate sports while intramural activities attract almost 70 percent of students.

Represented by approximately 24,000 alumni worldwide, Utica College is a tax-exempt organization as described in section 501(c)(3) of the U.S. Internal Revenue Code. The College and the city of Utica are 50 miles east of Syracuse, NY and 90 miles west of Albany, NY. Utica is approximately five hours by car from New York City, Boston, Philadelphia, and Montreal.
Contact Us
Assistant Vice President for Advancement & Chief Grants Officer
I would like to see logins and resources for:
For a general list of frequently used logins, you can also visit our logins page.