What We Do
The English Department at Utica College helps students develop an understanding of the relationship between English and the diverse cultural traditions around the world through the study of literature, the history and structure of the English language, and various aspects of writing.
Phone
(315) 792-3185
Email
Department Type
Office Location
174 Gordon Science Center
UC offers a major in English, and minors in creative writing, English language, and literature. Students can also take classes toward fulfilling the requirements of the education program, while earning their degree in English.
Programs
---
English majors study the great heritage of the English-speaking peoples in a comprehensive and varied program that includes literature, the history and structure of the English language, and various aspects of writing. The English Department at Utica College helps students develop an understanding of the relationship between English and the diverse cultural traditions around the world through the study of literature, the history and structure of the English language, and various aspects of writing. Students gain cultural understanding, communication skills, and experience in scholarship, and are therefore prepared to teach, do graduate work, or enter any occupation that requires critical thinking, good writing, and a broad perspective.  

The Utica College English major is distinctive in the flexibility it offers students. The major is designed to provide a broad base of study in English language literature as well as an opportunity to learn about language and world literature. Students may then extend and deepen their experience with English studies by using their elective options to explore writing, literature, or language in more detail.
Dr. Henry R. DiSpirito Memorial Scholarship
Established by Delores and Theresa DiSpirito in memory of their father, Dr. Henry R. DiSpirito (Utica College Artist in Residence 5/30/63 – 2/28/95), financial assistance awards from the fund shall be awarded to a full-time student in his/her junior or senior year who is majoring in the area of arts, including but not limited to painting, sculpture, theatre, dance, or music, or who is majoring in one of the traditional humanities majors and has a special interest in the arts. The recipient shall be selected by the dean of the faculty in consultation with the faculty of the Division of Arts and Sciences. Candidates must have a 3.0 GPA or better and demonstrate traits which will make them an asset to their profession and community.
Past Recipients: Rose Zaloom ('16) 2015 , Courtney Foll ('15) 2014
Ida C. Millett Scholarship
This scholarship was established by James T. Millett, M.S., John F. Millett, D.D.S., and Robert W. Millett, Ph.D. in honor of their mother, Ida C. Millett. Candidates must have declared a major and/or minor area of study from the academic discipline of English. To be eligible for consideration, candidates must have attained a 3.0 or higher average in a minimum of six courses in their major and/or minor.
Past Recipients:  Sean Feener ('14) 2013, Rose Zaloom ('15) 2014
The Grace and Arthur Perlmutter Scholarship Fund
Established in honor of his parents, Grace and Arthur Perlmutter, the fund shall be awarded upon the recommendation of the chair of the English department and in consultation with Mr. Walter M. Perlmutter '50 or his designee(s), to a student who is majoring in English and has a strong interest or aptitude in either creative writing or American literature or both. The recipient of the fund must be a second, third, or fourth year student, must have a demonstrated financial need, and must maintain a 3.0 umulative grade point average.
Past Recipients: Samuel Romano 2015, Courtney Foll ('14) 2014
Joseph Vogel Award for Poetry and Joseph Vogel Award for Fiction
Established by the late author Joseph Vogel, these awards are given to students for outstanding work in poetry and in fiction. Winners are published in Ampersand. Each year a guest judge outside of UC is chosen. 
Past Recipients:  Rose Zaloom (2015), Sean Feener (2014), David Eves (2014), Rose Zaloom (2014), Nicolle Szalkowski (2014), Jenn Strife (2013), Rose Zaloom (2013), Brandy Miller (2013) 
Mary Wasserman Fine Arts Scholarship
This scholarship, established by Arthur Wasserman, professor emeritus, in memory of his wife, is awarded to a fine arts major or minor with financial need. Consideration is given to student's talent and exhibit of promise for benefitting from formal art education. In the event a fine arts major or minor is no longer offered by the College, the scholarship will be awarded to a student with demonstrated financial need as determined by the Office of Student Financial Services.
Past Recipients: Daphne Wiggins ('17) 2015, Kortney Valentine ('16) 2015, Lynsie Ferguson ('15) 2014, Melissa Landstrom 2014
Professor Emeritus Jerome Weiss Outstanding Theatre Award
Established by Professor Emeritus Jerome Weiss, this award shall be made annually to deserving students involved in the theatre arts while at Utica College. In the case that no deserving students are identified, the Award shall not be made.
Past Recipients: Rose Zaloom ('16) 2015, Lynsie Ferguson ('15) 2015, Imani Mack ('16) 2015, Melissa Landstrom 2015 
Interviews and discussions with writers, poets, and creatives of all sorts, bringing ideas to life with their words!
The Professor Harry F. and Mary Ruth Jackson Lunch Hour Series presents musical and literary programs each semester. All programs are free of charge and are open to students, faculty, staff, and the public. It is made possible by the New York State Council on the Arts with the support of Governor Andrew M. Cuomo and the New York State Legislature.
Sponsored by the Utica College Social Cultural Committee, programs begin at 12:30 p.m.
Musical performances are held in the Library Concourse.
Literary readings are held in MacFarlane Auditorium in DePerno Hall, unless otherwise noted. 
The Harold Frederic English Society was formed in the fall semester of 1999 to offer students both inside and outside the English major the opportunity to participate in and contribute to the literary and creative life of the college. It is named in honor of the Utica native and noted nineteenth-century American novelist who chronicled the city's religious and ethnic groups at the turn of the century in his acclaimed novel The Damnation of Theron Ware. James Scannell, Associate Professor in the English department, is the club's faculty advisor.
In the past, the Society has hosted at Halloween a "Scary Poetry Reading" in which members of the club, the college community, and the greater Utica community read their favorite frightening verse by authors such as Edgar Allan Poe and Robert Browning. The Society was also influential raising funds to buy books for the Breakfast Reading Club, a reading program for young children at Kernan Elementary School in West Utica. 
HFES puts on open mics, does community service around literacy, and has one literary themed outing a year. Meetings are weekly.
Those interested in participating should contact Professor James Scannell at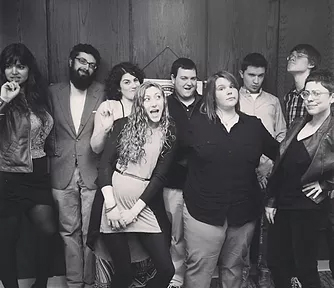 Sigma Tau Delta, founded in 1924, is the international English honors society. There are more than 870 active chapters worldwide, and roughly 9,000 new members are selected to be inducted every year.
At Utica College, the English faculty members select UC's newest inductees, who are awarded their membership during the Spring party. In addition to being selected by the faculty, members must also have taken at least two upper-level English courses, and have earned a 3.0 grade point average or higher.
Named in honor of the late Professor Emeritus of English Eugene Paul Nassar, whose distinguished teaching career at Utica College inspired generations of students, the Eugene Paul Nassar Poetry Prize is an award given annually for a poetry collection published in the previous year by a resident of upstate New York.
Competition Details
Prize: $2,000 For best poetry collection published by an Upstate author.

Submission Deadline:
August 31, 2019

Entry Fee:
There is no entry fee.

Final Judge:
(To be announced.)

Entry Form

Entry Instructions:
Send completed entry form, a brief CV listing creative and scholarly accomplishments, and two (2) copies of the work to:

Gary Leising
Utica College
School of Arts and Sciences
1600 Burrstone Road
Utica, NY 13502
Note: Books may be sent in by author or publisher.
Submission Criteria:

Submitted work must be a book of poems in English, at least 48 pages long, published between July 1, 2018 and June 30, 2019 by a resident of Upstate New York. Collections by more than one author, "collected" or "selected" volumes, collections of translations, self-published works, and vanity press publications are not eligible.

Additional Requirements:
Winner must agree, upon contest entry:
to give permission for portions of the winning work to be reproduced for publicity; and
 
to, at a mutually agreeable date in April 2020, 1) receive the award in person, 2) give a reading at Utica College, and 3) meet with students in a master class.
All books entered in competition will be donated to the Utica College library and the Utica Public Library.
Ampersand is published annually each spring semester by an all student staff that changes yearly. Faculty advisor, Dr. Gary Leising helps oversee meetings and publcation of Ampersand. The magazine contains original art, poetry, short stories, and personal essays by students at Utica College. The editorial staff ask for submissions from UC students yearly. The staff reviews submissions and choose what makes it to publication through multiple readings and discussions. Submitters are notified via email if their work has been accepted for publication. Traditionally, towards the end of the spring semester the editorial staff hold a launch party with an open mic and invite all issue contributors to read from the newest issue. 
About the issues:
Ampersand 2014
Editorial Staff: David Eves, Taylor, Banovic, Corrie Clements, Courteney Klepfer, Calie Taranto, Lynsie Ferguson
Cover Art: Kyle D. Riecker
Vogel Award Judge: Melissa Johnson, Virginia Commonwealth University
Issue Contributors: Rose Zaloom, Corrie Clements, Michael Cottle, Kimberly Hughes, Sean Feener, Brian Mazurowski, Calie Taranto, Breana Griffin, Jade Jenkins, David Eves, Lynsie Ferguson, Raheem Lawrence, Courney Fol, Nicolle Szalkowski, Alaina LaMarco, Laura Haggerty, Natalie Berkheimer
Vogel Award Winners: Sean Feener, David Eves, Rose Zaloom, Nicolle Szalkowski
Ampersand 2013
Editorial Staff: Jenn Strife, Steph Bailey, Brandy Miller, Ashley Dunham
Faculty Advisor: Dr. Lis Orr
Cover Art: John Paul Gardner
Vogel Award Judge: Casandra Lopez, North Seattle College
Contributors: John Paul Gardner, April McHugh, Erica Ciko, S.A. Feener, Christina F. Bono, Jenn Strife, Anthony Gorrea, Amanda Marsh, Julie Wittemore, Rose Zaloom, Brandy Miller, Dana Sherman, Steph Bailey, Matty Kriston Campos
The faculty of the English department publishes The Spectator on a semi-annual basis. We write on annual events, publish faculty writing, and showcase student awards. We welcome submissions from alumni/alumnae.
English Department Faculty & Staff
Resources for English Majors and Writers
What's the next step? Where do you take things from here? The English Department at Utica College is here to help you along the way, with resources to guide you through choices about graduate school, publishing, and more.
I would like to see logins and resources for:
For a general list of frequently used logins, you can also visit our logins page.