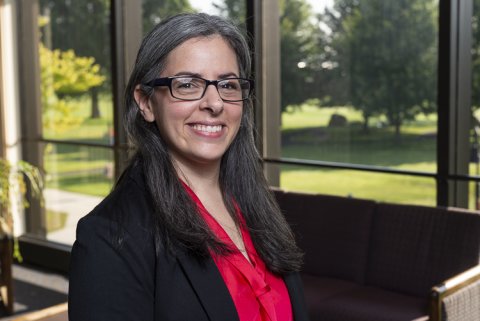 Position
Assistant Professor of English
Phone
(315) 792-2305
Email
Office
112 DePerno Hall
School of Arts & Sciences
Position type
Department Affiliated
Biography
Dr. Kelly Minerva joined the Department of English in 2019, having taught at Avila University in Kansas City and the Lander College for Women, a division of Touro College in Manhattan. She received her Ph.D. from the University of Toronto. She specializes in twentieth and twenty-first century postcolonial literature. Her research investigates the narrative constructions of urban identities and spaces in contemporary South Asian and world literature. She is also interested in the intersections of social justice and narrative in postcolonial literature.
Education
Ph.D., English and South Asian Studies Collaborative Program, University of Toronto
M.A., English, University at Buffalo
B.A., English and Philosophy, University of Scranton
Past Research
Dr. Minerva has published peer-reviewed chapters and articles in Postcolonial Urban Outcasts: City Margins in South Asian Literature (Routledge 2017); a special issue of University of Toronto Quarterly (2015); and Transnationalism, Activism, Art (University of Toronto Press 2013). She also contributed an entry on Indo-Canadian author Rohinton Mistry to Critical Survey of American Literature (Salem Press 2017).
Areas of Interest:
Postcolonial Theory and Literatures
South Asian Studies
Global and World Literatures
Urban Studies and City Literature
Transnational and Diasporic Studies
Literary and Narrative Theory
Composition and Rhetoric
Courses Taught
ENG 101 Written Communication I
ENG 145 Literature in Focus 
LIT 206 World Literature from 1650 to the Present
LIT 347 Women and Literature
LIT 358 World Literature in English
LIT 400 Topics in World Literature: World Cities in Literature
ENG 500 World Literature in English
HON 259 Honors Seminar: Invisible Space
I would like to see logins and resources for:
For a general list of frequently used logins, you can also visit our logins page.