ROBERT BRVENIK CENTER FOR BUSINESS EDUCATION
A State-Of-The-Art Facility For Learning And Research
---
U
tica College's
business programs have an impressive new home in the heart of Utica's revitalized downtown financial district.
Named for a Trustee and major benefactor of the College, the Robert Brvenik Center for Business Education is a state-of-the-art facility that houses UC's innovative programs in:
UNDERGRADUATE MAJORS


Accounting
Business Economics
Economics
Health Studies Management
Management
Risk Management and Insurance
Sports Management

GRADUATE PROGRAMS
MBA in General Management
MBA in Economic Crime and Fraud Management
MBA in Professional Accountancy
---
Teaching and Learning Facilities
The Brvenik Center for Business Education features:
First Source Federal Credit Union Trading Room
Previously located in Hubbard Hall, this amazing facility includes computer workstations loaded with financial software, smart boards, and a real-time stock ticker

Two state-of-the-art MBA classrooms
Learning spaces designed for our blended MBA program, featuring advanced video conferencing capabilities
Plus:
Seminar style classrooms
Meeting spaces
Student lounges
A Great Neighborhood
The Brvenik Center is part of Utica College's Clark City Center, one of the most recognizable high-rise structures in the City's financial district, within walking distance of major employers and potential internship sites, including Adirondack Bank, Utica National Insurance, and others.

Faculty / School Offices
Housed in the first floor of the Brvenik Center are the Offices for the
School of Business and Justice Studies
.
The facility includes offices for the following faculty:

Business and Economics Faculty
Atasi Basu, Ph.D.
Donna Dolansky MBA
Richard G. Fenner, Ph.D.
Samuel Ferrara, Ph.D.
Candace Grant, Ph.D.
Glen A. Hansen, Ph.D.
Zhaodan Huang, Ph.D.
Margaret J. Morgan-Davie, Ph.D.
Stephanie R. Nesbitt, J.D.
Brett Orzechowski, M.S.
Stephen G. Peek, II, M.B.A.
Thomas A. Rossi, D.B.A.
Mehmet Sencicek, Ph.D.
Chris Tingley Ph.D.
Public Relations Faculty
Elizabeth W. Burback, M.S.
Patricia A. Swann, M.S.
View Floor Plans →
Transportation and Parking

Students attending classes in the Brvenik Center can take advantage of quick, easy (and free)
shuttle service
between UC's main campus and the Center. Shuttles run in coordination with course schedules in both locations so that students can arrive in class comfortably on time.
View Bus Schedule →
In addition to the shuttle service, commuter parking is available in a multistory garage one block away from the Brvenik Center.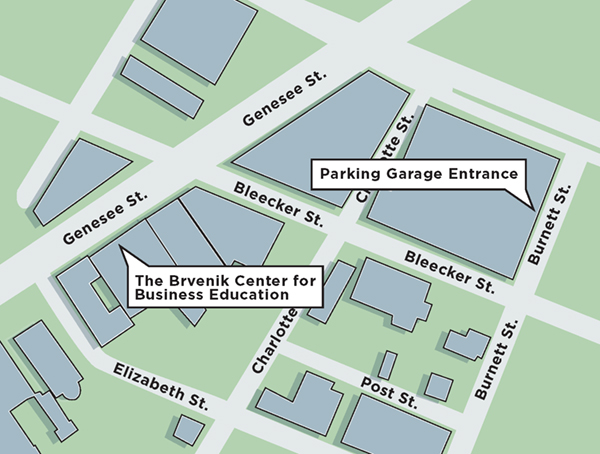 Dining and Refreshments
The Brvenik Center includes quick-service food and beverages on site. In addition, students have access to a rich variety of dining options within easy walking distance of the Center in downtown Utica.
A view from a fifth floor office