Programs in Nursing
Nursing

School of Health Professions and Education

(Bachelor of Science Degree)


Frequently Asked Questions

Why nursing?

If you are thinking about a career that will involve caring for others, promoting health and wellness, and diagnosing and treating human responses to actual or potential health problems, then you may be up to the challenge of nursing. If caring were enough, anyone could be a nurse. Nursing is a combination of heart and smart – having warmth, compassion, and concern for human dignity combined with the ability to handle the intellectual rigor of nursing theory and science integrated with the natural and social sciences.
What can a career in nursing offer me?

In addition to the personal satisfaction of knowing you have made a real difference in the lives of others, nursing is a profession that challenges you to be your best. It offers unlimited job opportunities and career advancement, job security, flexibility in work schedules, and a competitive salary. According to the U.S. Department of Labor Statistics, employment for registered nurses will grow faster than the average for all occupations.
We are currently in the midst of one of the most severe nursing shortages ever experienced in the United States, and projections for the future are alarming. According to the National Center for Health Workforce Analysis, one million new and replacement nurses will be needed by the year 2010. Unless significant changes are made, the current 6% nursing shortage will more than triple (20%) by the year 2015, and will reach a staggering 29% by the year 2020, creating a national public health problem.
Other than hospitals, schools, and doctors' offices, where do nurses work?

Today's nurses work in a variety of settings, including emergency rooms, forensic and correctional facilities, acute care facilities, long-term care facilities, health care agencies, community clinics, school systems, government agencies, research labs, insurance agencies, and private practice offices. They can work in large urban areas, remote rural locations, or other countries. Nurses can enter into advance practice roles such as certified nurse midwives, nurse practitioners, clinical nurse specialists, nurse anesthetists, researchers, legal nurse consultants or health policy analysts. They can elect to teach college or enter administration as executives of health care agencies. Nursing is truly a lifelong profession, and the possibilities are endless.
Aren't nurses primarily assistants to physicians in medical settings?

Definitely not. Over the past 30 years, nursing has progressed from an occupation to a fully licensed independent profession separate from medicine. Nurses work collaboratively with physicians and other health care professionals as colleagues in health care to assess, diagnose, and treat individuals and families.
Why study at Utica College to become a nurse?

Quite simply, because the UC Department of Nursing has enjoyed 23 years of success in terms of student satisfaction, graduate professional accomplishment, and employer satisfaction. Responses from graduate and employer surveys conducted at one year and five year intervals after graduation consistently reflect nearly 100% satisfaction with the Utica College educational preparation for professional nursing practice. Most recently, the U.S. Department of Health and Human Services, Bureau of Health Professions, Health Resources and Services Administration awarded over $1,000,000 in grant monies to support students and nursing education at Utica College. In fact, Utica College nursing received the highest award of the fifteen colleges and universities that received awards during the 2002-2003 academic year—a remarkable tribute to the quality of nursing education at Utica College.
The nursing program offers many benefits, including:
A four-year program leading to a Bachelor of Science degree in nursing.
Separate courses available only in a baccalaureate nursing program such as health assessment, community health, nursing management, critical care nursing, research methods, and statistics.
Matriculation into the nursing major upon admission to the College. You do not have to wait two years taking liberal arts courses before applying to the nursing major and beginning nursing courses. The first nursing course begins in the Spring semester of the first year of study.
A strong clinical focus. Clinical experiences for students begin in the sophomore year and continue throughout each remaining semester of the program.
"Reality-based" clinical experiences in diverse settings. In the last semester of study senior year, the student has the opportunity to select one of the multiple affiliating hospitals throughout the country for an 84 hour clinical experience that helps the student make the transition from student to graduate nurse. Students work directly with nurse clinicians approved by the nursing faculty for this transitional experience.
Small nursing classes limited to 36 students; clinical groups average a 1:8 faculty-student ratio.
Highly qualified faculty. All of the five full-time nursing faculty hold a minimum of a master's degree in clinical nursing areas of specialization. Two of the full-time nursing faculty hold doctoral degrees. Three full-time faculty members are certified nurse practitioners. Part-time adjunct faculty are hired based on their clinical expertise and academic credentials. One part-time faculty member holds a doctorate in nursing. All faculty are actively involved in clinical practice and/or research.
Commitment to advising and mentoring. All matriculated students are assigned a nursing faculty advisor before their first semester on campus. Students are encouraged to meet with their advisors frequently—not just for course registration.
An unusually diverse student body. Currently, 38% of nursing students are from minority populations and 16% are men—well above national averages. Students range in age from 17 years to 50 years of age.
The opportunity to take elective courses in forensic nursing (nursing care for victims and perpetrators of crime) and geriatric nursing (care for the elderly).
The opportunity to minor in such disciplines as sociology, psychology, gerontology and gender studies, to name a few.
An online-based program option that allows students the flexibility of online coursework while still participating in clinical experiences and hands-on lab
Will I have time to be on an athletic team and still fit in all of my classes and clinicals as a nursing major?

YES! Many nursing students participate in team sports at Utica College. In fact, it is not uncommon for a nursing major to be captain of a team. Some team sports with nursing representation include football, basketball, swimming, ice hockey, soccer, field hockey, softball, and lacrosse.
---
State-Of-The-Art Facilities
NURSING:

ALBERT AND GLORIA SHAHEEN
NURSING LAB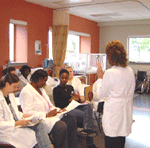 L
ocated
in Utica College's F. Eugene Romano Hall, the Dr. Albert and Gloria Shaheen Nursing Laboratory is a cutting-edge educational facility for advanced clinical learning on campus.
...more.

Admissions Events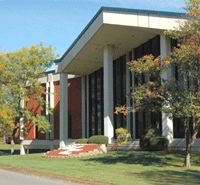 JOIN US ON CAMPUS:

EXPERIENCE UC

Meet students and faculty, tour campus, and join us for lunch.
Learn more / register


SATURDAY INFO SESSIONS
Q&A with staff followed by a campus tour.
Learn more / register
OPEN HOUSE
Learn more about programs, financial aid, student life, more.
Learn more / register
Upcoming events >