Biology Facilities

At Utica College, students learn from faculty members nationally-
recognized for their research contributions. Students experience biology in the laboratory and in natural settings, including urban wetlands like the Utica Marsh, wildlife sanctuaries such as the Nature Conservancy's Lake Julia Preserve, and the Adirondack Mountains. Gordon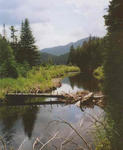 Science Center houses seven well-equipped laboratories, two lab and research prep rooms, a walk-in cold room, an animal colony room, a greenhouse with an extensive teaching collection, and a herbarium representing the flora of central New York.
A grant from NASA was used to update our labs with state of the art equipment including mobile laptop computer labs, molecular biology equipment, fluorescence, compound, and dissecting microscopes, a gamma counter, remote thermal recording probes, environmental chambers, and a variety of other equipment used in classes and research.
Students have the opportunity to conduct research with faculty on a variety of topics such as molecular biology, developmental biology, behavioral ecology, neuroscience, nutrition, evolutionary ecology, endocrinology,
plant ecology, and microbiology. Faculty and students have collaborated on groundbreaking research in such areas as nitrogen availability in Adirondack Mountain watersheds, light pollution effects on salamanders, novel melanin producing bacteria, antibiotic-induced damage to the inner ear, endocrine disorders in mice, and the use of water treatment residuals in greenhouse production. Many students have received grants and fellowships to support their own research. Students are encouraged to publish their research in national and international journals.

The biology curriculum is designed to provide a thorough education in classic principles and techniques, and enables students to apply these tools and concepts to
contemporary issues. It also provides flexibility and the opportunity to explore both field and laboratory courses, from molecular to ecosystem level biology.