New Science Center highlights array of modern facilities
New Science Center highlights array of modern facilities
Utica University continues to expand its campus resources with a string of major construction and renovation projects.
In a time when many colleges and businesses had to put construction on hold amid the COVID-19 pandemic, Utica University moved full steam ahead on multiple major construction and renovation projects.
Science Center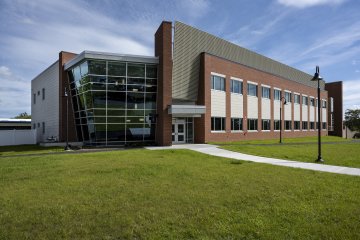 Construction completed in Fall 2021 on the $14 million, 25,000 square foot science center, featuring state-of-the-art laboratory and classroom space as well as common space for students and faculty to interact outside of the classroom. 
"The new teaching laboratories includes those for genetics and molecular biology, cell biology and biochemistry, animal physiology and animal behavior, and human anatomy and physiology laboratory," says Dean of Arts and Sciences and Professor of Biology Dr. Sharon Wise. "We also have a GIS computing laboratory and classroom, as well as an active-learning classroom space to integrate lecture and laboratory for physics and other science classes for non-majors. Other spaces include a new vivarium with two procedure rooms and 4 climate-controlled housing rooms, a microscopy room, a clean molecular lab, and cell culture lab, as well as other flexible laboratory spaces for faculty/student research. The building also include spaces for faculty and students to interact outside the classroom."
Pioneer Track & Field Complex 
Crews broke ground in April 2021 on a multipurpose, synthetic turf athletic field and outdoor track. The new facility, located behind the Clark Athletic Center adjacent to Gaetano Stadium, includes lighting for evening events and bleacher seating. The facility provides a critically needed practice venue for field hockey, football, lacrosse, soccer, softball, and track and field, as well as a complementary competition venue to Gaetano Stadium. The synthetic turf will allow athletes to train and compete regardless of weather conditions.
The Wilcox Center Intercultural and Student Organization Center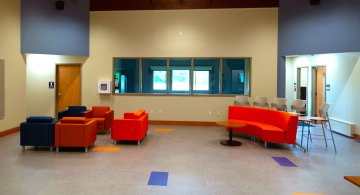 The Francis A. Wilcox Intercultural and Student Organization Center, located in the transformed space that formerly housed the Newman Center, opened in Fall 2021.
The facility features four common meeting rooms for student groups and organizations, two multipurpose rooms for events and activities, office space for Diversity, Equity, and Inclusion staff members as well as the K. Della Ferguson Women's Resource Center, a lounge with a gas fireplace, an outdoor socializing and activities space, all-gender restrooms, and a kitchen area. The project was fully funded and made possible with a founding gift of $2 million from the estate of Francis A. Wilcox.
I would like to see logins and resources for:
For a general list of frequently used logins, you can also visit our logins page.