Communication and Media
Adjunct Faculty
Mr. Jason J. Powles , B.A.
Adjunct Lecturer of Journalism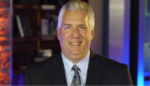 Phone: (315) 792-3060
Office: 102 ECJS Building
Biography
---
Jason Powles anchors the morning and noon news for WKTV in Utica. Prior to moving to the news desk, Powles was the longtime sports director and anchor at WKTV. He has reported from the NCAA tournament, the Orange Bowl, the baseball Hall of Fame inductions, several pro football camps and the Utica Boilermaker. Powles teaches sportscast production at Utica College.