Greetings from the Utica College Alumni
Council President, Rob Sherman '74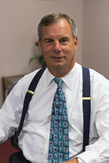 On behalf of the Utica College Alumni Council (UCAC), I would like to welcome you home to Utica College.
The Utica College Alumni Council is the governance body of the Alumni Society which is 28,000+ strong. We are dedicated to supporting Utica College and our fellow alumni by giving our time, talent, and treasure.
We represent the College and the Alumni Society at events, and we host various activities during Homecoming Weekend and/or at regional gatherings in our hometowns. Our responsibilities also include maintaining, encouraging and building relationships between alumni and Utica College.
All alumni are automatically members of the Alumni Society. You can become an active member of the society by attending and participating in College sponsored events, hosting regional alumni events, recruiting prospective students, and/or mentoring students. There are numerous ways to become engaged. The alumni society provides a forum for alumni to interact with old friends, and voice their opinions about the College.
I encourage you to remain engaged with the development and growth of the College. Visiting the website (
www.utica.edu/alumni
) will allow you to learn about news and information regarding UC. Participating in alumni events such as Homecoming Weekend or Spring Fling Weekend will help you reconnect with your alma mater and fellow alumni. Offering your time, talent, and experience to be a guest speaker in a class, whether you're discussing your job/internship experience or giving advice to students, would also help strengthen the alumni connection with students. You may also make a financial contribution to the College, via a gift to the
UC Annual Fund
, which helps to further the development of the College.
I encourage all of you to become reacquainted and stay connected with your alma mater as well as other alumni. Don't forget to join the
UC Facebook page
or our
LinkedIn site
to further connect with fellow alumni and stay up to-date with all the events happening at the College. There is strength in numbers, and the more alumni that participate in our College the stronger UC will become.
Remain Pioneer Proud,

Learn more about the UCAC - click here
View current members - click here