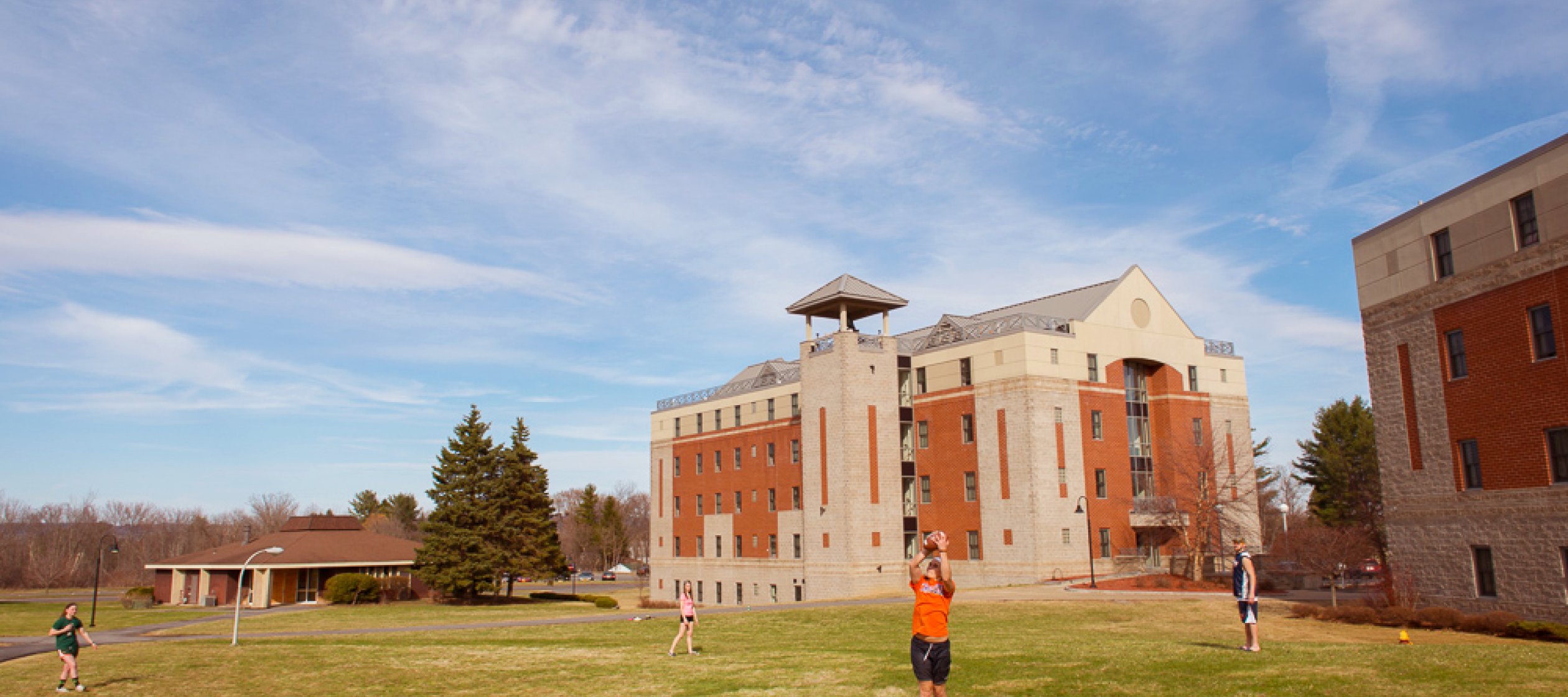 Government, Corporate, and Foundation Relations
Government, Corporate, and Foundation Relations
Grants play an important role in advancing Utica College's mission and educational priorities. The Office of Corporate, Foundation, and Government Relations (OCFGR) coordinates grant-seeking from corporations and businesses, private foundations, and state and federal government sources.
 
Grant awards may support a range of initiatives, such as new and innovative curricula; faculty and student research; the acquisition of new equipment; building renovation and capital improvements; scholarships; and projects that benefit the College and the community.

The OCFGR can support faculty and staff by helping to ensure that grant proposals are well planned, support the College's educational mission, reflect a high standard of quality, and are consistent with granting agency and other applicable guidelines.
The OCFGR can assist with:
research to identify funding sources
help with proposal planning and development
developing budgets
review of proposal drafts and supplementary information
proposal submission
acknowledging the award
coordination with Marketing and Communication to publicize awards
START EARLY!
Discuss proposal plans with your Department Head, School Dean, and grant officers well in advance of the proposal deadline to be sure it is consistent with departmental/school priorities and plans. Be sure to discuss course releases and program cost-sharing/matching requirements, if any.

If there is preliminary agreement on the concept:

The grant officer can begin a search for potential sources of funding. If one or more sources have already been identified, discuss those with the grant officer to avoid submitting proposals that conflict with efforts already underway.
 
COMPLETE THE UTICA COLLEGE GRANT PROPOSAL 
APPROVAL FORM.

Obtain the approval signatures of the Department Chair, School Dean/Head of Administrative Division, as appropriate, and the Provost or his/her designee. Send the original signed form to the grant officer. The Utica College Grant Proposal Approval Form is available here.

a.) If the project includes research and/or testing of human or animal subjects, contact the College's Institutional Review Board (IRB) for additional review and approval.

b.) Requirements for matching funds or cost sharing, including in-kind contributions, must be approved in advance by the Department Chair, School Dean/Head of Administrative Division, as appropriate, and the Provost or his/her designee.

c.) Be sure to complete and sign the disclosure form to comply with Utica College's policy on Financial Conflicts of Interest for Externally Sponsored Projects.

Attach the disclosure form to the Utica College Grant Proposal Approval Form. This important step helps the College identify and manage, reduce, or eliminate conflicting financial interests in the design, conduct, or reporting of research or other projects funded by external sources. Be sure to read this policy. (A copy of the policy may be obtained from the Grant Officers, listed above.)
 
DRAFT THE PROPOSAL NARRATIVE AND BUDGET. 

The grant officers can assist with editorial and budget support and with other required supplementary materials. As you plan your draft, visit the Utica College Grant Information and Utica College Description (Boilerplate) sections in this site. (Note: the boilerplate description may be adapted to address the special needs of your proposal.) Please consult the Utica College Comprehensive Grants Manual for additional direction.

Send the project narrative to the Provost or his/her designee for review and approval. Send the project budget to the Academic Financial Analyst for review and approval. The approved project narrative, budget, and other materials as may be required (CVs, timelines, position descriptions, other) should be sent to the grant officer at least four business days before the due date for the grant application. The grant officer will review the narrative, budget and other information for clarity, completeness, and consistency with the grant maker's proposal submission guidelines.
DO ADDITIONAL CONSIDERATIONS APPLY?
Fringe benefits:
If the grant request includes a salary, it is the College's policy to include fringe benefits using the rate in effect at the time the proposal is submitted. Contact the grant officer to confirm the College's current fringe benefit rate and how it should be applied.
Indirect costs:
Indirect or overhead costs are awarded to compensate the College for indirect, but real, operating expenditures, including heat, electricity, and other facilities and administrative costs. It is the College's policy to recover the full amount of indirect costs allowable. The College periodically negotiates a federal indirect cost reimbursement rate with the U.S. Department of Health and Human Services. Contact the grant officer to verify the current rate and how it should be applied.

For other salary considerations that may apply to a grant-supported project, contact the Office of Academic Affairs for guidance.
PROPOSAL SUBMISSION
Utica College has authorized the Executive Director of Government, Corporate, and Foundation Relations, Amy Lindner, to submit proposals on its behalf. The grant proposal may be submitted after all required materials have been received in the OCFGP and all grant maker guidelines have been addressed.
Institutional Name and Address:
Utica College
1600 Burrstone Road
Utica, NY 13502-4892

Fiscal Year:
June 1 through May 31

Employer ID Number (EIN):
16-1476258

Federal Employer Identification Number (taxpayer number):
16-1476258

DUNS Number:
135514685

NYS Charitable Organization Number:
20-92-11
Type: NFP
Category: Exempt

New York State SFS Vendor ID:
1000016044

Indirect Cost Rates:
53.5% on salaries, wages, fringe for work performed on campus
22.5% on salaries, wages, fringe for work performed off-campus

Fringe Benefit Rates:
42% for work performed during academic year
8% for work performed during summer; also adjunct rate

NSF Institutional ID Number:
0028837000
Narrative For Inclusion in Grant Proposals
May be adapted to address the special needs of your proposal
Utica College is an independent, private, nonsectarian, comprehensive college located in the city of Utica, in the heart of central New York State. Accredited by the Commission on Higher Education of the Middle States Association of Colleges and Schools, Utica College offers many of the advantages of a large university, but with an intimacy, and a high degree of personal attention more closely associated with smaller private colleges.

Educational programs are delivered in three schools: Arts and Sciences; Health Professions and Education; and Business and Justice Studies. There are nearly 40 undergraduate programs and more than 20 graduate programs, which include master's degrees, doctoral programs, and graduate-level certificates. Several programs address emerging disciplines such as cybersecurity, economic crime, and areas of high need such as nursing and the health professions. Graduate degree programs include a doctor of physical therapy and masters of science degrees in economic crime and fraud management, in cybersecurity-intelligence and forensics, in professional accountancy, and in education.

In Fall 2014, Utica College enrolled 4,257 full- and part-time students (2,931 undergraduate, and 1,326 graduate); of the total enrollment, 60 percent are female, and 40 percent are male. Students hail from 45 states and territories and from 20 countries. Some 73 percent are from New York State; of that number, 46 percent come from the surrounding counties of Oneida, Herkimer and Madison, and much of New York State's Mohawk Valley. Utica College's Online School currently enrolls 1,700 students.

From our founding in 1946 to meet the educational needs of returning World War II veterans, Utica College has educated generations of students, many of whom were the first in their family to attend college. Like their predecessors, more than 25 percent of Utica College undergraduates today are the first in their family to attend college. The College is proud of our record of making a college education possible for many, who otherwise, would not have considered attending college because of financial constraints. Today, more than 95 percent of full-time undergraduate students receive financial aid. Representing a broad diversity of ethnicities, backgrounds, perspectives, and experiences, more than 25 percent of our students identify themselves as multi-cultural or minorities.

As in 1946, students are attracted to Utica College's integrated liberal and career education programs that offer promising career paths in many sectors of the economy. Recognized for the close, personal attention they give to students, our faculty help students define their educational goals and plan their future. Utica College employs 138 full-time faculty of whom 117 have earned their Ph.D. or the highest degree in their field. A small, personal environment and a student-to-faculty ratio of 11 to 1 helps reinforce a focus on student-centered teaching.

From its inception, Utica College has offered a robust cultural and learning environment that ensures opportunities for students to achieve both personal and professional success. The College's tradition of collegiate athletics, which is growing in both importance and competitiveness, supports these aims. At Utica College, intercollegiate and intramural athletic programs are an integral part of the College's culture. Utica College offers 25 Division III intercollegiate sports affiliated with the NCAA, Empire 8 Conference, and the Eastern College Athletic Conference (ECAC). Fully 32 percent of campus-based undergraduate students participate in intercollegiate sports while intramural activities attract almost 70 percent of students.

Represented by approximately 24,000 alumni worldwide, Utica College is a tax-exempt organization as described in section 501(c)(3) of the U.S. Internal Revenue Code. The College and the city of Utica are 50 miles east of Syracuse, NY and 90 miles west of Albany, NY. Utica is approximately five hours by car from New York City, Boston, Philadelphia, and Montreal.
Received an award?
Congratulations! Now it's time to begin the post-award process. This includes managing both your project and the grant dollars awarded to you under the terms of the grant agreement.
Post-Award Policies and Processes:

There are processes in place to help you conduct and manage your project and the grant dollars awarded. For information and guidance about the processes that apply from award acceptance to project close-out, please contact the Office of Financial Affairs:
Contact: Ann McGowan
Assistant Controller - Reporting & Analysis
ammcgowa@utica.edu
(315) 792-3270  
Acknowledging a grant award
To ensure accurate reporting and stewardship of grant awards
Granting Letters and Notices of Award should be forwarded to the grant officer (Office of Advancement).
Please complete these forms in advance of proposal submission:
Utica College Grant Proposal Approval Form
Complete this form as proposal development begins to gather information required for grant submission and to obtain required approvals.
For more information, contact:

Amy Lindner
Executive Director
Government, Corporate, and Foundation Relations
aklindne@utica.edu
(315) 792-3355
Disclosure of Financial Relationship for Sponsored Projects
This form helps Utica College identify and manage, reduce, or eliminate conflicting financial interests in the design, conduct, or reporting of research or other projects funded by external sources.
For a copy of the policy, contact:
Amy Lindner, aklindne@utica.edu, OR
Lisa Green, lcgreen@utica.edu
Terms relevant to the grant proposal process
Project: The proposed plan, program or research activity for which grant funds are requested and which is implemented and overseen by the Project Director.

Grant proposal/application: A formal request for funding made to a grant maker (government entity, foundation, corporation, other) for financial support in the form of a grant. A proposal outlines a proposed project or activity, a budget to carry out the project, and usually includes measurable objectives and outcomes. The content and format must meet the grant maker's guidelines and should make a strong case for support.

Granting Letter/Notice of Award: The formal notification to the requesting institution that a grant has been awarded. It includes the terms and conditions of the grant, funding limits, and obligations of the grantee.

Request for Proposal (RFP): A notice sent to eligible grant recipients of a grant opportunity. An RFP will often have a distinct focus and a design that encourages specific objectives, goals, and outcomes.

In-kind Support: A non-cash commitment (often contributed personnel effort or facilities use) to share with the grant maker the costs of a project. The value of in-kind services/support is determined and included in a budget as an amount that is counted toward satisfying the total project budget.

Matching Funds/Matching Grant: A commitment by a grant applicant/grantee to help bear the costs associated with a grant-supported project. Depending on the grant maker's funding guidelines, a matching commitment (match) will be satisfied with either cash or an 'in-kind' amount. A requirement for matching funds is often expressed as a ratio of the grantee's commitment to that of the grant maker.
(See: Cost-Sharing.)

Cost Sharing: A commitment by a grant applicant/grantee to help bear the costs associated with a grant-supported project. Depending on the grant maker's funding guidelines, a cost-sharing commitment (cost-share) will be satisfied with either cash, or an 'in-kind' amount. A requirement for cost-sharing is often expressed as a percentage of the total project cost. (See: Matching Funds/Matching Grant.)

Direct costs: Costs to support a particular project or activity, or that can be directly assigned easily with a high degree of accuracy. These are costs identified as line items in a budget. These do not include overhead or other administrative (indirect) costs.

Indirect costs: Project overhead or administrative costs that are reimbursement for actual institutional expenses that support a project but that are not part of the line item budget. These costs result from shared services such as libraries, plant operations and maintenance, utility costs, general, department and sponsored projects administrative expenses, and depreciation or use allowances for building and equipment. (These costs are also known as "facilities and administrative costs.")
Federal Sources
Grants.gov
A central storehouse for information on over 1,000 grant programs, Grants.gov provides access to approximately $500 billion in annual awards. This is the most comprehensive source for government solicitations.
http://www.grants.gov

Catalog of Federal Domestic Assistance
This is the federal government's listing of all grant programs. Grant seekers can search all of the CFDA's grant programs by the keyword or by the CFDA number. Provides summary explanations of federal grant programs.
http://www.cfda.gov/

Federal Register
The Federal Register is the government's daily newspaper.
http://www.archives.gov/federal-register/

Federal Business Opportunities
This is the government's contracts publication, which announces every government Request for Proposal (RFP) that exceeds $25,000, as well as upcoming sales of government surplus.
www.fbo.gov

Congressional Record
This provides the day-to-day proceedings of the U.S. Senate and House of Representatives.
http://www.gpo.gov/fdsys/browse/collection.action?collectionCode=CREC   

Code of Federal Regulations
This codifies the general and permanent rules published in the Federal Register by the executive departments and agencies of the federal government.
http://www.gpoaccess.gov/cfr/index.html

OMB Circulars
These grant management circulars produced by the federal Office of Management and Budget outline grant-related accountability standards.
http://www.whitehouse.gov/omb/circulars_default

United States Government Manual
This is the handbook of the government. It describes all federal agencies and provides names of officials.
http://www.gpoaccess.gov/gmanual/index.html

GrantsNet
This grants network from the U.S. Department of Health and Human Services contains information on HHS and other federal grant programs. Grant seekers also can search by keywords the laws, regulations, and policies affecting HHS grants. The service also contains directories of HHS employees, federal granting offices, grants management staff, and grant program personnel.
http://dhhs.gov/asfr/ogapa/aboutog/grantsnet.html
 
FedWorld
The National Technical Information Service's FedWorld links users to many federal agency bulletin boards. With the click of the mouse or the touch of a key, users can connect to any of the bulletin boards that provide a wealth of information on all facets of the federal government.
http://www.fedworld.gov/

Thomas
Named for Thomas Jefferson, this site provides legislative information from The Library of Congress.
http://thomas.loc.gov/

National Telecommunications and Information Administration Home Page
The NTIA site provides information, guidelines, and answers to the most frequently asked questions about its grant programs and contains information on the past grantees and contacts for similar federal K-12 grant programs.
http://www.ntia.doc.gov/

FastLane
This is the National Science Foundation's electronic grant submittal system.
https://www.fastlane.nsf.gov/fastlane.jsp

G5
This is the Department of Education's system for creating and submitting electronic grants.
www.g5.gov

Community of Science (COS)
This website provides information on federally funded research in the U.S.
http://www.cos.com/
 
Federal Agency List Services
Several federal agencies use internet mailing lists to electronically disseminate news about their activities and services. Subscribing to these listserves will help keep you updated on federal funding opportunities. Here is a list of some of the federal agencies that provide this type of service:

National Science Foundation-- E-bulletin

National Institutes of Health NIH Guide to Grants and Contracts (listserv name NIHGDE-L) and its table of contents (listserv name NIHTOC-L)
To subscribe send the message subscribe<list name> <your full name> to listserv@list.nih.gov

Centers for Disease Control and Prevention
You can subscribe to several CDC mailing lists including Morbidity and Mortality Weekly Report, Emerging Infectious Diseases, Vaccine R&D, and National Interview Survey.

Department of Justice JUST INFO
To subscribe send the message subscribe JUSTINFO <your full name> to listproc@aspensys.com

Department of Education's EDInfo
To subscribe send the message subscribe EDINFO <your full name> to listproc@inet.ed.gov

Agency for International Development
Subscribe by sending the message subscribe USAID-CBD-L <your full name> to listproc@info.usaid.gov

National Institute for Standards and Technology's NIST Update
To receive a copy of the report by e-mail send the message subscribe nist_update <your full name> to listproc@nist.gov

Department of Energy's ER News
To subscribe send the message subscribe ERNEWSLIST <your full name> to listserv@listserv.pnl.gov

National Aeronautics and Space Administration
To receive NASA's press release and other selected documents via e-mail send the message subscribe press-release <your full name> to domo@hq.nasa.gov
Federal Departments, Agencies, Centers, and Offices
Department of Agriculture (USDA)
Department of Education (USDE)
Department of Energy (US DOE)
Department of Health & Human Services (DHHS)
Department of State (Bureau of Educational & Cultural Affairs)
Department of Commerce
Environmental Protection Agency (EPA)
Office of Management and Budget
Office of Elementary and Secondary Education
Office of Educational Technology
Office of English Language Acquisition
Office of Special Education and Rehabilitative Services
Office of Vocational and Adult Education
Office of Research Integrity
Office of Biotechnology Activities
Institute of Museum & Library Services (IMLS)
NASA – NSPIRES
National Archives
National Endowment for the Arts (NEA)
National Endowment for the Humanities (NEH)
National Institutes of Health (NIH)
National Science Foundation (NSF)
Health Resources and Services Administration
Centers for Disease Control and Prevention (CDC)
Small Business Administration (SBIR/STTR)
SBIR/STTR Agency Solicitations
State Resources
Library of Congress: State and Local Governments
State and Local Government on the Net
Grants Action News
NY State Department of Education
New York Foundation for the Arts - searchable directory of regional and national awards, services, and publications for artists)
NYS Department of Health
New York State Council on the Arts (NYSCA)
NYS Foundation for Science, Tech. & Innovation (NYSTAR Funding Opportunity News – email alerts)
Training
Foundation Center
Provides resources and services helpful to grant seekers, including information on its resources and services, its Philanthropy News Digest, and basic guidelines on how to research funding opportunities. It also provides links to grant making foundations, corporations, and local funders on the Internet. Services include the following:
Council on Foundations
Rural Information Center
Fundsnet Online Services
Michigan State University Grants and Related Resources
Penn State Office of Sponsored Programs
Syracuse University Office of Sponsored Programs
Corporate Information This subscription-based service provides financial information on more than 39,000 companies worldwide.

Researching tax returns and information about the nonprofit sector:
Try these sites for your search for tax information about private foundations (IRS Form 990-PF and IRS Form 990-AR) or when seeking basic information about the nonprofit sector:

Internal Revenue Service
Guidestar
National Center for Charitable Statistics
Economic Research Institute
National Institutes of Health Grant writing basics
Private Foundations And Grant-Making Organizations: A Sampling
Alcoa Foundation – environment, empowerment, education, sustainable design.

Alexander von Humboldt Foundation – fellowships, awards to partner with educators and researchers around the world on research projects in Germany.

American Association for the Advancement of Science (AAAS) – advances science, engineering, technology innovation; serves as an educator, leader, spokesperson and professional association; spearheads programs that raise the bar of understanding for science worldwide.

American Association of University Women -- fellowships and grants to women and nonprofits, especially at the graduate level.

American Chemical Society (The Petroleum Research Fund) –funds research related to petroleum or fossil fuels, usually at colleges and universities.

American Council of Learned Societies – support for scholars in the humanities and related social sciences; fellowship competitions for scholars at all career stages from graduate students to distinguished professors to independent scholars; programs address digital humanities, collaborative research, postdoctoral opportunities.

The American Philosophical Society -- engages scientists, humanists, social scientists, and leaders in civic and cultural affairs through elected membership and opportunities for interdisciplinary, intellectual fellowship; supports research through grants and fellowships, lectures, publications, prizes, exhibitions, and public education; serves scholars through a research library of manuscripts and other collections internationally recognized for their historic value.

American Political Science Association -- professional organization for the study of political science.

The Annenberg Foundation -- arts, education, health and human services, public media, animal services, civic responsibility, professional educational development

Arnold and Mabel Beckman Foundation -- grants to non-profit research institutions for chemistry and the life sciences, particularly to foster the invention of methods, instruments, and materials that will open up new avenues of research in science.

Association for Asian Studies -- scholarly, non-political, non-profit professional association open to all persons interested in Asia and the study of Asia.

AT&T Foundation – education, with special emphasis on programs designed to create learning opportunities, promote academic and economic achievement, and address community needs.

Benton Foundation -- to realize the social benefits made possible by the public interest use of communications, which it believes is essential to a strong democracy; develops and provides effective information and communication tools and strategies to equip and engage individuals and organizations in the emerging digital and communications environment.

Bill & Melinda Gates Foundation -- works to reduce inequities and improve lives. Grant making focus on Global Development (poverty, agricultural development, emergency relief, access to technology and libraries, and water and sanitation), Global Health (controlling/eliminating AIDS and Malaria, as well as nutrition, tobacco issues, polio, tuberculosis and other diseases) United States, which focuses on community grants, libraries and learning.

Burroughs Wellcome Fund -- advancing the medical sciences by supporting research and other scientific and educational activities; program areas include basic biomedical sciences, infectious diseases, interfaces between physical and biological sciences, translational research, and science education.

Bristol Meyers Squibb Co. Foundation -- reduce health disparities; special emphasis on programs to improve the health outcomes of populations disproportionately affected by HIV/AIDS in Africa; hepatitis in Asia; type 2 diabetes; mental health and well-being in the U.S., and cancer in Europe.

Carnegie Corporation of New York -- focused on two integrated programs: the National Program, which includes support for education as a pathway to citizenship, and the International Program, which addresses international peace and security issues.

Creative Capital -- integrated financial and advisory support to artists pursuing projects in five areas: Emerging Fields, Film/Video, Literature, Performing Arts, and Visual Arts.

Earth Watch Institute -- supports long-term scientific field research that tackles the world's most pressing environmental problems.

Chiang Ching-kuo Foundation -- support and promote the understanding of Chinese culture and society; grant programs regionally based: Taiwan; U.S., Canada, Mexico; Europe; Asia-Pacific (Hong Kong and Macau).

The Nathan Cummings Foundation -- seeks to build a socially and economically just society that values and protects the ecological balance for future generations; promotes humane health care; and fosters arts and culture that enriches communities.

Charles A. Dana Foundation -- health and science, particularly neuroscience.

The Arthur Vining Davis Foundations -- support for private higher education; secondary education to strengthen teachers and their teaching in high schools; health care with emphasis on caring attitudes; public television; graduate theological education.

The Camille and Henry Dreyfus Foundation -- advance the sciences of chemistry, biochemistry, chemical engineering, and related sciences as a means of improving human relations and circumstances.

Gebbie Foundation -- grants primarily for the arts, children and youth services, community development, education, human services; strategic focus to rejuvenate downtown Jamestown, New York, through economic development.

General Motors Foundation – education, health and human services, environment and energy, and community development.

George A. and Eliza Gardner Howard Foundation -- limited number of fellowships for independent projects in selected fields; targeted to early mid-career individuals and those who have achieved recognition for at least one major project. In 2012, some 10 fellowships will be awarded in photography, anthropology, archaeology.

Getty Foundation -- advancing the understanding and preservation of the visual arts, primarily through initiatives that target a particular issue or region and that are carried out in collaboration with the other Getty programs: J. Paul Getty Museum, Getty Research Institute, the Getty Conservation Institute.

J. Paul Getty Trust -- advancing the understanding and preservation of the visual arts. Through strategic grants and programs, strengthens art history as a global discipline, promotes the interdisciplinary practice of conservation, increases access to museum and archival collections, and develops current and future leaders in the visual arts.

Gladys Krieble Delmas Foundation -- humanities, research libraries, and New York City performing arts organizations.

Graham Foundation for Advanced Studies in the Fine Arts -- project-based grants to individuals and organizations; produces public programs to foster the development/exchange of ideas about architecture and its role in the arts, culture, and society.

Great Lakes Protectional Fund -- to identify, demonstrate, and promote regional action to enhance the health of the Great Lakes ecosystem.

Harry Frank Guggenheim Foundation -- research at the postdoctoral level (though not necessarily requiring a Ph.D.) to provide a better understanding of violence, aggression, and dominance in relation to social change; dissertation fellowships to support individuals only during the writing of their Ph.D. dissertation; primary areas of support include anthropology, biological sciences, sociology, history, political science, psychology.

Ford Foundation -- supports visionary leaders and organizations working on the frontlines of social change worldwide. Focuses on nine issues: Human Rights; Democratic and Accountable Government; Educational Opportunity and Scholarship; Economic Fairness; Metropolitan Opportunity; Sustainable Development; Freedom of Expression; Sexuality and Reproductive Health and Rights; and Social Justice Philanthropy.

The John Simon Guggenheim Memorial Foundation -- fellowships to further the development of scholars and artists by assisting them to engage in research in any field of knowledge and creation in any of the arts.

The William Randolph Hearst Foundations – helping institutions provide access and opportunity to underrepresented, low-income, and minority populations. Primary focus is undergraduate education with support for professional study at the undergraduate and graduate level. Giving also in the health, social services, culture.

William and Flora Hewlett Foundation -- grants to help solve social and environmental problems at home and around the world; focuses on education, the environment, global development, performing arts, philanthropy, and population.

The Heinz Endowments – fields of emphasis include philanthropy in general and its five programs: Arts & Culture; Children, Youth & Families; Education; Environment; and Innovation Economy. Although most giving is within southwestern Pennsylvania, it works wherever necessary to fulfill its mission to help the region thrive as a whole community - economically, ecologically, educationally and culturally - while advancing the state of knowledge and practice in the fields in which it works.

Hudson River Foundation for Science and Environmental Research -- seeks to make science integral to decision-making with regard to the Hudson River and its watershed, and to support competent stewardship of this extraordinary resource. Pursued through support of scientific research; communication to expand knowledge about the river among the scientific community, policy makers, and the public at large; initiatives to enhance management of the Hudson ecosystem; education about the River; and physical improvements to the riverfront.

Horowitz Foundation for Social Policy -- the advancement of research and understanding in social sciences: in psychology, anthropology, sociology, economics, urban affairs, area studies, political science, and other disciplines. Direct assistance to individual scholars who require small grants to further their research with emphasis on policy-oriented studies.

Howard Hughes Medical Institute -- advancing biomedical research and science education in the U.S.

IBM International Foundation -- supports organizations involved with arts and culture, K-12 education, the environment, health, employment, human services, diversity, science, public policy research, and minorities.

Jack Kent Cooke Foundation -- to help young people of exceptional promise reach their full potential through education.

Josiah Macy Jr. Foundation -- medicine and health; enhancing and improving health professional and medical education to better the health of the public. Priorities include: medical and health professional education programs in the context of the changing healthcare system; programs which devise or complement educational strategies likely to improve and/or increase care for the underserved populations; programs that demonstrate or encourage ways to increase teamwork between and among healthcare professionals; and projects that increase diversity in medical and health professional education and in the health professions.

Joyce Foundation -- to protect the natural environment of the Great Lakes, to reduce poverty and violence in the region, and to ensure that its people have access to good schools, decent jobs, and a diverse and thriving culture. Special interest in improving public policies, the environment, and the health of our communities. Also supports reform of the system of financing election campaigns.

W.M. Keck Foundation -- Early Learning Program, Science and Engineering Program, Liberal Arts Program, Medical Research Program, and the Southern CA Program; Concentration on strengthening studies and programs in accredited colleges and universities, medical schools, and major independent medical research institutions in the areas of earth science, engineering, medical research, and to some extent, other sciences, and the liberal arts.

W. K. Kellogg Foundation -- funds programs and projects that support children, families, and communities as they strengthen and create conditions that propel children to achieve success as individuals and as contributors to the larger community and society.

Knight Foundation - advances journalism in the digital age and invests in the vitality of communities where the Knight Brothers owned newspapers; focuses on projects that promote informed, engaged communities and that lead to transformational change.

George Lucas Educational Foundation -- transforming the learning process by helping educators implement strategies that empower students to think critically, access and analyze information, creatively solve problems, work collaboratively, and communicate with clarity and impact.

Henry Luce Foundation -- Asian affairs, American art, public policy and the environment, theology, advancement of women in science and engineering, higher education. Grants in public policy and the environment to support the study of critical issues and environmental training and research.

John D. and Catherine T. MacArthur Foundation -- in addition to selecting the MacArthur Fellows, the foundation works to defend human rights, advance global conservation and security, make cities better places, and understand how technology is affecting children and society.

The Markle Foundation -- use emerging communication and information technologies to address critical public needs, with emphasis on health and national security.

William G. McGowan Charitable Fund -- giving to inner-city educational organizations, advanced college business scholarships, and medical research.

The McKnight Foundation – arts, environment, education and learning, neuroscience, international, initiatives for Minnesota.

The Andrew W. Mellon Foundation -- grants on a selective basis for higher education; cultural affairs, including the humanities, museums, art conservation, performing arts; conservation and the environment; and public affairs.

The Merck Company Foundation -- healthcare access and capacity building, educational opportunities and academic achievement, and quality of life issues facing the world's communities.

Mid Atlantic Arts Foundation -- supports the richness and diversity of the region's arts resources and promotes wider access to the art and artists of the region, nation and world.

Milken Family Fund -- education and medical research.

Mitsubishi Electric America Foundation -- help students who have physical, mental, or learning disabilities.

Charles Stewart Mott Foundation -- focus on civil society, the environment, poverty.

National Council for Eurasian and East European Research -- long-term, high-quality programs for post-doctoral research on the social, political, economic, environmental, and historical development of Eurasia and Central and Eastern Europe.

National Geographic Society -- geography, archaeology and natural science, the promotion of environmental and historical conservation.

NEC Foundation – eliminating the digital divide; social innovation; youth education/creativity; protecting the earth's environment; realizing a diverse and thriving society.

New York Foundation for the Arts -- to empower artists at critical stages in their creative lives.

New York Council for the Humanities -- to help New Yorkers become thoughtful participants in our communities by promoting critical inquiry, cultural understanding, and civic engagement. A statewide resource for support of a wide variety of lectures, festivals, panel discussions, walking tours, and the planning and implementation of exhibitions and other ventures at small and large not-for-profit institutions throughout New York State.

Smith Richardson Foundation -- help address serious public policy challenges facing the U.S. Seeks to help ensure the vitality of our social, economic, and governmental institutions. It also seeks to assist with the development of effective policies to compete internationally and to advance U.S. interests and values abroad.

David and Lucile Packard Foundation -- improving the lives of children, enabling the creative pursuit of science, advancing reproductive health, and conserving and restoring the earth's natural systems.

The Pew Charitable Trusts -- supports nonprofit activities in the areas of culture, education, the environment, health and human services, public policy, religion.

Research Corporation for Science Advancement – funding for early career teacher-scholars at leading U.S. colleges and universities; works to improve U.S. science education by advocating that undergraduate students participate in their mentors' cutting-edge research. Funding for early career faculty; innovative ideas for transformative research; integration of research and science teaching; interdisciplinary research; building tomorrow's academic cultures

Robert Wood Johnson Foundation -- improving both the health of everyone in America, and their health care: how it's delivered, how it's paid for, and how well it does for patients and their families. Invests in improving systems through which people receive care and in fostering environments that promote health and prevent disease and injury. Program areas: childhood obesity; coverage; human capital; pioneer; public health; quality/equality; and vulnerable populations.

Rockefeller Brothers Fund -- supports efforts to expand knowledge, clarify values and critical choices, nurture creative expression, and shape public policy. Programs are intended to develop leaders, strengthen institutions, engage citizens, build community, and foster partnerships that include government, business, and civil society. Respect for cultural diversity and ecological integrity pervades the Fund's activities.

Rockefeller Foundation -- supports work that expands opportunity and strengthens resilience to social, economic, health and environmental challenges.

Russell Sage Foundation -- devoted exclusively to research in the social sciences.

Alfred P. Sloan Foundation -- supports original research and broad-based education related to science, technology, economic performance and the quality of American life. Seeks proposals for original projects with a high expected return to society which are led by outstanding individuals or teams and for which funding from the private sector, government or other foundations is not yet widely available.

Social Science Research Council -- development and administration of competitive or institutional peer-reviewed fellowship and grants. Programs are targeted to a problem, promote individual and institutional change, generate new knowledge and build networks.

Open Society Foundations -- works to build vibrant and tolerant democracies whose governments are accountable to their citizens; seeks to shape public policies that assure greater fairness in political, legal, and economic systems and safeguard fundamental rights. On a local level, the Foundations implement a range of initiatives to advance justice, education, public health, and independent media; builds alliances across borders and continents on issues such as corruption and freedom of information. Places a high priority on protecting and improving the lives of people in marginalized communities.

The Spencer Foundation -- cultivating knowledge and new ideas about education to improve students' lives and enrich society. Awards research grants and fellowships; seeks to strengthen the connections among education research, policy and practice through its communications and networking activities.

The John Templeton Foundation -- serves as a philanthropic catalyst for discoveries relating to the Big Questions of human purpose and ultimate reality. Supports research on subjects ranging from complexity, evolution, and infinity to creativity, forgiveness, love, and free will.

Turner Foundation, Inc. -- makes grants in the areas of the environment and population.

UPS Foundation -- programs designed to promote economic and global literacy; environmental sustainability; nonprofit effectiveness; diversity; community safety.

Wallace Foundation -- to enable institutions to expand learning and enrichment opportunities by supporting and sharing effective ideas and practices with the objectives to strengthen education leadership to improve student achievement, enhance out-of-school time learning opportunities, and build appreciation and demand for the arts.

Wenner-Gren Foundation -- support for significant and innovative anthropological research into humanity's biological and cultural origins, development and variation; seeks to foster the creation of an international community of research scholars in anthropology.

Professional Organizations, Service Clubs, Nonprofit Organizations That Award Grants
Additional Resources
Council on Undergraduate Research (CUR)
CUR Proposal Writing Institute:
https://www.cur.org/what/events/institutes/pwi/

CUR Dialogues
https://www.cur.org/what/events/conferences/dialogues/
Designed to bring faculty and administrators to Washington, D.C. to interact with federal agency program officers and other grant funders

National Science Foundation (NSF)
NSF Grant Proposal Guide (2010):
http://www.nsf.gov/pubs/policydocs/pappguide/nsf10_1/gpg_index.jsp

NSF Day (Toledo Sample):
http://researchenterprise.wordpress.com/2010/07/21/nsf-day-scheduled-sept-21-in-toledo/

NSF Regional Grants conference (2012):
http://www.nsf.gov/bfa/dias/policy/outreach.jsp#regional

NSF FastLane and Proposal Preparation Information
https://www.nsf.gov/funding/preparing/

NSF CAREER Proposal Writing Workshop
https://www.nsf.gov/events/

NSF Division-Specific Proposal Writing Guides/Workshops
(Division of Undergraduate Education – DUE)
http://www.whoi.edu/page.do?pid=21998

The Implementation Group (TIG)
Proposal planning/writing workshops
http://www.tigdc.com/pages/page02.htm

Grants.gov (Search grant opportunities)
http://www.grants.gov/applicants/find_grant_opportunities.jsp
College Art Association
FundSource (behavioral & social sciences)
GrantsNet (postdoc, grad students, sciences)
ResearchResearch Database
Email Alert Services and Newsletters
COS Funding Alert
Grants.gov (Subscription)
NSF  /  USDE – EDInfo
National Criminal Justice Reference Svc (US DOJ) - JUSTINFO

Electronic Newsletters
DOE - DOE Pulse
IMLS - Primary Source
NYS Assembly - Grants Action News
NYSTAR - E-Newsletter
PND – Philanthropy News Digest
Chronicle of Philanthropy
The Chronicle of Higher Education
Grants Information Collection – from the University of Wisconsin-Madison, a list of online newsletters and periodical for philanthropy
Contact Us
Assistant Vice President for Advancement & Chief Grants Officer
I would like to see logins and resources for:
For a general list of frequently used logins, you can also visit our logins page.