About This Program
Designed for individuals who have earned a BS in accounting or business with a concentration in accounting, the MBA in Professional Accounting offers the benefits of a highly accomplished faculty and a strong academic program that fulfills New York State's statutory 150-hour educational requirements for CPA candidates, and the AICPA's requirements for new members.
Why Utica University
Combined with a typical undergraduate accounting degree, this program provides its graduates with more than 33 hours of accounting, including 12-15 graduate hours, and 36 hours of general business, including 15-18 graduate hours.
Contact Information
Executive Director of Graduate Admissions
(315) 792-3010
General Information
Utica Excellence, Utica Value
Professional Accounting (MBA) at Utica
"Thanks to UC, I went from very little business and accounting background to confident, educated, and experienced at my job in 3-1/2 years. It just made my career more interesting than I ever thought it could be."
Career Opportunities
An MBA in Professional Accounting can prepare you for a number of different careers, including:
Public Accounting
Management Accounting
Government Accounting
Internal Auditing
External Auditing
Information Technology Auditing
Job Growth
Employment of accountants and auditors is projected to grow four percent between now and 2029.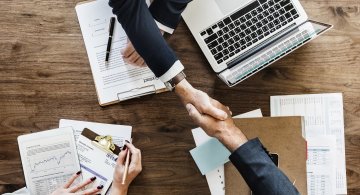 Career Prospects
The current employment rate for CPAs is 99%.
ACBSP Accredited
The Accreditation Council for Business Schools and Programs (ACBSP)'s student-centered teaching and learning approach, which is measured and analyzed for quality, ensures that students gain the right skills from their educational investment.
What You'll Learn
The curriculum for the MBA in Professional Accounting features:
15 semester-hour graduate Business Core
Ground campus classes with a high level of personal instruction
Completion in two terms, taking five classes per term (with fulfillment of all prerequisites)
Required courses in advanced managerial accounting and professional practice
A Degree That Works
Accountants are in high demand throughout the business world. Utica College accounting alumni have gone on to successful careers in numerous organizations, including:
Par Government
GP Fund Solutions, LLC
LeverPoint Management LLC
Defense Finance and Accounting Services (DFAS)
NBT Bank
Moss Adams
Barone, Howard, and Co., CPAs, P.C.
Frener & Reifer
PKF International
D'Arcangelo & Co, LLP
Brown & Associates, CPAs, P.C.
The Bonadio Group
Adjusters International
Fitzgerald, DePietrio, & Wojnas, CPAs, P.C.
Utica Value: Tony Nguyen
Right after his graduation from Utica College's accounting program, Tony Nguyen '17 took a job as Deputy Budget Director for the City of Utica.
Problem Solving
MBA students consult local companies and municipalities by analyzing data to find solutions to regional business problems. This is just one approach the program offers in an effort to connect with communities in the city of Utica and the greater Mohawk Valley — and beyond.
Business at Utica College