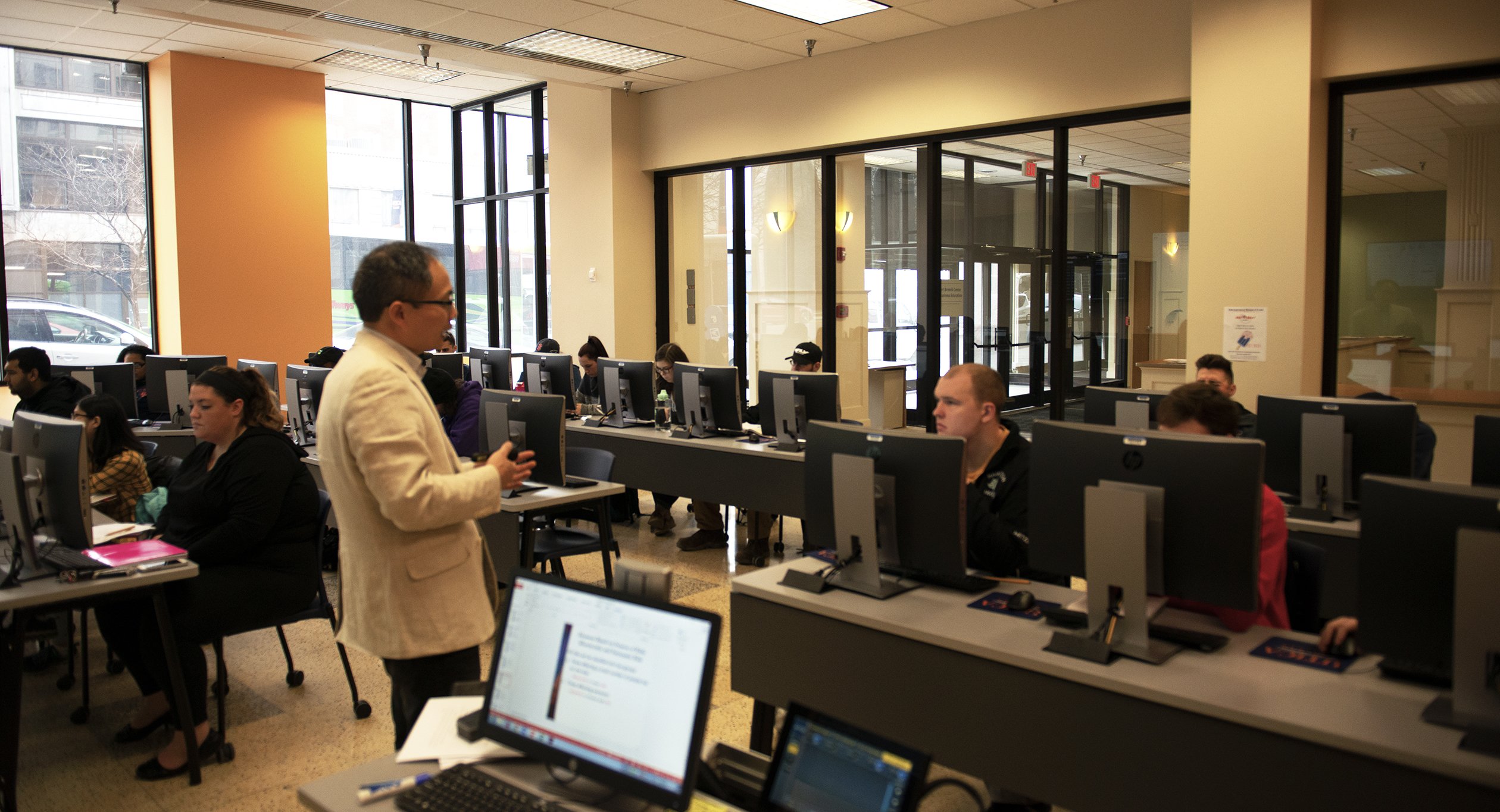 About This Program
You see yourself as a leader. You want to learn how to work with others to bring out their talents and abilities. You're not intimidated by complex problems and enjoy the process of finding solutions. Business management may be the major for you.
Why Utica University
Utica University's unique business management program provides a comprehensive introduction to business, how it functions, and the crucial role it plays in our society and economy. Part of Utica's Business and Economics department, the business management major offers integrated, hands-on learning in all aspects of business operations in the global marketplace, with emphasis on the role of technology. Our award-winning faculty work closely with students in real-world business scenarios.
Day students can select one concentration from among:
General Management
Human Resources Management
Marketing Management 
Insurance and Risk Management
Nonprofit Management
 
Continuing Education students must select the General Management concentration.
Contact Information
(315) 792-3006
General Information
Utica Excellence, Utica Value
Business Management at Utica
"Utica University does a great job following up with businesses and making sure client needs have been met. I highly recommend the [professional development] program to anyone interested in it because it's a great way to enhance employee skills."
Career Opportunities
The business management major prepares students for rewarding careers in:
Corporate Management
Banking and Finance
Public Administration
and more.
ACBSP Accredited
The Accreditation Council for Business Schools and Programs (ACBSP)'s student-centered teaching and learning approach, which is measured and analyzed for quality, ensures that students gain the right skills from their educational investment.
Simulating
As soon as students begin their journey through Utica's business management program, they partake in simulations, utilizing the latest technology to enhance their understanding of trends in local, national and global markets via cutting-edge technology.
What You'll Learn
Year 1
ECN 131 - Principles of Microeconomics (3)
MGT 101 - Introduction to Contemporary Business (3)
ECN 141 - Principles of Macroeconomics (3)
MKT 211 - Principles of Marketing (3)
CMM 103 - Introduction to Public Speaking (3)
Year 2
ACC 201 - Financial Accounting (3)
MGT 201 - Principles of Organization and Management (3)
RMI 273 - Introduction to Risk Management and Insurance (3)
ACC 202 - Managerial Accounting (3)
ECN 241 - Statistics (3)
Year 3
ECN 300 - Select Topics: Economics (3) / ECN 400
FIN 333 - Corporate Finance (3)
PSY 101 - Introduction to Psychology (3)
BUL 301 - The Legal Environment of Business (3)
MGT 371 - Human Resource Management (3)
Year 4
MGT 325 - Management of Technology (3)
MGT 372 - Operations Management (3)
MGT 470 - Management - Internship (3)
MGT 428 - Strategic Management and Leadership (3)
PHI 108 - Professional Ethics (3)
**Four-Year Overview highlights program-specific courses and does not include core curriculum & electives.**
The business management major offers four concentrations: General Management, Human Resources Management, Marketing Management, and Risk Management and Insurance. Recognizing the crucial role of business activity for our economy and society, Utica's business management major is designed to introduce students to the way business organizations function in the larger social context. Issues of ethics and social responsibility, the global nature of business, and technological developments are emphasized throughout the curriculum. Students develop skills in interpersonal dynamics, research, and oral and written communication. An emphasis is also placed on the importance of experiential learning. Students will also have the opportunity to complete an experiential learning internship or project.
Business Management Faculty & Adjunct Faculty
A Degree That Works
The business management major prepares students for rewarding careers in corporate management, banking and finance, public administration and more. Graduates of Utica's management program have taken leadership positions at:
Bechtel National
Siemens Medical Solutions
Merrill Lynch
Bank of New York
Prudential
Smith Barney
Rubbermaid
Utica First Insurance
Heineken
Tools of the Trade
The First Source Federal Credit Union Trading Room provides Utica University Business students with computer workstations loaded with financial software, smart boards, and a real-time stock ticker.
Student Voices: Angela Malaspina
A brief conversation with Management major Angela Malaspina about her program, her professors, and her plans for the future.
State-of-the-art MBA classrooms
Learning spaces at the Brvenik Center for Business Education are designed for Utica's blended MBA program, featuring advanced video conferencing capabilities.
Optimally Located
The Brvenik Center is part of Utica University's Clark City Center, one of the most recognizable high-rise structures in the City's financial district, within walking distance of major employers and potential internship sites, including Adirondack Bank, Utica National Insurance, and others.