About This Program
Contact Information
(315) 792-3006
General Information
Utica Excellence, Utica Value
Dietetics and Nutrition at Utica
Projected job growth for dietitian nutritionists by 2026.
15%
Median annual wage (2017) for Dietitians and Nutritionists
$59,410
Career Opportunities
Graduates of Utica University's Dietetics and Nutrition program are well-prepared for a myriad of careers, including as:
Registered Dietitians
Nutritionists
Nutrition Educators
and more.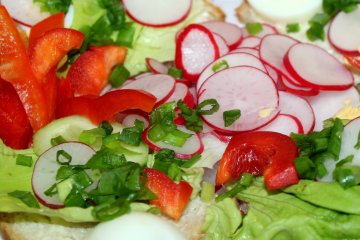 Hands-On Learning
The Utica Dietetics and Nutrition major provides a distinctive active learning approach promoting scholarship and social awareness.
What You'll Learn
Year 1
PSY 101 - Introduction to Psychology
BIO 211 - General Biology
CHE 211 - General Chemistry
BIO 203 - Medical Microbiology
BIO 231 - Research Methods I
SOC 151 - Introduction to Sociology
Year 2
BIO 101 - Anatomy and Physiology I
BIO 201 - Anatomy and Physiology II
BIO 205 - Human Nutrition
BIO 232 - Research Methods II
BIO 208 - Pharmacology
MAT/PSY 211 - Statistics
Year 3
NTR 303 - Food Service and Nutrition Service Management
NTR 304 - Lifespan Nutrition and Diet Therapy
NTR 307 - Healthcare Systems and Counseling in Dietetics
NTR 403 - Nutritional Biochemistry
NTR 324 - Medical Nutrition Therapy
NTR 434 - Food Production and Human Health
Year 4
ANT 367 - Anthropology of Food
NTR 404 - Advanced Medical Nutrition Therapy
CHE 403 - Chemistry of Cooking
NTR 450, 453, or 495 - Capstone Experience
Year 5
NTR 491 - Professional Experience - Internship I
NTR 492 - Professional Experience - Internship II
**Curriculum Overview highlights major-related courses and does not include core curriculum.**
The Dietetics and Nutrition programs will prepare students for careers in the field of nutrition by introducing active and experiential learning throughout the curriculum. This science-based major provides students with a comprehensive understanding of:
how the nutrients in our diet influence our health
how to evaluate scientific research in nutrition (and translate that information into recommendations for clients)
how to effectively communicate nutrition advice to the public
the food supply from farm to table
The curriculum includes coursework in a variety of fields, such as biology, chemistry, psychology, and anthropology.
Dietetics and Nutrition Faculty
A Degree That Works
Graduates from Utica's nutrition program are prepared for careers as registered dietitians, nutritionists, or nutrition educators in a variety of settings, including hospitals, nursing homes, schools, non-profit organizations, state and local government, and more. Graduates may also pursue advanced degrees in nutrition, public health, or exercise science, or train to become medical professionals.