What We Do
The Tangerine Grove food pantry provides food and hygiene products to any student or employee at Utica College in need. We aim to provide food and personal health resources to help all those in the UC community reach their fullest potential.
Phone
(315) 792-3375
Email
Department Type
Office Location
Room 180, Gordon Science Center
Hours
TBD
About The Tangerine Grove
The mission of The Tangerine Grove food pantry is to alleviate hunger at Utica College by providing students and staff in need with food, education, and resources to meet ongoing food insecurity. In the spirit of Utica College's mission and vision, the food pantry will provide necessities to the students and staff in need regardless of their age, culture, race, religion, or gender identification, ensuring their ability to learn and contribute to the college environment to the best of their ability. By meeting the basic needs of the campus community, we are creating a more open, ethical, and enlightened environment for all at Utica College.
Ordering System
Create a user profile or login to an existing one here:
How To Use Utica College's PantrySoft Order System
Follow these simple steps:
1. Go to UC's PantrySoft page
2. Create an account as a New User
Complete and submit the form pictured below:
*The box under the number 1 will be your unique user ID. Please create a user ID for yourself that you will remember for future visits.
3. Log In
Once you register as a new user, you'll be redirected to the Login page:
4. Complete Registration
Once you have logged in, you will be given the notice "Registration Due" and directed to additional demographic questions that will help the food pantry serve you better (Note: you may choose to not answer any questions you don't feel comfortable with):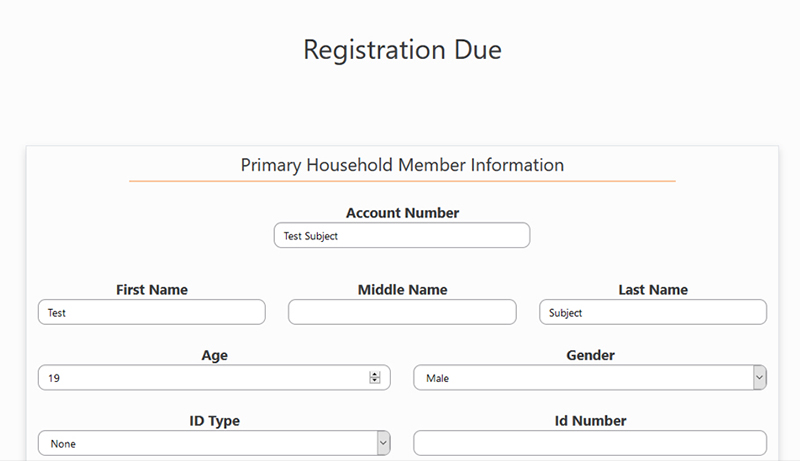 5. When you have completed your registration, you will be given the option to Schedule a Visit. Choose the date and time you would like to pick up your food from room 180 Gordon Science Center:
6. Once you've chosen your pickup date and time, you will be directed to an order page. Click on the items you would like to pick up from the pantry: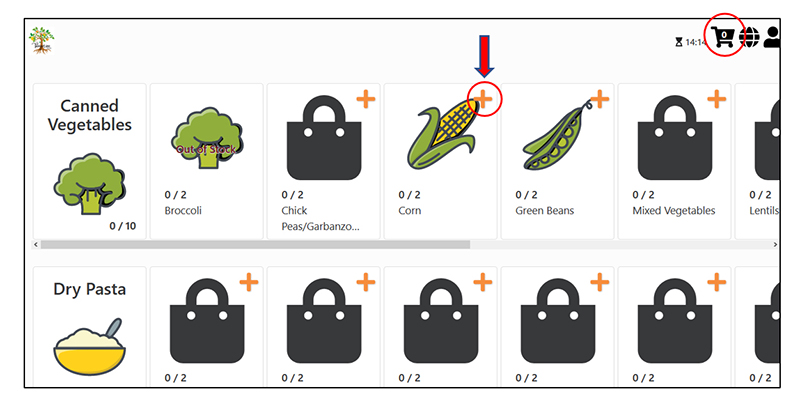 7. When you've chosen all of your items, click on the cart icon in the upper right corner (see above picture). You will be asked to confirm your order. Click "Confirm Order" to place your order: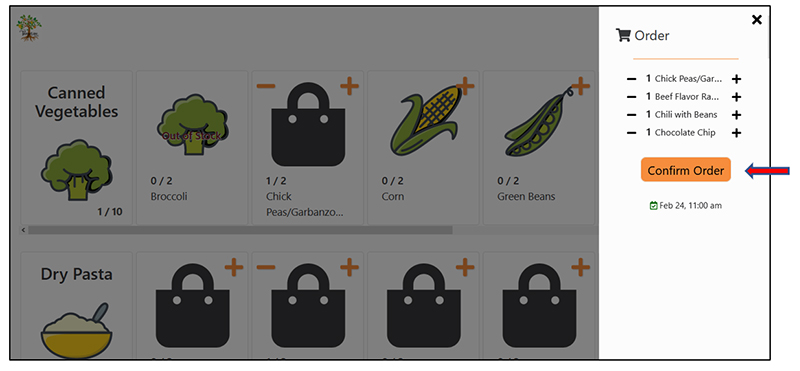 8. Once confirmed, your order is complete. Your order will be recorded for pantry staff and they will have it ready for you to pick up at your chosen date and time. You will also receive an email confirmation of your order and a reminder the day of your pickup:
That's it!
Contact Us
Internship Program Director, Nutrition
I would like to see logins and resources for:
For a general list of frequently used logins, you can also visit our logins page.