About This Program
You know that building anything starts with a good foundation. You're not overwhelmed by big projects—you tackle them step-by-step. You want a career that allows you to see your ideas come to life. Construction management may by the major for you.
Department
Why Utica University
The construction management program at Utica University combines foundational study in management techniques with extensive real-world learning opportunities and an emphasis on professional responsibility. Guided by expert faculty, the program gives students the tools to succeed in one of the world's most dynamic and fastest growing industries.
Contact Information
(315) 792-3006
Department Chair
(315) 792-3142
General Information
Utica Excellence, Utica Value
Construction Management at Utica
"I was able to get a great job before I graduated."
Utica CM employment placement rate within 3 months of graduation (2019-2020):
100%
New construction industry jobs by 2022
1,600,000
Typical Starting Salary for CM Graduates
$60,000 +
Career Opportunities
Utica's construction management program prepares students for rewarding careers in every sector of the construction industry, including:
Field / Project Engineer
Assistant / Project Manager
Assistant / Superintendent
Assistant / Estimator
Project Administrator
Great Internships
Students in the Construction Management program participate in internships that frequently lead to career opportunities.
Utica's Construction Management Program is accredited by The American Council for Construction Education, whose mission is to be a leading global advocate of quality construction education; and promote, support, & accredit quality education programs.
Construction Management Curriculum
Year 1
CMG 103 - Introduction to Construction Management (3)
CMG 104 - Plan Reading and Quantity Takeoff (3)
CMG 117 - Construction Graphics and Computer Applications (3)
Year 2
CMG 221 - Methods and Materials I (3)
CMG 222 - Methods and Materials II (3)
CMG 225 - Documents and Specifications (3)
CMG 233 - Surveying (3)
Year 3
CMG 331 - Estimating I (3)
CMG 332 - Estimating II (3)
CMG 336 - Mechanical and Electrical Systems (3)
CMG 337 - Statics and Strengths of Materials (3)
CMG 345 - Site Planning and Equipment (3)
Year 4
CMG 417 - REVIT for Construction Managers (3)
CMG 423 - Construction Finance (3)
CMG 437 - Planning and Scheduling (3)
CMG 447 - Project Management and Safety (3)
CMG 475 - Senior Seminar (3)
The curriculum for this major is designed to prepare students for careers centered on the management of construction projects. It includes a balanced focus on technical construction knowledge - like methods and materials, thermal comfort, and building layout - and the managerial, financial, and planning skills necessary for completing construction projects successfully. Also, throughout the curriculum, there are consistent emphases on such broad strengths as excellence in oral and written communication, an understanding of the social and cultural dynamics of the construction industry, and the qualities of ethical business practice and the principles of social responsibility.

Construction Management Faculty
Experiences in Construction Management
A Degree that Works
Utica University's construction management program prepares students for rewarding careers in every sector of the construction industry. Graduates of Utica's construction management program have taken leadership positions at:
BBL Incorporated, Albany, NY
Charles A. Gaetano Construction Corporation, Utica, NY
Collins Scoville Architects, P.C., Albany, NY
Gilbane Construction, Providence, RI
Hayner Hoyt Corporation, Syracuse, NY
Hensel Phelps Construction, Chantilly, VA
HR Beebe Incorporated, Utica, NY
Lecesse Construction, West Henrietta, NY
Limbach Facility Services, LLC, Warrington, PA
S&O Construction Services, Pleasantville, NY
Skanska USA, New York, NY
Turner Construction Company, Anaheim, CA
TW&A Construction Management, Schenectady, NY
Whiting-Turner Contracting, Baltimore, MD
Utica Value: Jordan Leogrande
Construction Management major Jordan Leogrande '19 talks about his experience and the career that's waiting for him after graduation.
Utica Value: Taylor Paine
Before Taylor Paine '17 even earned her degree in construction management at Utica University, she had a career-track position waiting for her.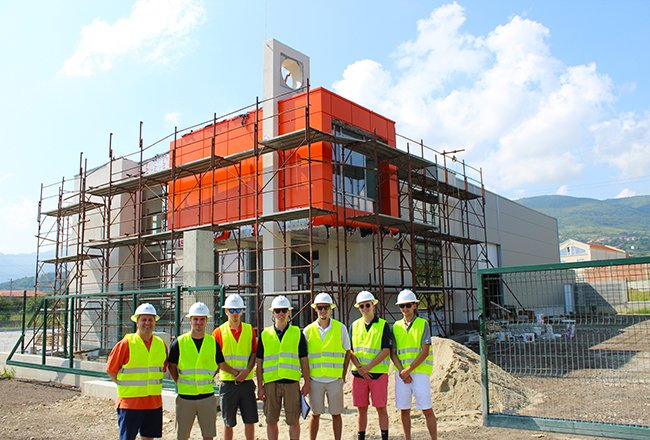 ... And Growing
Construction Management is one of the world's most dynamic and fastest growing industries. The Bureau of Labor Statistics estimates roughly 1.6 million jobs in the construction industry by 2022.
Student Voices Justin Hogan
Student Justin Hogan discusses how Utica University's Construction Management program, along with his love of hockey, drew him from Ontario to Utica and how the professors he encountered brought real-life experiential learning to the students.
Learning @ Utica: Construction Management
A brief introduction to Utica's Construction Management program featuring students, faculty, alumni, and employers.
Know Your Worth
The median salary for construction managers in 2013 was $84,410, according to the Bureau of Labor Statistics.