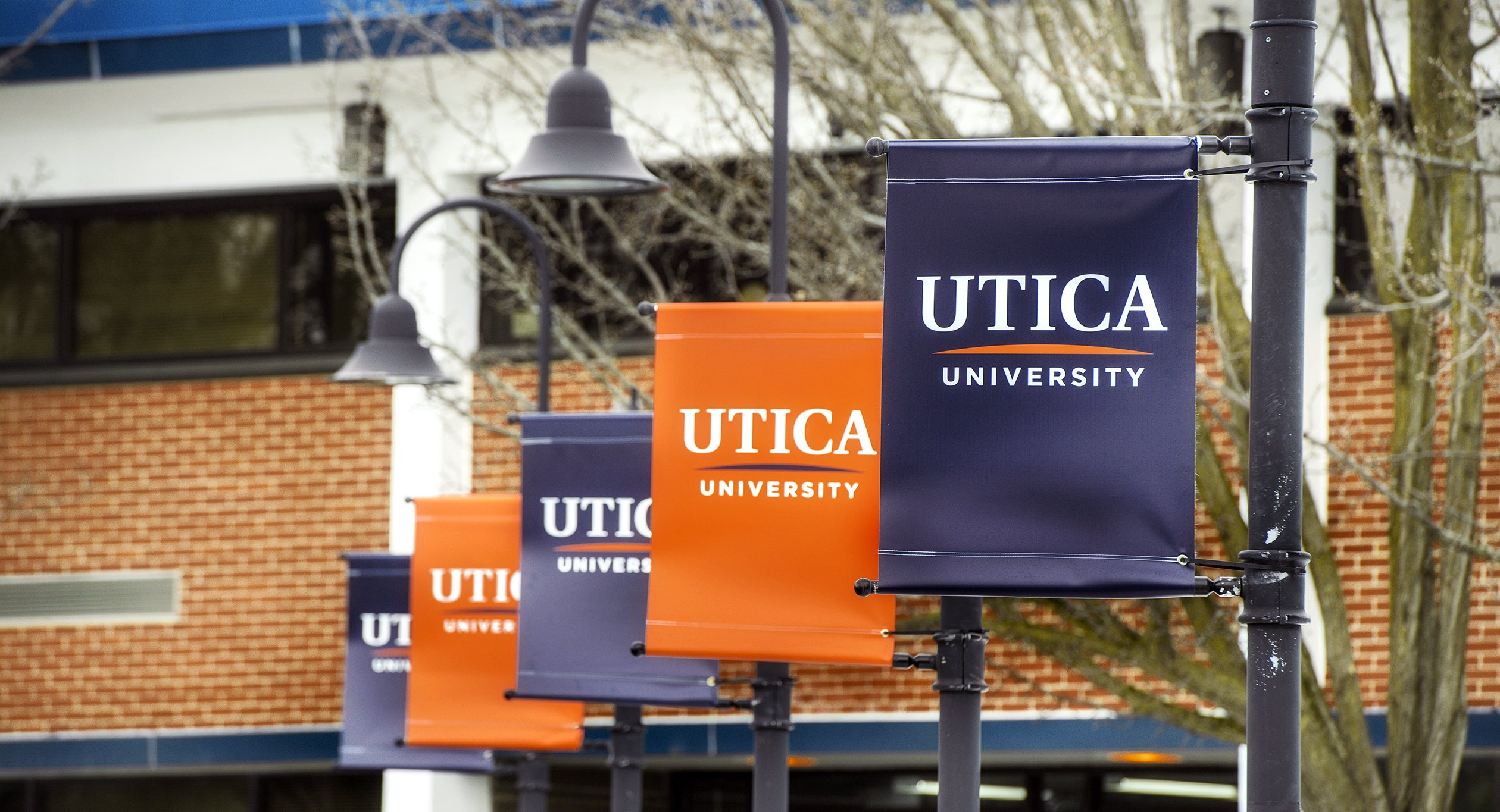 About This Program
You know that communication is a powerful part of human interaction. You're fascinated by the many ways we share information in today's digital world. You want an education that offers a multitude of career possibilities. Communication and Media may be the major for you.
Why Utica University
Communication and Media combines elements of the University's longstanding journalism, communication arts, theatre, and public relations programs to explore the information we share and the way we share it. Students will develop skills to discover, understand, and report information, and the knowledge to analyze the power of written, oral, and digital media. A common core of courses taught by expert faculty, combined with courses in a chosen concentration, provides graduates with both the specialized and essential communication skills necessary to excel in today's top fields.
Internships
Utica University offers students the opportunity to learn through doing in real-world environments with hands-on internship experiences.
Internship opportunities for Communication and Media students with a concentration in Social Justice include:
The Central New York Labor Council
Paid Internship
Contact Enisa Sabanagic at CNY Labor Council for more information.
The Workers Justice Center of New York
Unpaid Internship for Credit
Contact Sara Curtis at WJC for more information.
**Please contact Dr. Jeff Miller or Dr. Wilfredo Alvarez if interested in either internship.
The Communication Arts concentration focuses on developing a broad array of knowledge and skills applicable to many careers, with particular emphasis on oral, interpersonal, organizational, intercultural communication and media studies. Students engage in a critical assessment of the values underlying communication practices, technologies, institutions, and their social and ethical consequences. Advisors work with students to develop a course of study based on a student's interests and desired career path. 
Link your passion for social justice with a communication-based foundation and a variety of disciplinary perspectives to develop the knowledge and skills you need to understand and combat the social, cultural, and institutional causes of inequality, injustice and oppression.  The concentration provides excellent preparation for students wishing to become human rights, civil rights, or environmental advocates, community organizers, social workers, alternative media workers, or lobbyists, as well as those considering graduate study in the social sciences, social work, or law. 
Brainstorm, experiment, fail, try again and discover new ways to deal with challenges.  Creativity is the ability to come up with a variety of innovative solutions to a problem, and it is a skill that anyone can develop and apply to any field.  Students who select a concentration in Creativity Studies will combine the skills from their core communication classes with a variety of arts and learn to apply all of these in any future career path.  This is particularly beneficial for students who choose careers where they will be asked to develop creative ways to get across a message using multiple media or any field where innovation is critical. 
This concentration will provide students with an understanding of the many ways that communication plays a role in healthcare. Whether it is the interaction between a physician and a patient discussing treatment options for a serious illness, the unraveling of complicated healthcare insurance rules, or effectively explaining dangerous drug interactions to an elderly patient, healthcare in our society requires professionals who understand the importance of communication. 
The journalism concentration provides the core courses necessary for today's digital, broadcast and print journalist. Students will learn the storytelling, reporting and media production skills essential for careers in journalism and study the issues shaping the field. The concentration emphasizes hands-on experience through interactive classes, working with student media organizations and internships with professional media organizations.
The public relations concentration prepares students to manage relationships between an organization and its key publics by becoming skilled in communicating across multiple media platforms, research, problem solving, strategic decision making, conflict resolution, speaking and campaign/event planning. Public relations practitioners are highly sought after in a wide range of industries, including business, government, education, sports, health care, and human services. 
The sports communication and public relations concentration is designed for the person who wants to promote sports and emphasizes applying public relations skills in a sports setting. Students study the complex relationship between sports and the media, how the business of sports works, and how sports reporters craft their stories. Students also gain experience through internships at professional sports organizations and sports media outlets.
The sports journalism concentration focuses on how to cover sports for television, websites and other digital media, magazines, and newspapers. Students learn to write and produce sports stories, study the complex relationship between sports and the media, and learn how the business of sports works. Students also gain hands-on experience through professional media internships and student media outlets.
The purpose of the theatre concentration at Utica University is to create a culture of theatre-makers who are adept at collaboration, grounded in social justice, and interdisciplinary thinkers. We in the Department of Performing & Fine Arts believe that the art of theatrical storytelling is a continuous exercise in empathy, enabling theatre artists and audiences to imagine themselves into the places of others, gain emotionally engaged knowledge about their situations, and use that empathetic perspective to build community across differences. To that end, we train students in a variety of theatrical roles, contexts, and styles from around the world. Paired with our grounding in social justice and theatre for community building, this emphasis on variety prepares our students to be effective collaborators across disciplines, subcultures, and professions well beyond their time at Utica University.
Contact Information
(315) 792-3006
General Information
Utica Excellence, Utica Value
Communication and Media at Utica
"In my classes, I've learned how to give a speech, write and speak effectively, and connect with my audience. But more important, I've developed confidence and leadership skills that will benefit me in my career and my everyday life."
Career Opportunities
Career opportunities are almost limitless for Communication and Media graduates, prepared for a wide range of professions, including:

Journalism (print and broadcast)
Marketing
Publishing
Government
Education
Human Services
Experience It
The Communication and Media program combines intensive classroom learning with practical field experience.
Insight
Curriculum helps students develop a deep understanding of historical, legal, cultural, and critical aspects of communication.
What You'll Learn
The Communication and Media curriculum helps students develop a deep understanding of historical, legal, cultural, and critical aspects of communication. Graduates will have the ability to write and speak logically, clearly, and precisely on a professional level, as well as to contextualize and criticize aspects of contemporary culture. In keeping with digital media trends, students will learn how to utilize multimedia technology to produce and share compelling information.

As part of the Communication and Media major, students work closely with an adviser to select a concentration in one of these areas:
Depending on the chosen concentration, a student may earn a Bachelor of Arts or Bachelor of Science degree. Students are encouraged to explore areas outside their concentration through major electives.
Communication and Media Faculty
A Degree That Works
For graduates of the Communication and Media program, career opportunities are almost limitless.  Students are prepared success in a diverse range of professions, including journalism (print and broadcast), marketing, publishing, government, business, human services, and more.
Communication and Media at Utica University