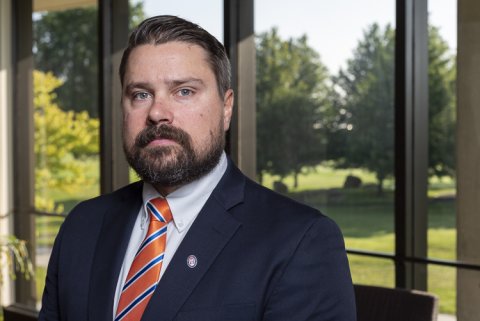 Position
Assistant Professor of Management
Phone
(315) 792-3911
Email
Office
521 Clark City Center
School of Business & Justice
Position type
Biography
Dr. Matthew (Matt) Marmet was born and raised in the Mohawk Valley.  With deep roots in the area, Matt decided to return home after finishing his graduate degrees.  He resides in Mohawk, NY with his wife Shawna and son, Harvey.  They have two Bichons named Leon and Louis who make life very interesting.  In his spare time, Matt enjoys riding his Harley-Davidson and spending time in the outdoors.  
Education
Matt's undergraduate work was done at Union College in Schenectady, NY where he majored in psychology and minored in philosophy.  From there, he went on to the University of Connecticut and earned his master's degree and Ph.D. in industrial/organizational psychology.  Finally, Matt is also a Utica College alumni, receiving his MBA from this great institution.
Past Research
Matt's research interests include student engagement and studying the dynamics/behavioral aspects of performance appraisal.
Courses Taught
BUS 611/612: Principles and Practices of Leadership I & II (MBA)
BUS 679/689: MBA Project Proposal & Execution (MBA)
MGT 101: Introduction to Contemporary Business (undergraduate)
MGT 201: Principles of Organization and Management (undergraduate)
MGT 325: Management of Technology (undergraduate)
I would like to see logins and resources for:
For a general list of frequently used logins, you can also visit our logins page.